A trades instructor in B.C. is on a mission to transform education so it doesn't leave aspiring tradespeople behind. 
During his 12 years as an instructor, Paul Simpson has worked with many students who struggle to make it through the program. 
Simpson, a plumbing instructor at Thompson Rivers University, recently worked with a student who was falling short on his exams. The student redid courses, was granted more time on exams and was given privacy during tests so he could focus. Simpson even created special course documents to shepherd the student through the program.
"The issue of mental health came up and we discussed it openly and there was a high level of trust earned by both of us," said Simpson. 
While others may have written the student off as not being cut out for the trades, Simpson persisted.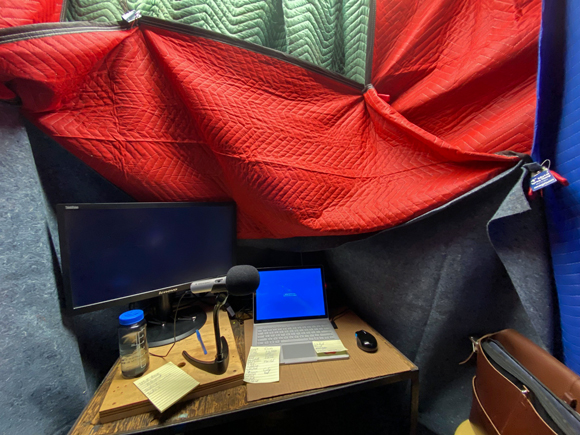 The student eventually was hired by the university to help Simpson as he built a transparent glass plumbing system that allows students to see various plumbing concepts in action. Several other struggling students also assisted. Shortly after, the students passed their exams and are now working as plumbers. 
"I am so happy for them that it makes me emotional thinking about what they went through," said Simpson. 
It's because of students like this that Simpson is on a mission to transform trades education. His first major project is creating audiobooks of plumbing textbooks that will be free and available throughout the province. 
"The broader picture is inclusivity of students and making changes that work for students rather than doing the same stuff I've been doing or what authorities say you must do," he said. 
During COVID, courses were pushed online and students told Simpson they benefited from hearing him explain concepts. Simpson got support from B.C. Campus and its provincial trade representative for open education. 
Simpson found an empty lab and created a blanket fort for recording and began running tests on how fast to talk and what his voice tone should be. 
"The idea is that someone could hear the book from someone who knew the content and where the inflection was meant to be," said Simpson. 
After many hours using Adobe Audition and a microphone, Simpson has completed recordings for plumbing level one. He expects the recordings to be released soon so any plumbing instructor in the province can provide them to their students. He hopes he will be able to do more plumbing levels and that the audio book concept spreads to other trades.
B.C. Campus also helped Simpson conduct extensive surveys with students on their thoughts around audio-assisted learning. The data showed students had strong support for the project. 
"What's the next thing we can do that will have an effect?" said Simpson. "Why is trades not doing this proactive look at the teaching practices and instruments we use? A lot of sectors are stuck, even regular academia is stuck." 
Simpson said this has sparked a passion in him to do even more research into how students learn and how schools can increase the chances of a trades student's success. He is currently on the hunt for new research partners that will help him.
"These are my students — a person in the course and who exhibits anxiety," said Simpson. "I think about myself and that's how I was. I was not a star student. I did not find it easy. Maybe that's where my passion comes from."
Follow the author on Twitter @RussellReports.