Chantal Walter was an unlikely candidate for a trades career.
Her father is a University of Victoria biochemistry professor, her mother is an emergency room nurse and her sister is a Toronto lawyer.
But this spring, Walter earned her Red Seal in carpentry at Victoria's Camosun College, getting her start via the Women in Trades Training (WITT) program.
"My boyfriend (at the time) saw the Women in Trades information. I thought I'd give it a try," recalls Walter, 29.
Today, she's working for Farmer Construction, at a downtown Victoria condo project.
"Working here, it's building a part of the city that you live in, building a bit of history," she says of why she enjoys her job.
Walter also enjoys the ever-changing physical demands and the team environment.
"It's exciting to go to work," she says.
As well, the pay is very good, with wages continuing to rise. And there's no foreseeable shortage of work.
After Walter graduated from Claremont Secondary school in 2011, she took business classes in the pre-university program at Camosun College but stopped after one semester.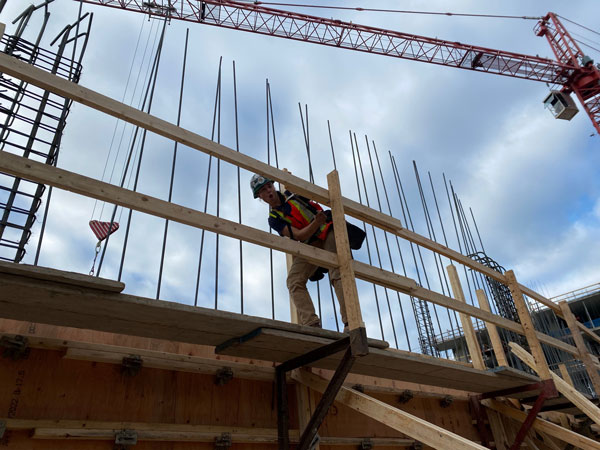 "Nothing at university spoke to me," says the former competitive swimmer. "I really dreaded going to school without a purpose."
A few years later, she completed two semesters of a design program, which piqued her interest in the building trades, but the school closed so Walter couldn't continue.
Then, a couple of years later, when she was dating the carpenter, she realized something.
"I was tired of asking men for help," Walter says.
As well, she grew up in a household where her mother Dianne was the home handywoman, doing everything from cleaning gutters to stringing up Christmas lights.
It was time for Camosun's Women in Trades Training sampler, a 12-week hands-on, exploratory program of eight trades. After mastering the use of power tools and learning about how walls are constructed, Walter had found her calling.
"I kind of fell in love with it," she recalls. "I knew where I wanted to be."
Her trade of choice was carpentry because the finished product, unlike plumbing or electrical, is not behind a wall. 
"I really wanted to do something that had more of an art to it," Walter says.
Over four years, she attended Camosun for seven weeks each year and then worked the remainder of each year.
In September, Camosun College celebrated 10 years of WITT. In reality, it's been 12 years, but due to COVID-19, the decade celebration was delayed.
When the WITT sampler was first offered in 2010, there were six to 10 students, says Heather Solomonson, WITT's co-ordinator. Today, 18 females can enrol in either spring or fall sessions.
"There's quite an extensive wait list," adds Solomonson, a Red Seal chef.
Women learn to safely use the tools associated with each trade, visit jobsites, work on team building and job search techniques.
The eight trades are in the automotive/motor vehicle, architectural/woodworking/carpentry, electrical, plumbing/pipe and metal spheres.
Stepping into the role as a woman and knowing what to expect are also part of the training, Solomonson says.
Once the 12-week sampler program finishes, female students focus on a specific trade. In the last few years, popular choices have been the pipe trades, electrical and sheet metal, Solomonson says.
While there are students right out of high school and some in their early 50s looking for a later life career change, most students are in their late 20s. Many of the women attended university with former history, political science, literature or fine arts students well-represented, as well as engineering or environmental science students.
"We get a lot who go to university after high school and come get into the trades," Solomonson says. "The comment I hear from students is that they don't want to be at a desk. There's a desire to be doing something tangible."
She admits the perception that a trades job doesn't have the cachet that comes with a university degree still exists.
"We're looking for ways to connect with students. It's really a great fit for a lot of them," she says.
The success of Camosun's WITT program is apparent in that female graduates of the program return as speakers and instructors. There are roughly 10 female trades teachers at Camosun, says Solomonson.
But a story about women in trades wouldn't be complete without acknowledging the challenges faced by women.
Conditions have improved since Walter started about four years ago.
"My first job, I was the only woman," she recalls.
At the Farmer site, there's a dozen women and they support one another.
"When I started, there was a lot of harassing. I just took it."
Whistles, being asked for dates or asked if she was anorexic, being told she'd never make it or hearing vulgar language were all part of the daily grind.
"You can either take it and be a punching bag or stand up and report it," Walter says.
But there's one more element.
"The culture won't change until men stand up for you in front of other men," Walter says.
Today, she's confident and comfortable.
"If you're thinking about it and think you might like it, just try it," Walter says.