Laurin Padolina knew she wanted to be a dancer her whole life – she never saw the trades as part of her career journey.
"I had no background in the trades whatsoever," Padolina stated in an email to the Daily Commercial News. "I was actually a musical theatre professional before jumping into the trades. I had an amazing career that allowed me to travel and perform throughout North America while singing and dancing.
"I had no idea working on the tools was going to be a part of my story. It's been such an amazing, eye-opening experience so far."
Calling herself the real-life "Flashdance," Padolina, 38, of Stratford, Ont., started working in the trades in 2018 after she and her husband separated.
"My transition into the trades was really born out of necessity," said Padolina. "The separation was a volatile time and I was facing an ugly custody battle. My dream career was being targeted in court as me not being able to provide a stable environment to raise our daughter. That obviously sent me into 'survive and repair' mode."
That's when she decided to trade in her dancing shoes for work boots.
"I was performing in Drayton's Joseph And The Technical Colour Dreamcoat at the time and I ended my contract part way through the season," she recalled. "I got in touch with a career counsellor through Conestoga College and together we brainstormed possible avenues for my future new career. I heard from friends that there was stability and plenty of work opportunities in the trades. All I knew is that I needed consistent work and that I wanted a second career that I loved just as much as performing."
She didn't know what she wanted to do at first.
"I wanted to do anything that paid me to climb," Padolina explained. "I love being at heights, something about the adrenaline."
She applied for the powerline technician program at Conestoga College but didn't get in at first.
"Then I stumbled on a poster at the Conestoga satellite campus in Stratford, while I was doing my trades math upgrade," she said. "It was offering a four-month pre-apprenticeship program, tuition free, an introduction to welding and metal fabrication. At that point, I only knew a couple basic hand tools…I had nothing to lose and everything to gain. When I saw the poster it was actually the last day to apply for the program."
After the four-month program she did an eight-week co-op.
"I was hooked," Padolina said. "I enjoyed the work I was doing, rolling up my sleeves, getting dirty, building big structures, working at heights, learning to drive heavy equipment. I was offered an apprenticeship for welding within the year. Over the years of my apprenticeship and schooling, I developed a love and appreciation for the art of welding." 
She completed her three-year apprenticeship for welding last year.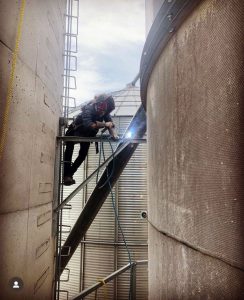 "In order to continue to push the envelope I might be signing on for more school and courses in the near future," she said. "If anyone thinks that the end of high school is the end of studying and having to continue your education (like I did)…sorry to bust your bubble."
She is currently building boilers at a licensed ASME manufacturing plant.
"We build custom pressure vessels and boiler systems that get shipped all over the world," she noted.
When asked what she loved most about her job she said her colleagues.
"We're like a family unit. We look out for each other, have a laugh, support each other on hard days and push each other to weld better, be better," she stated.
One of the biggest challenges is there is a huge gap in financial support for people who want to become apprentices, with or without experience in the trades, she said.
"There is a huge push to recruit skilled hands into our workforce and an incredible amount of funding that covers the majority of the costs associated with apprenticeship in class schooling, but there's still a financial gap," she explained.
"Apprentices need access to low interest loans to help get us from 'Point A' to 'Point B.' Unless you have savings to put towards living expenses, you almost need to take out a loan from the bank or a line of credit just to float you through."
She also has some advice for those considering a career in the trades. 
"There's always going to be the common feeling of fear surrounding the idea of trying something new," she said. 
"My personal belief is this: Regardless what career you pursue, blue collar or not, if you have a trailblazer mentality you will always encounter naysayers and opposition.
"But the beauty is, nobody gets to put limits on your glass ceiling. It's your life. You call the shots. And if you decide to shoot for the stars, they will be glad that you did when you get there."
Follow the author on Twitter @DCN_Angela