On May 27, Mike Enter landed in Canada after spending nearly two months trekking to the summit of Mount Everest, the world's highest peak.
He said if not for the support of PCL Constructors Inc. he never would have made it.
"It's another one under the belt. I am now part of the 8,000 club and that's a good feeling," Enter, superintendent with PCL, said during an interview about his recent summit.
"But I don't want to do it again," he said with a laugh.
Enter's journey to the top started in 2011 when he took a trip to Kathmandu, Nepal.
"I went just to do the Everest Base Camp trek but then I saw the Himalayas. Once I saw them, I thought, 'Wow, that's amazing.' I always have loved mountains but after that experience I decided I would start hiking and climbing."
The Crew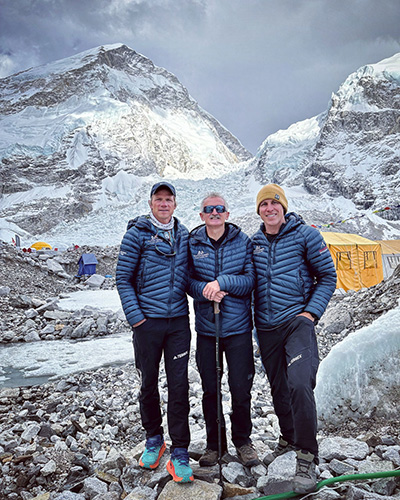 Enter completed the trek with six others including professional mountaineer Ryan Waters of Mountain Professionals, who he has been climbing with for many years. Waters led the expedition along with six sherpas, one dedicated to each member of the group.
Enter was also privileged to have had in his group Lonnie Bedwell, National Geographic's 2015 Adventurer of the Year and the fourth blind person to ever summit Everest.
Enter said travelling with Bedwell was an inspiring experience.
"Lonnie is amazing. For me, I made it to the summit and was like, 'OK, not bad,' but when you have a blind person on your team you will never give up."
The Journey
Enter arrived in Kathmandu on April 3 to begin his ascent. Exactly seven weeks later, he and his small team of explorers would reach the top on May 22.
The entire first month of a climbers attempt to summit Everest is spent on a series of smaller excursions that are meant to acclimatize the individual to the low oxygen levels and demanding environment of the Himalayas.
"We arrived at basecamp on April 13. Then you hang out in base camp for two or three days and go for your fist acclimatization hike. We climbed Lobuche, which is about 6,100 metres high, which took five or six days walking from base camp, going up and then going down," he said.
The team did one more acclimatization hike up to Everest Camp 3, roughly 7,300 metres high. Then they returned to base camp and waited for the weather window to open up, usually at the very beginning of May.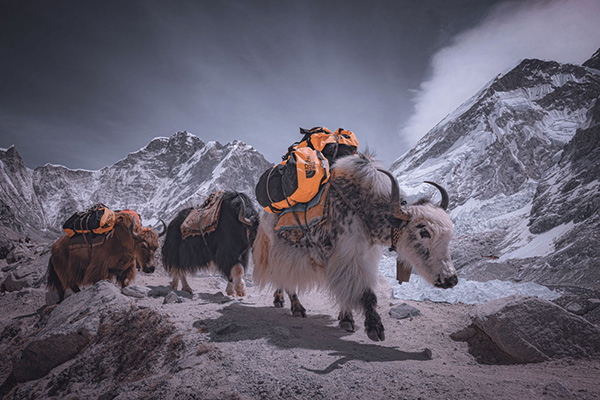 At this time, the roughly 460 climbers who received permits to climb the mountains around Everest and Everest itself this year mobilize to make their ascent. But this year's window didn't open until mid-May, said Enter.
Waters and Enter decided to let the larger groups of climbers start ahead of them so they would have a quieter time.
Enter said waiting worked out best and the group avoided situations popularly documented where lines of climbers are waiting for their chance to stand at the summit.
Enter, Bedwell, Waters and the rest of the team left for the summit on May 17, making a nine-hour trek straight to Camp Two. After receiving a weather warning, they waited out the next day in their tents and headed out for Camp Three the day after.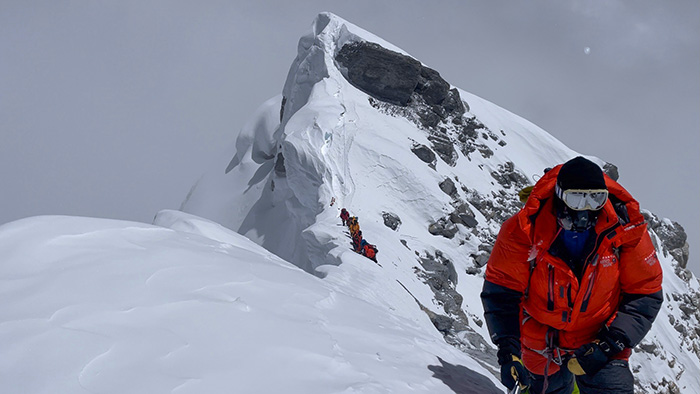 "At Camp Three you don't do anything. It's right on a steep, 45-degree slope and there's a tent section carved out amongst the slopes and you just hang out there," he said.
"Because if you make a wrong step, you're done. You'll fall and that's it."
The next day the team rose at 3 a.m. and started their ascent of the Lhotse face. It took another nine hours to reach Camp Four at which point the team entered what is known as the "Dead Zone," where the oxygen is so thin that human beings cannot survive and the use of oxygen tanks becomes necessary.
The Toll
Building on that notion, Enter said the mental challenge of tackling Everest was more difficult than the physical.
"If you don't hurt yourself or get altitude sickness than the physical toughness is not a big deal. The main thing you have to conquer is your mind. You have to tell yourself its not a big deal and that you can do it."
Enter said many non-climbers also don't realize that after several days of climbing to the top, the descent is often more treacherous as everyone is physically exhausted.
But the physical toll is no laughing matter and one member of the group had to turn back due to frostbite damage to their toes.
The Support
The unsung heroes of mountaineering are undoubtedly the Nepali sherpas who make a living climbing the highest mountains in the world, Enter said.
"Those guys are the heroes and don't get the credit they deserve," he said.
Enter pointed out while the first ascent by a person is usually a celebrated event every year, most people don't realize sherpas have already been to the peak several times before them, clearing the route and maintaining the camps for the coming tourists.
He said without the sherpas, Everest would be entirely inaccessible to the average climber.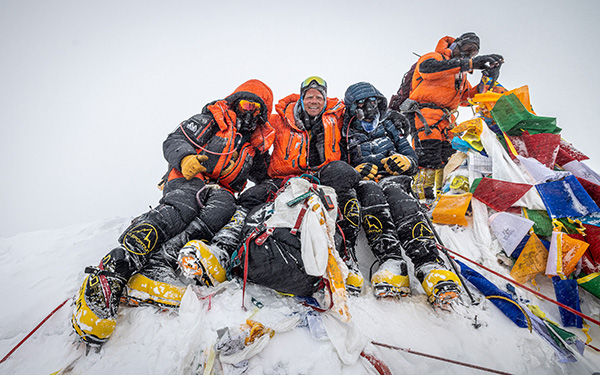 Enter said his mountaineering journey would not be possible without PCL. Enter moved to Canada from Germany in 2004 and has been working with PCL ever since. He was wearing his PCL toque when he stood atop the summit.
"They gave me the opportunity to show my full potential here. I would never have had the same chances in Germany. It would be impossible for me to climb this mountain without them," he said.
"That's why I decided I'm bringing the PCL hat so they can see that they were on top of the mountain too, because they deserve it. What they did for me, it just deserves respect and that's what I wanted to show those guys."
With Everest conquered, Enter has only two more peaks to climb before he has completed the Seven Summits, the mountaineering challenge for ascending the tallest mountain on each continent. He said he is hoping to attempt Denali in the fall and Carstensz Pyramid in the next few years.
Follow the author on Twitter @JOC_Evan.