Builders in B.C. have found a delicious way to support the communities they work in during the COVID-19 pandemic: The #LunchBoxChallenge.
Scott Construction's mental health committee was brainstorming ways to encourage workers on its jobsites as well as help struggling restaurants. They decided to buy lunches from a local business for various jobsites.
Inspired by the highly successful Ice Bucket Challenge that started in 2015, the company then decided to turn its lunch plans into a broader challenge for the industry. Much like the Bucket Challenge, companies post photos of their crews enjoying lunch from a local restaurant and encourage other companies or groups to do the same.
Donna Grant, a marketing and project pursuit manager with Scott, explained the challenge is already catching on with the Vancouver Regional Construction Association, the BC Construction Association (BCCA), ITC Construction and others.
"When all this is done, our jobsites will still want those local places to go to for lunch and if we support them, they will be there," said Grant, who encouraged participants to also include the name and contact information for the restaurant they choose in their posts.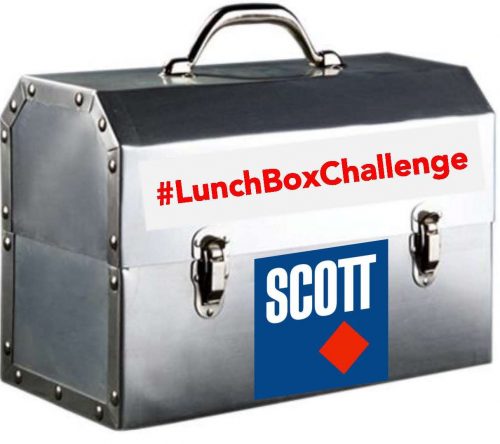 She noted that delivering meals to workers on sites also expresses how appreciative they are of those working through the pandemic. 
"If we can keep our sites safe, put smiles on faces and let them know how appreciated that are, nobody loses in that scenario," said Grant.
She noted that the lunches have also been a good way to practice safety protocols. Meals, utensils and condiments are individually packaged and workers enjoy their lunch from a safe distance. 
The challenge caught the attention of the BCCA which is celebrating construction workers during its third-annual Construction Month. 
"The purpose of the month is to celebrate our industry and its workers," said Lisa Stevens, chief strategy officer for the association. "It is even more relevant in the time of COVID-19 to recognize the role our industry plays in B.C. and our economy. It has been deemed essential and construction has kept going while adapting to health and safety protocols."
The association is offering care packages of Construction Month T-shirts, hard hat stickers and pens for teams who accept the challenge and use the #BuiltRight #ConstructionMonth hashtags in social media posts. 
"It's really important to be positive in our support of workers and show them we are a community," said Stevens. "Connecting with local restaurants is important. Construction is at the frontlines of our economy. We have the benefit of working and it feels good to make that connection to those places that may be struggling."
Earlier this month the Scott Construction crew working on the District of West Vancouver's municipal hall and fire hall projects were treated to halibut burgers from Nell's Kitchen, a local, family-owned-and-operated fish market and sandwich kitchen. 
The company intends to keep the lunches coming this month with Daddy's Grill for its crew at Sunwins Properties Opus Versanté Hotel and food from Little Mexican Cantina for workers at its Chunghwa Bridgeport Business Centre site.