Joe Bongiovanni and his wife moved from New Jersey to a home in Toutle, Washington out of an affinity for the territory around active volcano Mount St. Helens.  As the current owners of the North Fork Survivors Gift Shop, they also inherited a 22-foot concrete Bigfoot statue that has stood on the property since 1994.
A honeymoon trip to the area in 2005 by Bongiovanni and his wife Diana inspired them to move to Washington in 2010. They purchased the gift shop from its original owners in 2017. Tourist amenities at the site include helicopter tours of the area, Mount St. Helens displays, and "the Buried-A-Frame" the remaining peak of an A-frame house finished just days before the massive 1980 eruption. The home's base is now filled with 200 tons of mud, silt and ash, resulting from the flash melting of the Shoestring Glacier on the volcano's slope. Standing sentinel over the grounds is the statue of Bigfoot, created by sculptor Beverly Roberts.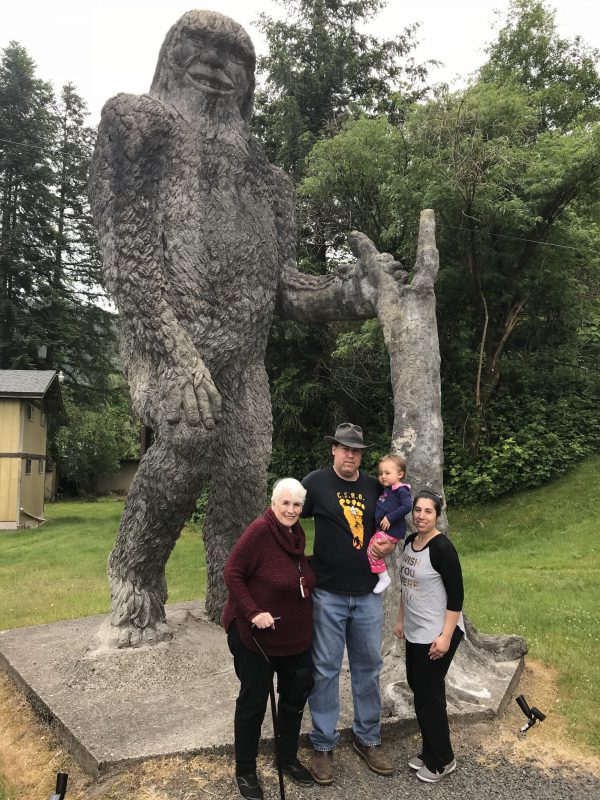 "She was commissioned in 1992 to build the statue by the gift shop's previous owner," says Bongiovanni. "She built it over the course of two years using a custom mixture of concrete and sand mixed with Mount St. Helens ash. She created scaffolding around a steel skeleton covered with wire mesh and then applied the concrete, beginning with the feet and working her way up. She even added sections of concrete hair, crafted individually to give it dimension."
When sculptor Roberts visited the gift shop in 2018, Bongiovanni asked her to reveal the secret ratio of sand to ash used in the concrete, in case the statue required repairs.
"She told us 'I just mixed it until it looked right,'" says Bongiovanni. "That pretty much sums up Beverly — she's a straight shooter."
But Bongiovanni is interested in more than concrete representations of sasquatch — he became invested in Bigfoot research after a chance encounter in 2011.
"We had decided to do a camping trip on Mount St. Helen's in Gifford National Forest," he recalls, "I took two friends with me a week before the trip to scout out a camp site in advance. We were heading out on little dirt roads to see if we could find something off the beaten path. I hit the brakes to turn on a fork in the road when I saw a black silhouette coming out of the treeline, quickly running across the road and disappearing through the brush really fast — not like a person. It was walking upright and had two arms but it just didn't look right. We've all heard stories of Bigfoot and I thought it was intriguing, but not something I wanted to pursue before. At that moment there was a realization that there could be something to this."
Bongiovanni established the Cascades Sasquatch Research Organization that same year, to bring discipline to the search for Bigfoot. Since then, he says he's collected audio evidence, records of rock throws and the sighting of the pale silhouette of what might be a Sasquatch "elder" — a grey-haired senior member of the species.
He's currently planning to offer tourists the chance to participate in research mission tours, using equipment such as thermal imaging devices mounted on the bed of a military-grade Humvee.
Meanwhile, the Bigfoot statue continues to draw tourists. Although it's weathering and may require some restoration, Bongiovanni says he's sold on the longevity of concrete.
"The first Bigfoot statue on this property was built here in 1988," he says. "It was made out of wire with carpet material around the outside. Some boisterous kids in the area set fire to the statue one night and it burned to the ground. Built out of concrete, the new statue is resilient and can never burn down. It's even been hit by a car and it's still standing."