VANCOUVER, B.C.—The historic MacMillan Bloedel office tower in downtown Vancouver is being renamed after its designer, Arthur Erickson.
The 53-year-old building will now be called Arthur Erickson Place. The Vancouver-born architect worked with Geoffrey Massey to create the unique Modernist design of 1075 West Georgia for forestry giant MacMillan Bloedel during a corporate building boom in the 1960s.
"It is rare for an architect to be honoured in this way, and I know that Arthur would be very proud to have the building carry his name, as it encapsulates all he strove to achieve architecturally," said Erickson's nephew Christopher Erickson. "The building's classic beauty and clarity of structure expresses the ruggedness of our land and majesty of our forests with a powerful cadence that tapers into infinity as it rises from its roots."
The tower was the tallest in Vancouver at 27 storeys when work wrapped up in 1968. It went on to become a multi-award-winning national heritage landmark due to its construction technique of cast-in-place concrete, striking esthetics of tapered walls and deeply recessed windows, and association with Erickson and MacBlo, which at the time was Canada's largest forestry company. The structure, made of reinforced bare concrete, rises above a large public plaza with reflecting pools that span the building's length.
It is part of the reason Erickson was sometimes referred to as the "master of concrete."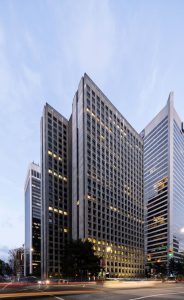 "Arthur was very proud of this building – it was one of his favourites," said Geoffrey Erickson about his uncle. "This building is bold and daring and broke new ground in engineering, office planning and the use of concrete."
Erickson and his design even garnered fame outside of Canada, gracing the pages of Time magazine in the 1960s. The building also won the esteemed 1970 Massey Medal for Architecture, among many other awards.
The concrete structure has continued to be called MacBlo even though the company stopped existing more than two decades ago. Two years ago, KingSett Capital, Crestpoint Real Estate Investments, and Reliance Properties partnered to buy the building with a plan to re-establish it as the premier corporate office location in downtown Vancouver.
"It is time to give this powerful, monolithic office building its due place on Vancouver's skyline by branding it after Arthur Erickson in honour of his excellence," said Jon Stovell, president and CEO of Reliance Properties. "With its heritage distinction, central downtown location, and strong visual identity, Arthur Erickson Place will continue to be the address with cachet."
Erickson designed only nine office buildings in his portfolio of 700 designs. Two of those office buildings are in downtown Vancouver, Evergreen Building and Arthur Erickson Place, both of which are listed on Canada's heritage registry.
Erickson died in 2009 at age 84.
To celebrate the building's rebranding, the public is invited for a free seven-day experience called "Erickson Revealed." It will feature a 3D light show on the building's exterior. The show will loop every night from Sept. 23 to 29 from 8:30 to 10 p.m.