It may just look like a broken bowl with a faint painted flower pattern, but the artifact, recovered during archeological work at one of Victoria's construction sites, is now helping to tell the story of one of the oldest Chinese communities in Canada.
According to the Royal BC Museum, the rice bowl was found seven metres underground near Wharf Street in Victoria's Chinatown – the country's oldest Chinatown. Researchers believe it was likely created in a kiln in China's Jingdezhen city and travelled across the Pacific with the Chinese diaspora. The designs on the bowl represent the four seasons as well as an endless knot.
The bowl was just one of many items in a whole collection featured during a one-day exhibit at the Royal BC Museum.
Katherine Cook, a sessional lecturer in the University of Victoria's anthropology department, and her students put together a multimedia environment for attendees to experience the artifacts with soundscapes and maps. The artifacts were gleaned from three pre-construction archeological projects in Victoria, including the new Johnson Street Bridge.
Cook explained over the years, pre-construction archeology has become a great way to uncover artifacts of local significance and to give students a hands-on learning experience.
This has been made possible by the B.C. Heritage Conservation Act, signed in 1996. The purpose of the act is to encourage and facilitate the protection and conservation of heritage property in British Columbia and it includes requirements for construction sites that could contain historical value.
Over the years it has become more common to conduct an assessment of a site long before construction begins so artifacts can be preserved and site work won't need to be delayed.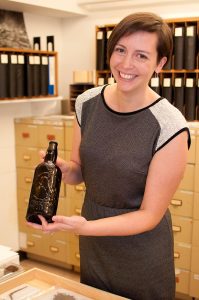 "Years before the ground is broke, archeologists will survey the site, sometimes do some digging and usually that's when items appear," said Cook. "This gives builders a lot more time to deal with it."
The results are invaluable to local history, she said.
In the case of Victoria's Chinatown, the artifacts come from a time when few official records were kept. The Chinese in Victoria tended to be segregated from other residents and received little support from government officials. The artifacts can often jog old memories of residents and help fill in the blanks for local history.
"People who saw the bowl remembered their grandparents having similar bowls and things in their home," said Cook. "It brought them back to a different time."
The collection also featured a brown glass bottle, produced for Australian brewer Tooth and Co., illustrating how global goods were making their way to Victoria in the 1800s.
Another object of significance to Victoria's Chinese community was an inkwell. While it may seem like a mundane item, according to the Royal BC Museum, an inkwell was a tool for Chinese Canadians to maintain communication with their homelands, retain cultural connection and defend their rights as members of Canadian society.
Cook said the province's construction and archeological communities have formed a mutually beneficial working relationship since the 1996 government legislation. She praised the Archaeological Society of B.C., saying it works closely with construction companies and developers, sometimes responding to last minute requests for salvage digs. Cook added the society also played a role in crafting legislation as well as educating the public.
"I think for the first few years it was a struggle as to how best to apply that and a lot of construction and developers not knowing what they were responsible for. It was a learning process," said Cook. "Now there is more awareness and a good working relationship."
Cook added many developers are realizing local history and heritage protection are an important part of creating cities where people want to live.
She said the new battle is making sure the historical items discovered are preserved and not lost. Much of this work has been championed by the Royal BC Museum.
"They have been strongly advocating for the collection and safeguarding of these materials as well as giving access to educators, schools and communities," said Cook. "Pre-construction archeology is great but there must be a long-term plan in place to take care of these items."