A new twist on railroad tracks is pushing the western Canadian grain industry towards greater efficiency.
Facilities using traditional "ladder" tracks, where a new series of parallel tracks branch off into a yard, require trains to detach cars and remain stationary while the cars are loaded with cargo.
Loop tracks allow cargo such as grain to be loaded as the train continues to move. Locomotive crews leave the train and are replaced by loop track crew while the train is loaded.
"It's relatively new in Western Canada and especially in the grain industry. These grain facilities have a loop track of around three kilometres which allows the train to pull in off the main line and stay completely attached. The CN people get eight hours rest, and then we have trained people hop on the train and move the trains to facilities to be loaded," GrainsConnect Canada president Warren Stow said.
"In the past we just had straight tangent ladder tracks, and the cars would have to be broken up, so you'd typically have ladder tracks stacked up with two or three 50 car tracks," he said.
"Now we can load 130 cars in 10 hours. You rarely had the capacity to hold 130 cars on ladder tracks. The train moves at 1.5 miles an hour, so it loads as it goes," Stow added.
The loop track system also eliminates the need for decoupling train cars, which speeds up loading in Saskatchewan's harsh winter climate, Stow added.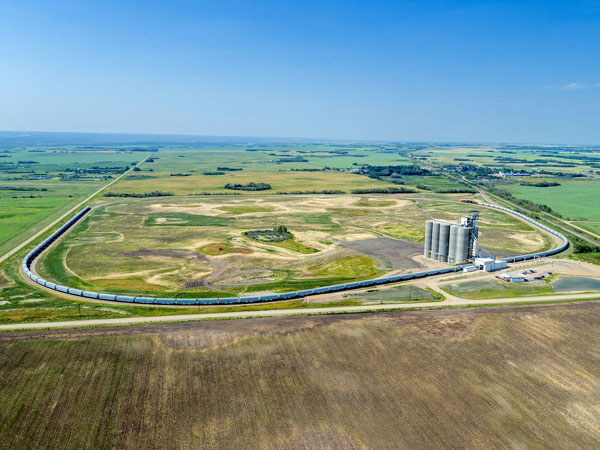 "In really cold temperatures, when you don't have to decouple the locomotive from the rest of the train, you don't lose air pressure to the brakes. When you're splitting the train you've lost pressure, and a train crew could spend an entire shift re-pressurizing the train," he said.
GrainsConnect currently has two facilities operating in Maymont and Wilkie, Sask. Stow said, and other grain elevator facilities are also using loop tracks. The company is also building two new loop track facilities in Alberta.
"We're constructing one in Vegreville and other in central Alberta near the town of Huxley," he said.
"There are a number of new grain facilities, and without a loop track you aren't building a new facility. If you aren't that efficient, you aren't getting the rail cars."
What drove the new approach was the deregulation of the Canadian grain industry, Stow said.
"The Canadian Wheat Board ran allocation until 2012 and now it's an open market. We also have our own rail cars, which was never an option in the Wheat Board days. You couldn't manage your logistics," he said.
While the grain industry has been deregulated, Stow said, the railway's standards still determine how the tracks are built.
"The railway determines the standard so you have to build to Canadian Pacific and Canadian National's standard. For these loop tracks, the requirements are fairly stringent and they're costly to build," he said.
Stow added bigger locomotives are used and new railway equipment must be accommodated. But the grain elevators require no changes.
"You don't have to redesign the elevator. The only change is that everything is faster," he said.