Two residential condominiums that resemble a set of stacked books and a third with rental units may soon be towering over the streetscape between city hall and the public library in Coquitlam, B.C.
Onni Pinetree Way Holdings Corp. Inc. is planning to build three towers at 49 storeys, 45 storeys and 25 storeys respectively, on the 2.7-hectare property on the southeast corner of Pinetree Way and Glen Drive.
The buildings would include 705 market condominium units, 186 market rental units, a daycare, retail and office space.
The developer is asking the city to rezone the property to comprehensive development to permit a mixed-use project. Presently, the land is zoned for commercial and one-family residential.
City staff have reviewed the proposal and recommended the rezoning be approved by council. Council has given the rezoning second and third reading and is waiting for some issues to be addressed before considering it for fourth and final reading.
"This will collectively provide more housing options and opportunities for employment in the city, within a mixed-use development located in close proximity to transit," said Jeff Denney, major project planner in the City of Coquitlam's planning and development department.
The property is a square parcel of land bounded by Glen Drive in the north, Obelisk Way and Heffley Crescent in the south, Pinetree Way in the west and Westwood Street in the east.
Denney said in a report to council the condo towers will consist of one-, two- and three-bedroom units. Thirteen per cent of the units will be three-bedroom units. Units in the rental building will be of varying sizes. Seventeen per cent of the units will have three bedrooms.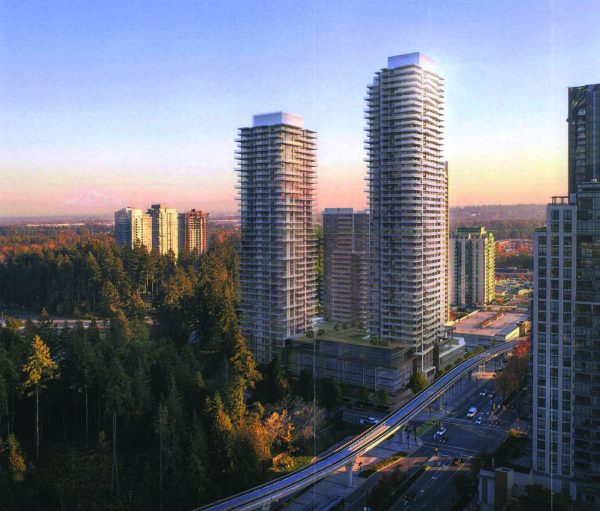 The 49-storey tower will be 157 metres tall and the 45-storey will be 144 metres tall. Both will contain floorplates stacked in a randomized order along with twisting and rotational balconies. The geometric form of the towers will resemble a stack of books, in reference to the nearby library.
The 25-storey tower will be 79 metres tall and contain more regularity within the design and floorplates, as a counterpoint to the first two towers and to further distinguish the stacked book form of the other towers.
The facade of the buildings will include glass balconies. Proposed tower materials consist of extensive glazing including frit glass along slab edges and painted concrete panels. Podiums on the buildings will be characterized by a darker-grey colour palette while the towers contain a lighter-grey colour palette.
Omni wants to build the towers along with 6,685 square metres of commercial space, consisting of eight ground level commercial retail units, four levels of office space and a daycare.
Plans call for 6,238 square metres of common amenity space featuring a public art feature and an onsite micro district energy system or DES.
The micro DES will provide onsite heating, cooling and hot water via a network of piping. It is expected to reduce gas and electrical usage by five to 20 per cent and greenhouse gases by 10 to 25 per cent, when compared to a conventional heating and cooling system.
The DES will be fuelled by natural gas and located beneath grade, in the first level of an underground parking garage.
The art feature has been penciled in at a value of about $250,000. The exact type of art has not been determined, but an art consultant has been retained to co-ordinate the selection process, construction and installation.
As for parking, the properties will have 1,329 parking spaces, with 832 of them equipped with a 240-volt outlet for a Level 2 EV charger, as well as 1,166 bicycle parking spaces and bike station repair rooms.
There will be two carshare vehicles, which would give owners and renters access to vehicles on a self-serve, pay-per-use basis.
Other features of the buildings include a bowling alley, seating and lounge areas, yoga, games, fitness and multi-purpose rooms. There will also be a pool and hot tub, covered cabanas, a large lawn and a dog run.
On the sustainability front, irrigated green roofs are proposed on top of the rental tower and along a podium fronting Glen Drive.
Benefits of green roofs, according to the developer, include reduced urban heat island effect and improved stormwater management. The development will be built to LEED Silver equivalency.
The overall design intent of the ground level onsite streetscape draws heavily upon an existing "branches" art installation adjacent to the site along Pinetree Way, as well as the Douglas Fir, an iconic symbol of coastal B.C.
There are no existing buildings on the site and the property is about 170 metres from the Lincoln SkyTrain Station.
The surrounding area consists of single- family dwellings, mixed-use and residential towers and a four-storey apartment building. A vacant lot in the area has also been approved for a 41-storey, mixed-use tower by Polygon Development.
In his report to council, Denney said planners support the proposal because it bolsters the corporate objective of strengthening the neighbourhood and complies with policy directions in the official plan.
Denney noted the development also creates a high-density, mixed-use development that includes employment generating and residential land uses.
On the financial side of things, city staff estimate the proposal will generate an estimated $12 million in development cost charges for the city coffers.