The skyline of Vancouver, already dotted with roughly 650 highrise buildings, is set to change yet again.
Construction work is expected to begin this coming spring on the tallest office building in downtown Vancouver, dubbed The Stack, while designs are also in the works for another tall mixed-use tower.
The Stack, at 1133 Melville St. between Thurlow and Bute, will be a 530-foot, 37-storey office building, complete with rooftop deck, conference centre, 6,000 square feet of main-floor plaza and 5,000 square feet of restaurant space. There will be retail space at ground level and five levels of below-grade parking.
"Whenever we work to design a building like this it tends to be an inside-out process, ending with what is hopefully a great architectural statement," said Chuck We, vice-president of Oxford Properties Group, which will own the building along with the Canada Pension Plan Investment Board.
"We take all the feedback and trends that we see from our clients in the workplace and use that to design what we think will be a successful building."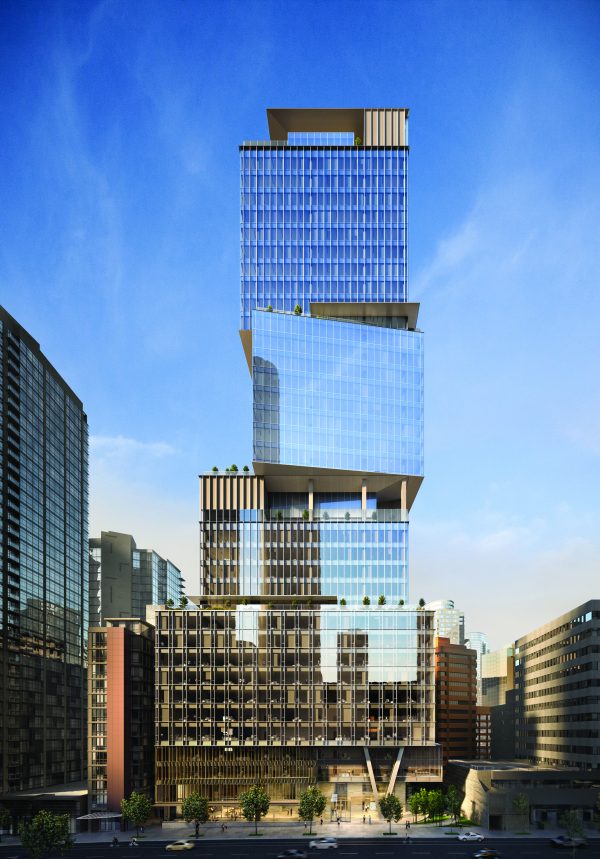 The developer is seeking LEED Platinum status for the building and is making it a net-zero carbon project.
We said the company has a deep history with LEED projects so many of the initiatives are what one would expect on such a project — ample bicycle facilities, good access to transit, rainwater management as well as energy and water reduction measures, LED lights and triple-pane glazed windows.
"The design of the building, which maximizes natural light and views, also helps with our scoring," he said. "In addition, we will add things like preferred parking for green vehicles and, of course, the ride-hailing and ride-sharing drop off points helps to minimize the impact of cars in the building."
The building will be one of only two highrise towers in Canada that is part of the Canada Green Building Council's net-zero carbon pilot project.
"Net-zero carbon adds a layer of complexity," said We, "but again these measures also help with our overall energy reduction targets for LEED Platinum. Generally, net-zero requires us to maximize energy efficiency, add onsite renewables and build the building with low carbon materials, which is just the right thing to do."
The design of the building is very different from the average office tower. Renderings show it will feature four stacked and rotated "boxes" with outdoor decks for office tenants in the structure.
James KM Cheng Architects designed the building in collaboration with Adamson Associates Architects. Vancouver City Council unanimously approved the project at a public hearing in April 2017.
"From our experience on buildings like MNP Tower and 402 Dunsmuir in Vancouver, and Waterpark Place and EY Tower in Toronto, well-designed buildings have immediate and lasting appeal to a broad set of clients," said We, "and add a great presence to the cities where we work."
Demolition of a structure at the site has already started and construction work will begin in the spring, with substantial completion scheduled for spring 2022. General contractor on the project is Ledcor. The cost has not been disclosed.
The building, according to We, will feature six outdoor decks for tenants, 375 bike parking spaces, a bike wash, lockers and shower and towel service, along with a fitness centre and basketball court, a small park, four spots for ride-sharing services as well as a drop-off area for autonomous vehicles.
We said prospective tenants wanted outdoor space and terraces. The architect was able to create five different terraces and the shared rooftop terrace by rotating the boxes.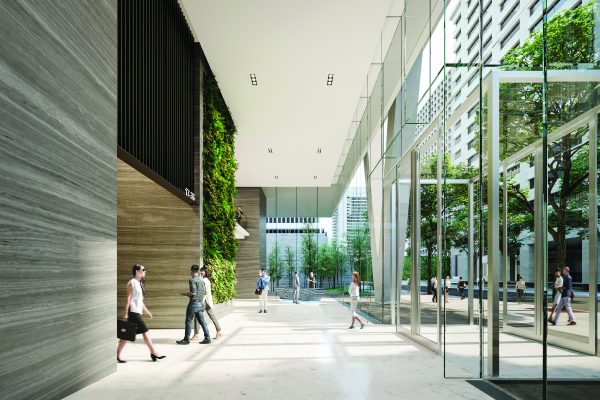 "We wanted to create something that all tenants could identify with," said We, "Essentially, our program is like marketing four separate buildings to the various industries we see in the Vancouver market."
We said developers are thrilled with the market reaction to the building, as almost 40 per cent of the offices have already been leased.
"We only wish we could deliver it sooner for some of the great tenants that are headed into our market," he said.
Three firms – Ernst & Young LLP and the Blakes Vancouver and DLA Piper law firms have signed pre-leases for space in the upper floors of the building.
Meanwhile, the City of Vancouver has received a rezoning application from GBL Architects Ltd. and Pinnacle International for development of a 54-storey residential and commercial tower at the north end of Granville Bridge.
The structure, proposed for 601 Beach Cres., would be a curvilinear tower with a twist in the facade to complement the twist in nearby Vancouver House, a 49-storey tower that is under construction, and create a landmark gateway via the Granville Street Bridge in and out of the downtown.
The design includes a 535-foot structure that would have 303 residential units and 152 social housing units, 442 underground parking spaces, 970 bicycle spaces and a park around the building.
Gardens on the third, seventh and eighth floors will create a terraced effect. There would be a rooftop pool, hot tub and gardens.
The building would be the city's fourth tallest tower. The rezoning application is being considered by the city's planning, urban design and sustainability department.