Olde Country Masonry of Victoria has won the trade contractor award in the (inaugural) 2019 Vancouver Island Construction Association Awards.
Olde Country won for its renovation of the Union Club building, a present-day National Historic Site which was built in downtown Victoria in 1913.
"I'm pleased to receive the award and proud of our staff who cared a great deal to produce the highest level of work to complement the tradesmen who built the Union Club," said Olde Country president Bob Sousa. "Recognizing this type of work as being award-worthy affirms that many in construction also believe in preservation of our local landmarks."
Sousa says he loves Victoria's old architecture.
"It wasn't that long ago that many of these old buildings were left vacant, demolished or condemned," he said. "Having an opportunity to work on many of these buildings and seeing our downtown revived is very gratifying."
The project's scope of work was extensive and grew as Olde Country got further into the project, which took place in 2015-16.
"We started with replacing brick header support and re-pointing the brick," Sousa said.
The renovation of the Union Club's masonry was detailed and extensive. It required:
Repair of cracked and broken cornice pieces;
Replacement of all cornice support steel, fasteners and grout;
Replacement of many terra cotta panels that were too broken to repair;
Stitching terra cotta blocks with threaded rod and epoxy;
Filling stitched areas with patching compound to match;
Replacement of balustrades and associated anchor system;
Sanding and, finally staining.
Olde Country used a wide variety of materials on the project: Terra cotta façade blocks, re-claimed original brick, industry-standard mortar, non-shrink grouts, galvanized double angle iron, galvanized threaded rod, epoxy, and stainless fasteners.
"Our terra cotta supplier, Boston Valley Terra Cotta (in New York State), was the original supplier for the Union Club and still had the drawings from 1910," said Sousa. "And we had a tech from Edison Coatings (Connecticut) fly out and train and certify our crew on using the terra cotta products to repair, rebuild, patch, fill, sand and stain."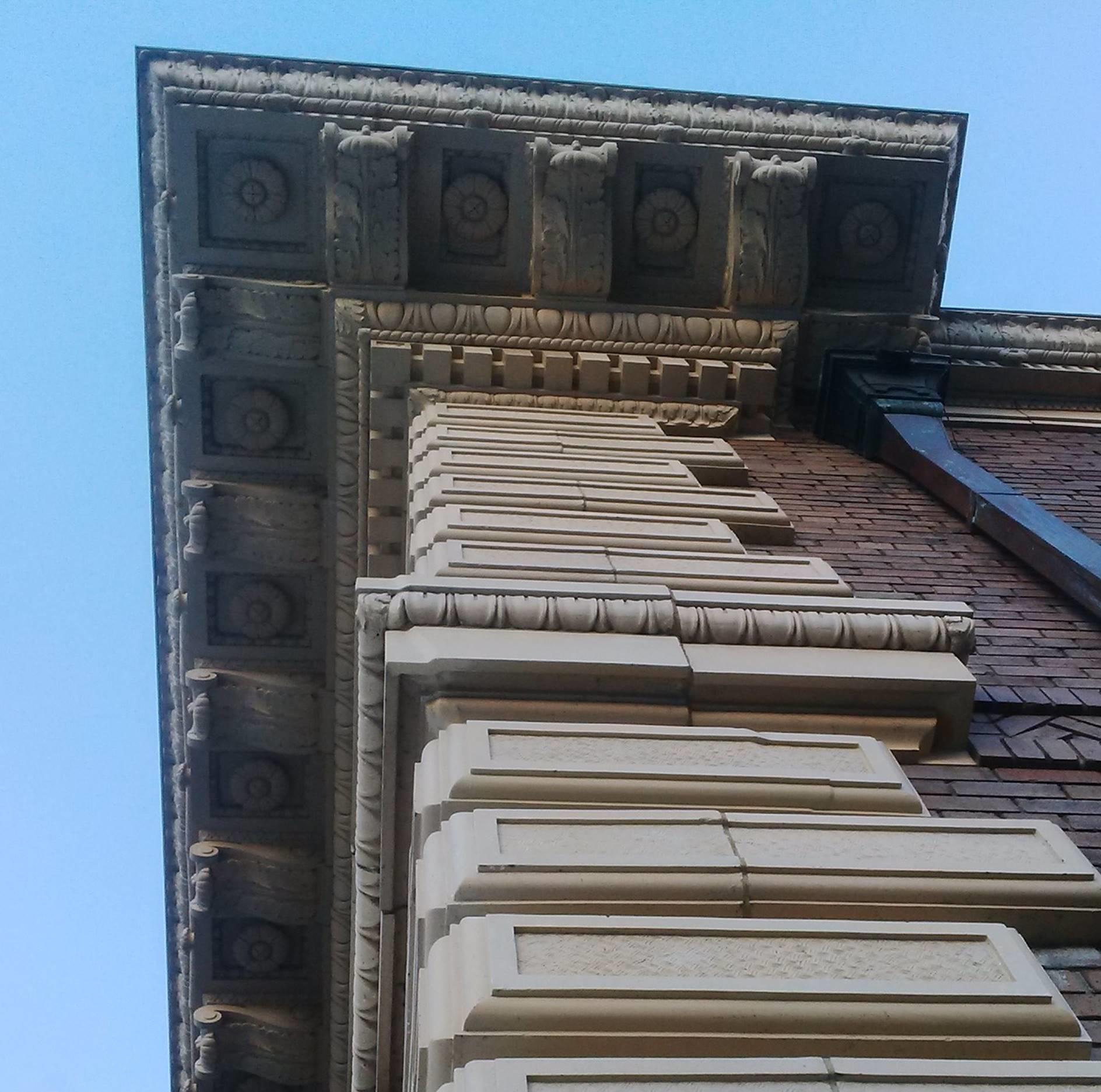 Given the nature of the project, it came, not surprisingly, with more than its fair share of challenges.
They included working while the facility was operating, an extended completion date, escalating costs, and improvised solutions for previously unencountered problems.
For example, water penetration had deteriorated most of the metal fasteners holding the terra cotta façade blocks.
As Olde Country removed broken blocks within the wall panels, the resistance on adjacent blocks was relaxed, causing surrounding areas to move and expose failures that weren't visible on the surface of the terra cotta. 
"With the help of the consultants, we designed systems to reattach broken blocks and reinforce support of the terra cotta units to the building without removing the panels above," said Sousa.
The concrete structural walls in one place had to be rebuilt, since the rust jacketing had made the wall useless to tie back into. Nearly all the terra cotta and brick had to be removed and rebuilt.
"When faced with these pressures, some owners will compromise on the end result in order to save money," said Sousa. "But Union Club's owners' representatives never considered that as an option and fully supported Olde Country throughout the project."
Project manager Pedro Morales says working with old buildings brings surprises once the cladding is removed and the envelope and structure are exposed.
"This type of work is not very common yet in this part of Canada and consultants and engineers are not up to speed with techniques and know- how, like they are back east, where these types of restoration projects are more common," Morales said. "So, a joint effort was used to come up with solutions."
The general contractor on the project was Knappett Projects Inc. of Victoria. Garyali Architect Inc. also of Victoria and the Victoria office of RJC Engineers acted as consultants.
The Union Club has a long and distinguished history in Victoria.
It was founded in 1879 to support the union of Canada at a time when there was a movement to take Vancouver Island and the province out of Confederation.
Originally an all-male club located above a butcher shop, the Union Club welcomed women 27 years ago. Females now make up almost one-half of the membership.
Of the club's almost 2,500 members, 1,400 live locally and the rest are all over the world.