PRINCE GEORGE, B.C. — Construction is underway on a new aquatics facility in downtown Prince George, B.C.
City officials said the building will be a showpiece for the downtown and provide enhanced and accessible aquatic services to residents.
Earlier this month crews began site preparation and excavation began on the 3,588-square-metre pool. HDR Architecture and Chandos Construction are in charge of the design and construction process. The pool is expected to open to residents in late 2022.
"As a swimmer and lover of aquatic sports, I am excited to see this project get underway. This facility will benefit the entire Prince George community, giving people of all ages and different mobility a place to have fun, exercise, and develop an important life skill," said Catherine McKenna, federal minister of infrastructure and communities, in a press release. "The heating system, fuelled with renewable energy, will contribute to lowering emissions."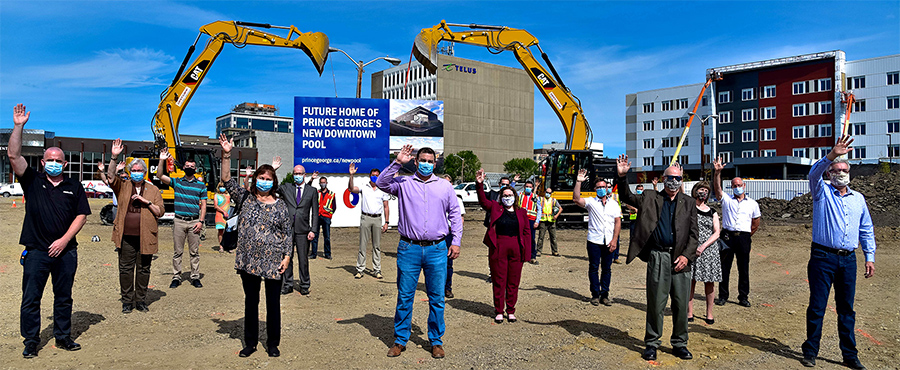 The new facility was designed with the following features:
A six-lane, 25-metre lap pool.
A four-lane, 25-metre teaching pool with warmer water and shallow depth.
A leisure pool with a lazy river, beach entry and play features.
A large waterslide with a run-off lane.
Dedicated male and female change rooms, as well as a large universal change room.
Sauna and steam room
Rooms for lessons and training
The project's total costs is $42 million –  $35 million for the pool design and construction as well as $7 million for purchasing the site and demolition operations.
The federal and provincial governments are chipping in $10 million in funding support from the Community, Culture and Recreation Infrastructure Stream of the Investing in Canada Plan.
According to city officials, it's the largest federal and provincial investment in Prince George infrastructure in the past 10 years.
The city noted that accessibility was a focal point of the design.
For example, the pool tanks will feature shallow entries and "pool pods" to enable swimmers with mobility devices to enter.
"I feel that the work city staff and the architect have done in designing the new pool has really raised the bar in regards to how buildings can and should be built in order to make them accessible to everyone," said Chris Gobbi, chair of the city's advisory committee on accessibility. "The project team met with the committee multiple times, and each time they came, they had updated drawings that incorporated the suggestions we had made previously. We really appreciate being heard and we can't wait to see the results of our work together. The whole community will be proud."
The new pool will also be connected to the city's Downtown Renewable Energy System, which heats buildings with energy sourced from wood waste. City officials expected this connection will reduce greenhouse gas emissions by 95 per cent compared to conventional natural gas heating.
"Council is very pleased and excited to see construction starting on this new downtown landmark. Together with the architect, city staff used input from user groups to create a modern, energy-efficient, and accessible facility, which will help the city to serve the aquatics needs of residents for years to come," said Prince George Mayor Lyn Hall. "Council is extremely grateful to the federal and provincial governments as well as the Regional District for the significant investments they have made along with the City of Prince George toward this project. Getting to this point has truly been a team effort – thank you to our residents, user groups, and every organization helping to make this wonderful facility a reality."