At the end of June, Saskatchewan architect Heney Klypak of Wallace Klypak Architects Ltd. was called to a remote First Nations reserve to examine fire damage in a school's change room caused by an electrical short in a vanity light. The damage was melted plastic, scorching to the laminate and wood and a lot of smoke damage, he said.
"It was really minor," said Klypak, who specializes in designing masonry buildings, with 90 per cent of his work on First Nations territories. "But, had the building not been masonry, the damage would have been much worse."    
Klypak credits the stringent building standards now in place by Indigenous Services Canada (ISC), which sets out a life expectancy of 60 to 70 years for institutional buildings on First Nations lands. That longevity is best met using masonry.
As a result, First Nations in Saskatchewan are leading the way in setting down structures that have low maintenance, longevity and resilience.
Ryan Leech, Saskatchewan Masonry Institute president, called the move "generational" in construction with First Nations a fast adapter with schools and community centres, but it is also one popular in non-Indigenous applications.
"Masonry has been the material of choice for virtually all design firms when building in northern or remote locations," he said.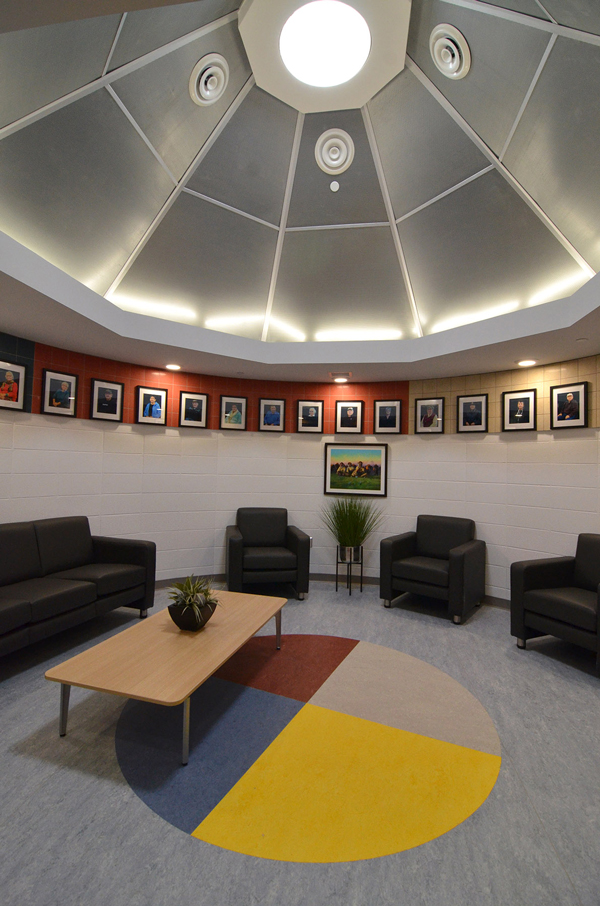 That generational attitude of enduring structures is one that Leech would like to see carried into all institutional buildings today, as it once was the past standard for what Leech calls, "the three pillars of society: education, health and religion."
Saskatchewan, because of a lack of milling facilities and a history of masonry and brick manufacturers, still retains many older masonry structures built over a century ago. 
"We are building disposable buildings with a life of 25 to 50 years versus some of the older masonry buildings that have shown a life of 100 to 150 years," he said, adding that the longer lifecycle of these generational structures should be measured against other construction modes today to realize the true value of masonry.
As well, climate change and increased wildfires, floods and other dramatic weather events such as 120-kilometre winds, which ripped through northern Saskatchewan in June knocking over 40 railcars, are further indications these structures need to be sustaining, he said.
Community centres, schools, administration buildings, fire and police departments are all structures that Leech would like to see built to withstand catastrophic weather events and provide shelter or a quick return-to-life after such an event.
Saskatchewan has also experienced a school shooting and masonry walls add a layer of protection, he said.   
"When we look for strength and permanency and resilience in these buildings, we are going to get it with masonry," he said.
More resilient masonry buildings in northern applications such as on First Nations lands, where fire protection can be limited because of remoteness, parallels what has historically occurred in major cities. As large fires devastated downtown cores, building bylaws required merchants to construct replacement structures from masonry such as fieldstone, brick or other stone types, according to historians Margaret Hryniuk and Frank Korvemaker in their book, "Legacy of Stone: Saskatchewan's Stone Buildings."
Fire continues to be a threat in rural and remote regions throughout Canada, according to a 2018 House of Commons standing committee report which points to the Canada's 2017 disastrous season.
"More than 5,300 fires burned over 34,000 square kilometres. During this period, First Nations faced 49 wildfire emergencies, and over 12,800 First Nations people were evacuated from their communities. Compared to non-Indigenous communities, First Nation communities are disproportionally affected by these emergency events for a number of reasons, such as their relative remoteness, isolation in fire-prone areas and limited access to emergency services," said the report.
In addition, First Nations people were 10 times more likely to die in a fire on a reserve than non-First Nations communities.
Klypak said masonry structures can be designed to withstand fires, but a more reoccurring problem in northern regions is power failures.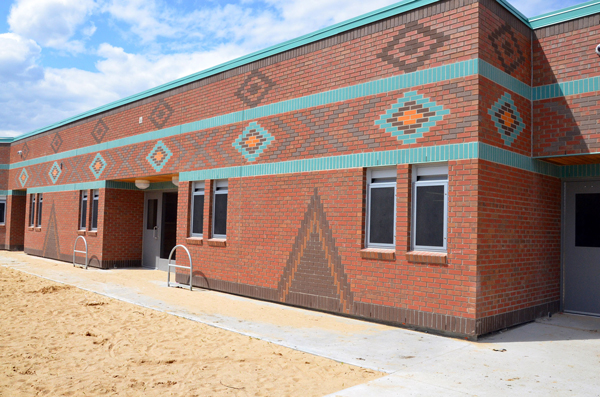 Today, he said, there are more masonry buildings being built with backup generators that can serve as emergency shelters if needed. An attribute of masonry is the thermal mass it offers, so it can retain heat or coolness during summer.  
Leech, president of Brxton Masonry Inc., said the reality of northern construction is its expensive.
As a result, maintenance needs to be minimized.
"You want to build something that is going to be long-term and you don't have to go back and work on or rebuild," he said.
Klypak said access is often restricted to January and February when ice-roads allow for the trucks to bring in masonry blocks and materials. Masons usually work on scaffolds with a lift hoisting blocks or bricks. 
"It is really modular construction and there is not a need for a special crane to lift them into place," he said.
Sasha Kirin, a civil engineer employed by the Canadian Masonry Design Centre, but working out of the institute's offices to provide technical assistance to masonry builders, said the advantage Saskatchewan has is a long history in masonry.
"We have been able to learn from the past," he said.   
Klypak said masonry structures have provided architects with the ability to provide design features that would be difficult to replicate with other building materials in remote areas.
He recently completed the Chief Sabitawasis school at Fishing Lake First Nation with the school doubling as a community activity centre in the evenings.
The elders' culture room is designed in a circle. A jogging track has been built on the mezzanine above the gymnasium. To facilitate the curved ends of the track, Klypak was able to use the building's masonry to bow the walls at the end of the track.
Klypak has also used masonry to create shapes such as the rolling sloped shape of a credit union built to mimic the rolling countryside. Placing the exterior facing on such unique masonry buildings or rounded masonry buildings takes skill, but Saskatchewan's history of building with stone and brick has yield a legacy of skilled tradesmen.
Klypak said he uses stonemason Michael Serby, known for his skill but now retired, as a consultant on challenging projects.
"You are able to use someone who talks their (crew's) language," he said.