Architectural leaders shared their perspectives, insights and approaches to innovation in different parts of the world at this year's International Architectural Roundtable, billed as Innovation in Architecture: Imagining the Possibilities.
The session was held virtually Dec. 1 as part of Buildings Week. The following is a glimpse of their stories.
Beyond the Building — Christian Benimana, senior principal and managing director, MASS Design Group
For Benimana, each project starts with a mission.
"We need to have a mission, we need to have specific metrics that we track to be able to point to our successes or failures to achieve these missions," he said. "We want to figure out methods that allow us to achieve the maximum impact economically, environmentally, educationally and emotionally because these spaces must achieve those things."
He discussed the Butaro Cancer Center of Excellence his firm designed in Rwanda.
"Some of the questions we are asking fundamentally is what do we have to offer as an architect to people who have been given quantified chances of dying?" explained Benimana. "Our answer to that was to try and create these warm spaces that open up and give this connection to the outside world and break this isolation that these patients might feel."
He encourages everyone working in architecture, engineering and construction to question the methods used to build.
"As a practice we have been accustomed to following these rules usually set by developers or financers or contractors and it's time we architects should reclaim our powers to challenge the types of processes."
The firm also worked on a primary school project in the middle of the Congo.
"The location of the site itself presented such a challenge that basically it only made sense that 99 per cent of the materials that made this project come within 100 kilometres because it's so remote," Benimana said.
Eighty-three per cent of the project cost was spent on labour.
"It creates a fundamentally very different model than what we use in the other 99 per cent of our projects where cost investment in the project distribution is the inverse of what you will find in other markets where you use these rules of thumb that labour is a third of the cost to put the building together. In this instance, the material cost nothing but the entire process and the labour is the bigger chunk."
The Intersection of Design and Health — Eric Phillips, partner, NBBJ
 "While certainly tragic, COVID-19 is also an opportunity for innovation, a call to action if you will. We must create buildings that are better conduits for health," Phillips said in his opening remarks.
Los Angeles-based NBBJ engaged with Dr. John Medina to gain neuroscience insights on integrating principles that lead to healthier and more productive spaces.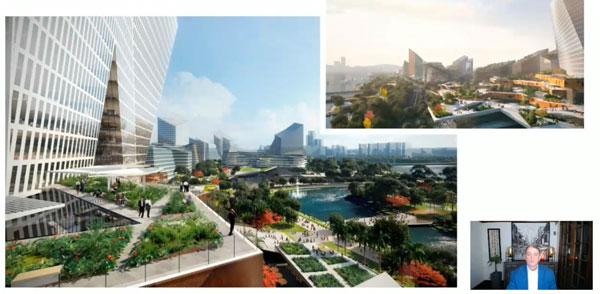 "In the past few months we focused our efforts with John on how neuroscience can impact offices and health care environments given those are two major areas in which we practice," he said.
"These insights led us to ideate over the past three months on what the office of the future could be."
He said paths and stairs, for example, provide different types of retreat spaces for meetings and can be carved out of utilitarian spaces like hallways to create private, quiet, calm spaces.
He talked about some of the projects he is working on that implement these principles such as the Alibaba XiXi campus which ensures each of the 12,000 employees who will work there will only be 60 seconds or less from outdoor greenspace and a neighbourhood being developed with the tech giant Tencent, called Tencent Net City in China, which focuses on what a city future would look like if people and their health is prioritized as a fundamental design driver.   
Resistance, Play, Misbehaviour  Revolutions – Per Minute — Alexander Josephson, co-founder, Partisans
 "It's all about misbehaviour. It's about disruption," said Josephson, adding his firm, Partisans, is made up of a diverse, Toronto-based team. "It's really about challenging and asking why and why not and asking for more."
He spoke about a new community in Innisfil, Ont. called The Orbit that Partisans designed and received approvals for in the last year, primarily through Zoom meetings.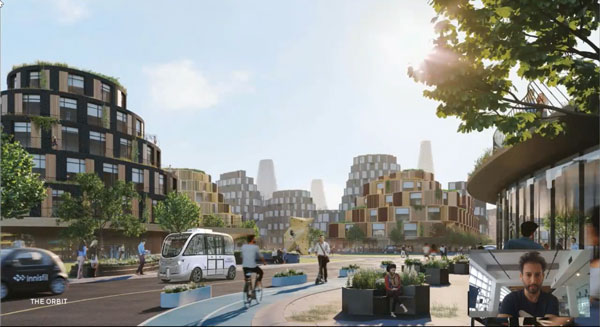 "The reason why we did this is because of transit," said Josephson, adding the solution will allow the community to expand while preserving its natural and agricultural lands.
The Orbit is a complete community and has everything needed in a sustainable city – higher density, better services, transit, proximity to airports, parks and schools and will have all the gadgets that future smart cities should have.
"We are calling it an orbit because everything revolves around transit, everything revolves around proximity to services. It's a concentric idea for people to live in place that really is pedestrian-centric."
In terms of urban fabric, the team decided to explore the viability of concentric circles and based on Ebenezer Howard's the Garden City concept.
"Even though it's been discussed a lot in architecture there hasn't been enough large-scale examples of when this can be deployed successfully. In this case we thought it would be perfect," said Josephson.
"What this all amounts to is this very green, concentric, optimistic plan that includes an incredible amount of wetland to the south, shared park along the rail lines, which would be potentially the beginning of one of the largest parks in the world. These rail lands could turn into a 100-kilometre long park going right down to Toronto."
How to think about innovation in architecture — Quang Truong, principal and co-founder, POLYTECHNICA
Truong's framework for thinking about innovation in architecture includes ambition, lifecycle assessment and the architecture, engineering and construction (AEC) process.
"If we have a proposed innovation how do we talk about whether or not its meaningful? What are the challenges? What are the opportunities?" said Truong, who resides in the Portland, Oregon area.
"This framework can help us suss those things out through an idea of the ambition, the lifecycle assessment as well as looking at the AEC process that it must go through to make it a reality. The other thing it can help us do is to help us identify potential sources of innovation."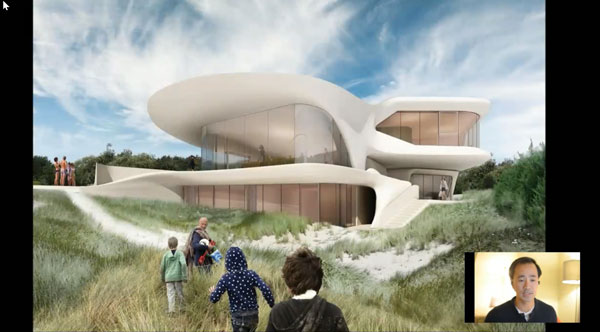 Truong is licensed architect, published author, adjunct professor and co-founder of an AEC technology startup company. He started out his career working with non-conventional solutions starting with rammed earth, then composite materials and mass timber. He recently released a book entitled Composite Architecture, the first book about composite materials in architecture.
"It focuses on this new class of materials that is not often discussed in architecture," said Truong. "It talks about the history of this material, which everybody has familiarity with, from primarily sports recreation equipment from tennis rackets, to bikes, to boats, hockey sticks. It talks about how that material that is so common in other industries is just starting to find its way into architecture."
He told delegates about a house he helped design in Long Island that used fibre reinforced composites, which at the time was unprecedented. The material is now gaining popularity as it is being used worldwide in a number of Apple stores including one on the Apple campus in California, which is a carbon fibre roof that spans 155 feet across without any walls or columns to support it.
"The basics of carbon fibre is it could be 10 times stronger than steel, a tenth as light as steel, and it doesn't corrode, it doesn't rot, it doesn't rust, so you have to explain to people why it isn't used more often," Truong said. "While I was doing the research for this book I had to figure out all those reasons and distill them into a framework for how do we start to think about the application of new technologies into architecture."
Follow the author on Twitter @DCN_Angela.