When crews began restoring the Ironworkers Memorial Bridge in Vancouver, one of the biggest, unexpected factors that could impact the construction schedule wasn't weather or labour shortages.
It was pelagic cormorants, a sea bird protected by the B.C. Wildlife Act. Crews were not allowed to work within 50 metres of one of the birds or a nest.
Michal Brondel, CEO of Tatras, explained the rise of stricter environmental rules and the need to work on aging infrastructure pushed the company to develop engineered netting systems. Tatras specializes in rope access contracting, which includes installing the systems.
The avian exclusion netting prevents birds from nesting in construction areas so work can be done during nesting seasons. The nets are made from a UV stabilized polyethylene to withstand coastal environments and blend into the bridge.
But Brondel explained the true innovation is the installation. The netting solution doesn't need to be drilled to a structure, instead relying on custom clamps and magnets. Brondel noted Tatras also has to factor in wind load and ensure the nets fit snugly over the desired area.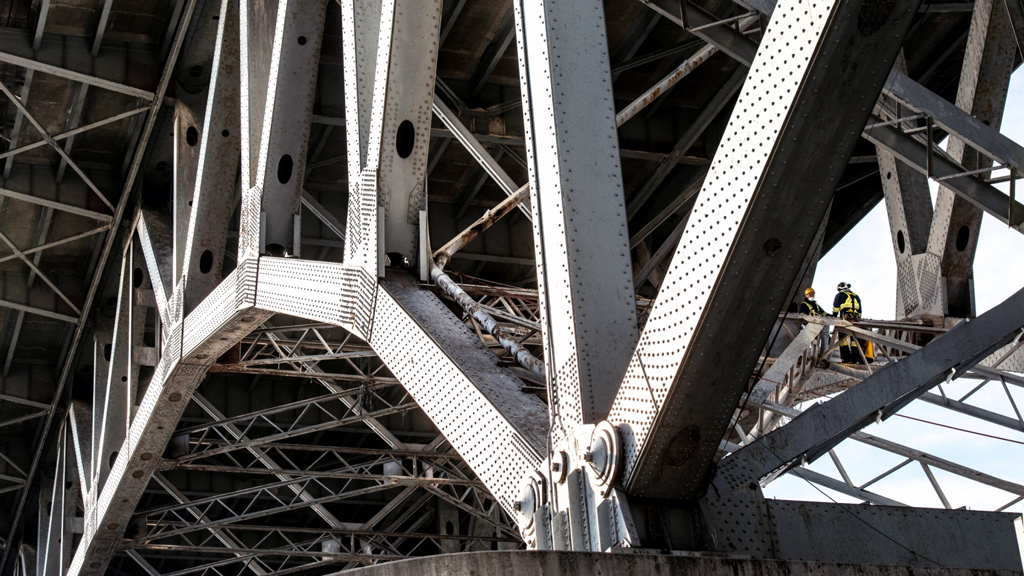 "Access is most complex part," said Brondel. "There is often no scaffold and it has to be done from the ropes by highly trained and certified people. There are a number of factors involved, but every bridge is custom."
The company also makes heavier nets to prevent debris from hitting environmentally sensitive areas, people or property.
"Environmental consultants were not as fragile about this subject until just a few years ago," said Brondel. "It seems everyone is much more delicate about the environment. And the last thing a company wants is to be in the news."
Brondel said that calls for environmental measures, like avian or debris netting, have risen and Tatras is intending to expand beyond Western Canada. He noted the company sees opportunity to deploy systems on highway and canyon projects.
"That work is important because if we don't do it, those are infrastructure dollars that come from the taxpayers' pocket," said Brondel. "If we aren't able to look after and maintain these things and can't extend the lifespan, they are expensive to replace. If we miss that opportunity because of environmental issues, we risk having to replace it."
Follow the author on Twitter @RussellReports.