Over a career spanning more than 50 years, Peter Nygard built Winnipeg-based Nygard International into Canada's largest producer of women's apparel.
Two years ago, the now-disgraced fashion mogul's life and company came crashing down around him and the company was forced into receivership in 2020.
Now Nygard International's roughly 50-year-old former head office and warehouse building is being reborn as Big Sky Studios, a major new motion picture production centre, which, says Winnipeg-based film producer Ian Dimerman, will be a real shot in the arm for Manitoba's already thriving film industry. In an interview with Global News in May, Dimerman, the founder and president of Inferno Pictures, noted "this production centre is something people in the industry have wanted for many years. We've got some of the best crews in the world," he said. "Anyone who's come to shoot here has raved about the amazingly talented crews that we have here, but one thing that we've been lacking is infrastructure."
In an interview with the Journal of Commerce, he noted he brought the site to the attention of the Vancouver-based Eighth Avenue Development Group, developers of Big Sky Studios, to help pique their interest in Winnipeg. 
"They came here on an exploratory visit 15 or 16 months ago," he reports.  "Once they saw it, they knew it was the facility to work with and it took several months to go through the receivership process while they did their preplanning and preparations for a construction start."
He notes the retrofitted structure will be 172,000 square feet, including a 30,000-square-foot addition that includes two purpose built sound stages. The overall facility will also feature two repurposed 15,000-square-foot soundstages, production offices, meeting rooms, workshops, onsite equipment rental and specialty areas for different film departments.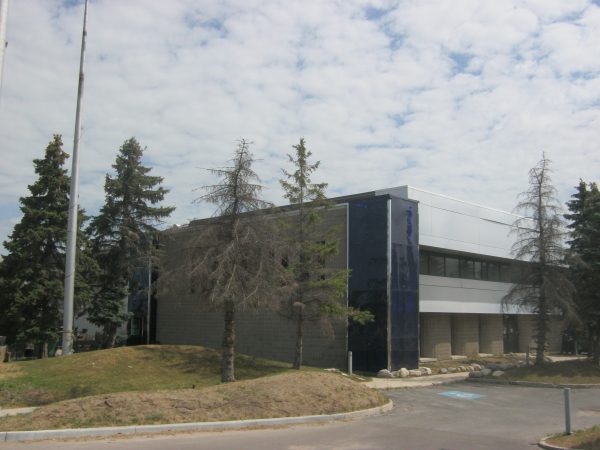 "We will have a 40-foot ceiling height and clear span sound stages to accommodate larger film productions," he says.
He reports that Neil Cooper is the architect while Concord Projects Ltd. was awarded the construction contract.
"We feel fortunate that we were chosen for this project," says Harald Schulz, Concord Projects' senior vice-president for pre-construction. "Building a film production facility is something a little different but not unfamiliar for us."
Concord Projects has been in business since 1978 and has been involved in projects ranging from northwestern Ontario to Alberta.
"While the building envelope is not altogether that different than other mass building envelopes, not unlike other large scale logistics centres or big box retailers," Schulz points out, "we are learning about some of the particular requirements for film production."
He cites as an example having to accommodate with the acoustic challenges. 
"We have to ensure there is limited noise transfer, so that sound doesn't travel from one sound stage to the other and that noise from outside doesn't interfere with sound quality."
While film production spaces will accommodate extremely high overhead clearances, they also will benefit from up to 100' wide clear-spans and large over-sized door openings to accommodate filming crews, equipment and specific set parameters.
Then there are the power and data requirements.
"There would be a massive amount of data that may have to be transferred to other centres during post-production. The building will have to have good fibre optic capability."
And, Schulz adds, film production consists of many different departments such as wardrobe, millwork, props and laundry areas and support equipment that all have to be accommodated.
He further notes Big Sky Studios is envisaged as a "one-stop-shop" in a sense. There even has to be enough parking and staging onsite for the massive entourage of support vehicles.
"If you want to be able to attract major film productions, you have to be able to check off all the boxes," he observes.
Eighth Avenue reports construction is on track with the first phase of the new production centre expected to be in operation in the late fall of this year and the second phase to be completed in Q2, 2022.