Prep work has been completed and construction crews are now installing pilings and laying the foundation for a $500-million BMO Centre expansion project in the Stampede Park grounds near downtown Calgary.
The 560,000-square-foot expansion project, to be completed in 2024, will increase the floor space of the centre to more than one million square feet and make it the largest convention facility in Western Canada.
"Crews have made significant progress over the past 24 months completing pre-construction activities and preparing the site with extensive utilities upgrades and demolition," says Amy Castle, senior manager, communications at Calgary Municipal Land Corporation (CMLC), which is development manager for the project.
Last August, construction of Hall F, a 100,000-square-foot facility on the northeast side of the existing building, was completed by Gibbs Gage and Stuart Olson. Opening the building has allowed BMO Centre and the Calgary Stampede to continue without interruption during construction.
The Corral and Hall A were demolished over the winter and a data centre that powers and connects the entirety of Stampede Park was relocated to an above-ground location. This past spring, the team removed 16,000 tons of demolished material from the site, of which 94 per cent was recycled for use in other projects.
Crews broke ground on the new centre in April and since then have been driving spiral pilings into the ground. Later this fall, they will be installing the steel superstructure.
The expansion project is a key component of the Rivers District Master Plan. It is expected to generate 1,800 jobs over the four years of construction. At peak, there will be 300 workers onsite.
This is BMO Centre's first renovation since 2009 and, when completed, will double the rentable space in the facility.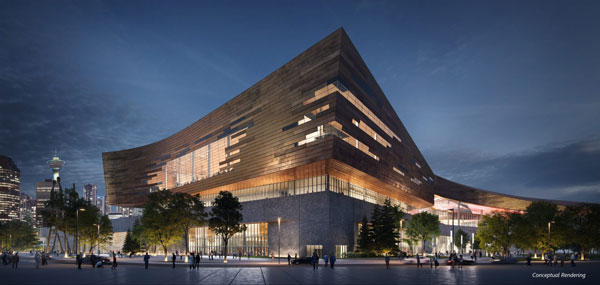 Castle says the project will elevate Calgary into the top tier of the competitive international meetings and convention market.
"It will be a premier venue for consumer and trade shows, special events, meetings and conferences," she notes. "The new building will include 250,000 square feet of contiguous exhibit space, a ballroom, meeting rooms, pre-function areas, loading docks, food and beverage facilities and office space."
The project is a critical first step toward establishing the downtown east end as Calgary's culture and entertainment district.
"Beyond being significantly larger than the existing BMO Centre, the new facility will reflect, inside and out, today's best practices in convention facility design," says Castle.
In 2019, the Calgary Stampede and CMLC chose a three-firm team consisting of architects Stantec, Populous and S2 to design the project. They were chosen for their expertise in working on similar venues. Stantec has been involved in transformational community projects around the globe, while Populous has developed innovative practices in international convention design, and S2 has local experience on projects in Stampede Park and East Victoria Park. The project design was unveiled in June 2020.
To round out the BMO expansion team, CMLC and the Calgary Stampede have also enlisted convention venue operations specialist HLT Advisory Inc., urban design specialists O2, project management firm M3 Development, and construction management firm PCL Construction.
The building's innovative design will stand out in the Calgary skyline.
Indeed, drawings of the building show a sleek and expansive, U-shaped three-level structure with a sweeping copper-inspired façade and roofline and acres of outdoor plazas. The facility's interior spaces will include exhibition halls, ballrooms and a flexible central hub that will be ample, adaptable and amenity-rich. Outdoor spaces will include plazas, retail and café offerings and public art.
The expansion will be a major catalyst for upwards of $1 billion in private investments for the City of Calgary. It will also help diversify the southern Alberta economy and boost Calgary's status as a global trade and tourism destination.
The project will support more than 3,000 jobs post-construction and generate $267 million annually for Canada's economy, including $223 million for Alberta.
Castle says the project remains on schedule and on budget and crews have not experienced any construction challenges to date.
The BMO Centre expansion coincides with other major projects underway in the district, including the 17th Avenue SE extension, Victoria Park Stampede station rebuild, a revamped Stampede Trail retail corridor and an Event Centre.
"Over the long-term, programming and operations of the new convention centre will benefit the entire community by ensuring ongoing employment opportunities and supporting vital economic activity," says Castle. "This is an important step in our economic recovery, and demonstrates the optimism, hard work, vision and entrepreneurial spirit."
The BMO Convention Centre has been Calgary's primary venue for consumer and trade shows, special events, meetings and conferences since it was built in 1982. The expansion project is supported through equal contributions from the Government of Canada, Government of Alberta and City of Calgary.