A long-underused area of Edmonton's downtown core is set for a significant transformation.
The City of Edmonton is remaking the Downtown Warehouse District with a new park covering 1.47 hectares between 106 Street and 108 Street and Jasper Avenue to 102 Avenue. 
City of Edmonton general supervisor of project management, open space planning and design Geoff Smith said there's a need for a new downtown project identified as a "catalyst" for the area.
"The city has adopted a city plan and a municipal development plan that anticipates population growth of up to two million people," Smith said.
"As Edmonton's population grows, Warehouse Park is an important catalyst for private investment in the downtown core. Some people are already choosing to live downtown and when life changes occur this will enable people to continue living downtown.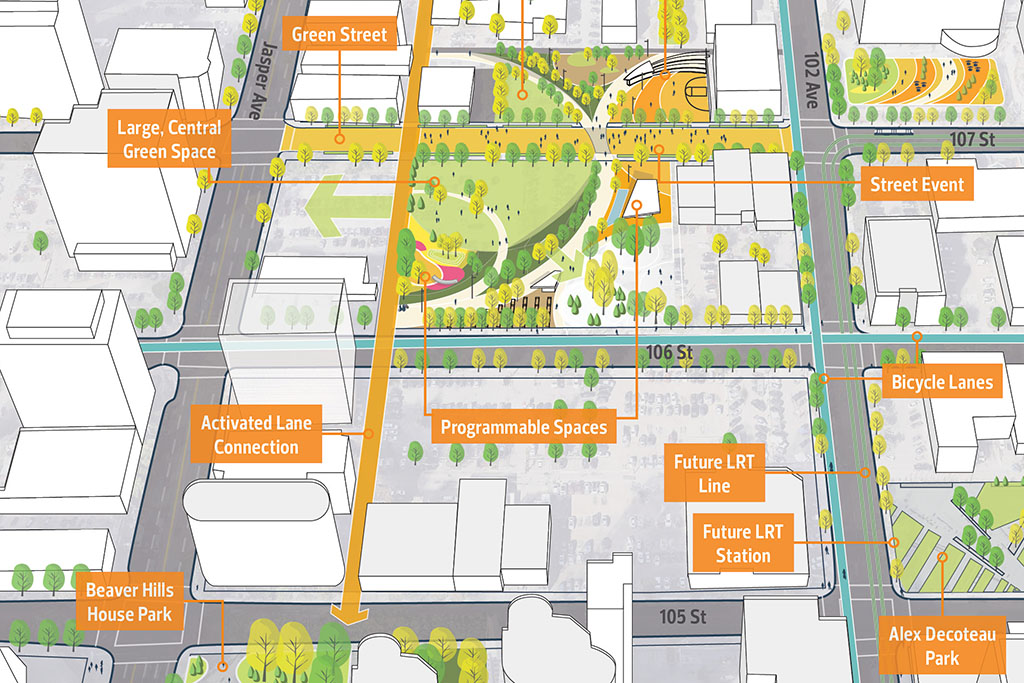 "There's a specific deficit in the type of park Warehouse Park would provide," Smith added. "We have hard plazas for festivals and events like Churchill Plaza and the Ice District, but there's a need for open green space with tree canopies, flexible space and a children's play area."
gh3* architecture is the lead firm and architect on the project, with Claude Cormier + Associes as landscape architect and AECOM acting as the engineering team and local landscape site architect.
gh3* principal Pat Hanson said the new park is "an opportunity to speak to resiliency and sustainability in the city."
"What we're committed to is an urban oasis, as green as possible while being used in multiple ways by cities. We see it as a city-building opportunity, which sets the tone and I think the level of architecture around it," Hanson said.
Smith said the new project offered a chance to change an area of downtown at a scale rarely seen in any metropolitan area.
"The opportunity presented here by adding just over two football fields in size is pretty unique in a downtown context. Typically, you can add a small plaza or a parkette, but this is open space you might see in new town centres."
Hanson said other parks in major cities were used as a model for the new park while ensuring it reflected Edmonton.
"We really see this as a central park and we looked at Central Park in Manhattan as an archetypal kind of area, but this park would only use flora that's unique to Edmonton and could only exist here. We're looking at the history of the area and leveraging local geography," she said.
The park's planning and design has taken into account Edmonton's long and frigid winter season.
"There will be strategic tree planting creating microclimates throughout the park using species of conifers. Fundamentally, it's windbreaking, with an idea of making sheltered spaces that provide shades in the summer and protection in the winter," Hanson said.
The city plans for a significant number of residential units near the park along with easy access to rapid transit.
"The park will be served by Corona Station and then there's the Valley Line West LRT project that will serve the neighbourhood, so there's an opportunity to bring these large infrastructure projects together in ways that are significant city building initiatives," Smith said.
"It culminates in making this new area of the city pedestrian-focused and comfortable for those on foot."
The design process for the park will take place throughout 2022-23 with construction in 2024-25 and the park open to the public by 2025, Smith said.
Follow the author on Twitter @JOCFrey.