An old office building has created new housing for Calgarians in need with high-tech tools and a compressed schedule.
While office buildings around the globe remain empty or significantly less occupied in the wake of the global COVID-19 pandemic, Calgary holds the lowest office occupancy rate in its downtown core of any city in Canada, but a new PCL Construction project is turning an empty office tower into affordable housing.
The Neoma building is managed by the HomeSpace Society, a charity that builds affordable housing across Calgary. The 10-storey structure was originally built in the 1950s as oil companies set up shop in the city's downtown core.
Converting the building from a set of offices to a structure suitable for residential use had its share of challenges, according to PCL Construction Calgary district project manager Rob Mitschke.
"(It was) a collaboration with ourselves and the design team. A lot of thought went into what could be reused and what had to be all out replaced," Mitschke said. "The elevators, stairwells and selected building facades all were able to be retained while other components were upgraded."
He added a prominent ceramic block featured in the building and was at one time a common feature in 1950s-era buildings but has since fallen out of favour.
"Gibbs Gage Architects, our architect, worked closely with the City of Calgary and their building code offices, and we did testing to verify it met fire rating thresholds and we were able to keep it in place," Mitschke said.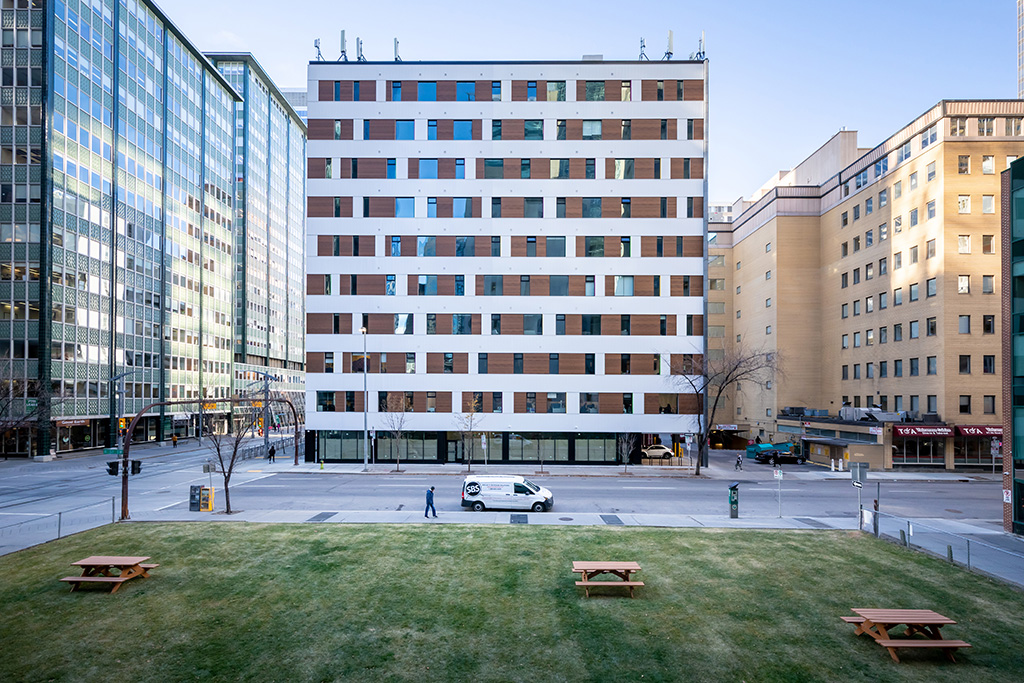 PCL also had the advantage of not only working on an already completed structure but being able to use cutting-edge technology to deliver precise measurements and modelling to the design team, PCL special projects manager Ryan Kuntz said.
"We wanted a sure way to cover any unknowns before the designers put pen to paper. To further reinforce the audit, we also had a chance to leverage technology we use at PCL and did an entire laser scan transferred to a point cloud. It was real-time information the designers got before they started drawing," he said.
The project was also designed and built under an extremely tight timeline, Kuntz said.
"This was definitely a fast-tracked process, so our involvement from the onset was key," he said. "We really set it up early as a collaborative process where communication had to be expedited a lot more than meeting once every two weeks. We had to be on the same page as every day went by."
Supply chain issues and building during the pandemic added to the pressure of a compressed timeline, Kuntz said.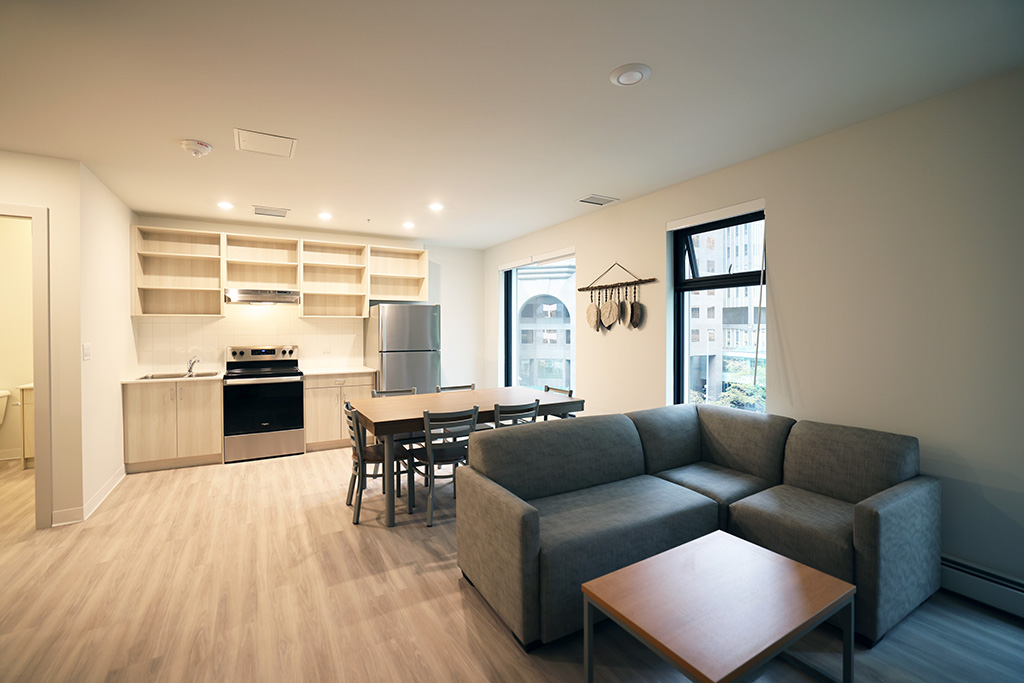 "We were tracking hundreds and hundreds of times. I think we were just under 400 to 500 items that we would never put on our radar prior to current market and supply chain conditions," he said.
HomeSpace Society also used a phased approval process to allow PCL to complete construction as quickly as possible, Mitschke said.
"(We had) phased authorization from HomeSpace on critical procurement items, notably envelope materials, mechanical equipment and electrical equipment. Even before those designs were done, we were ordering those materials, securing those materials, and that ended up paying dividends throughout the project. Things that would have caused schedule delays down the road were never an issue because of how we tackled those risks upfront," he said.
Kuntz noted while the office-to-affordable housing conversion was a first for Calgary it will likely not be the last.
"We do acknowledge this was unique and the first one out of the gate for Calgary, so we were extra diligent in tracking every aspect of the project knowing we've been talking to other clients and knowing the current inventory of empty of near to empty office space in the city of Calgary," he said.
For more on this story, check out The Construction Record podcast for an in-depth interview.
Follow the author on Twitter @JOCFrey.