The landscape of Canada's Prairie provinces is dotted with the hulking presence of dilapidated wood grain elevators that are no longer needed. Many have been abandoned and fallen into disrepair.
To some they are a relic of the past, posing a health and safety hazard. But to retired farmer Alvin Herman of Milden, Sask., serial entrepreneur, inventor and self-described workaholic, they represent an opportunity.
He started a company with other partners that dismantles the elevators, salvages thousands of feet of the weathered board and either repurposes the wood into decorative furnishings or recycles the scrap into mass timber building products like engineered wood panels, columns and beams.
"We'll take the wood structure down and our plan is to salvage everything that we possible can and repurpose it," says the 75-year-old. "That's our business model."
In other words, he's reclaiming, recycling and reusing history.
Herman retired from farming in 2003 but got into product development and manufacturing and building oilfield equipment. He eventually sold to a U.S. company and figured that was it.
"But I still owned a grain elevator," he says, "and I needed to take it down because it was a liability."
The structure was a 111-year-old elevator in the village of Milden about 90 kilometres southwest of Saskatoon. That project soon turned into a business and he formed ABMT Wood Solutions Ltd. with other partners.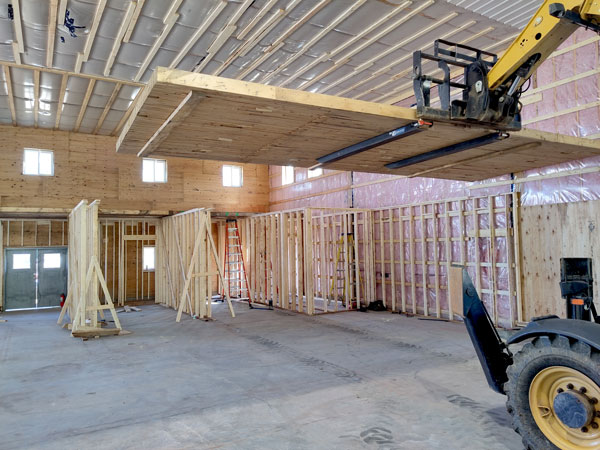 The focus of the company is to remove dilapidated structures like grain elevators and reclaim and repurpose the lumber. In doing so, it removes a safety risk and stops the wood from being burned.
"Ninety-nine per cent of the elevator wood is as good as the day it was put up," says Herman. "It also has fabulous sculpting that creates one-off panels. If you want something unique for a wall in an office tower or hotel or restaurant or in your home, when you buy one of these it's the only one."
Much of the material used to build the elevators is old-growth wood, which is difficult to obtain.
Brad Hamilton, a director and partner at ABMT, says nearly all the wood from a grain elevator is reusable.
"We're repurposing the majority of the walls, the elevator and the annexes," he says. "For someone who is trying to get to net-zero carbon, this product is a home run for them."
Most of the wood salvaged from the deconstructed towers can be turned into anything from a dance floor to decorative furnishings to entirely new homes. Much of the wood is repurposed into a nail-laminated mass timber panel system that can be used for other structural applications.
"We're reusing all the timber posts and beams, and we're repurposing the product into nail-laminated timber panels that are used for mezzanines, wall assemblies and room assemblies," says Hamilton.
"Our panel system goes up and it's like the Rock of Gibraltor. We've got a whole bunch of insulation on our system that's used to get to as low as net-zero energy consumption. Those panels, because they're repurposed, actually have a negative calculation which is a very positive thing."
Traditionally, wood from demolished elevators would be partially landfilled or burned on the farm, which would emit carbon.
The ABMT team is presently working on a grain elevator in Kenaston, about an hour's drive south of Saskatoon on Highway 11, in the heart of the Prairie province.
"We actually have a crew doing some preliminary work on the grain elevator, taking siding off and what have you," says Herman. "We're not actually pulling the elevator down in the wintertime, in the cold, but once it warms up enough we'll be doing that."
Business is brisk.
Herman figures there are roughly 180 wood grain elevators in Saskatchewan and close to 300 in all three Prairie provinces.
"We've got quite a number of them contracted and they like our proposal," he notes. "We charge a deconstruction fee but we'll share 10 per cent of the recovery with the owner of the elevator."
A crane is used to dismantle the elevators. The wood panels are removed piece by piece.
Herman is drawing on his background in product development and manufacturing and is in the process of developing new technology that will increase the speed of the work being done on the elevators.
"I'm a problem solver," he says matter-of-factly. "My name is on 40-plus patents, so it's my gift and I'm going to use that as long as the good Lord gives me the ability.
"There's a lot of work left and I think there's a real desire not to burn anymore, so there's an opportunity for us and we're thinking we can capitalize on that."
ABMT Wood Solutions has a list of about 10 more customers who want their grain elevators deconstructed. The company will soon be announcing a new marshalling yard in the north central Saskatchewan business district.
With plenty of work still on the horizon, Herman says it doesn't look like he'll be retiring anytime soon.
"Every time I plan that, something comes up. But, actually, this is a lot of fun."