It's not everyday someone decides to build a floating sauna with hot and cold pools and greenery. But Victoria entrepreneur Nicholas Van Buren wants HAVN to open in early summer, as tourists inundate Victoria's Inner Harbour.
Van Buren's sauna vision was seeded a few years ago following a very enjoyable visit to a busy thermal spa in Ontario.
An inventor and designer, he first put his skills into converting a 30-foot sailboat into a floating sauna. Now, he's notched it up
At Victoria's Ogden Point, a 34-foot-wide, 148-foot-long, 800,000-pound former Second World War U.S. barge is getting a makeover, going from industrial workhorse to recreational hotpot.
But the process is proving to be complicated.
"I've redesigned it three times," Van Buren says. "Everything's calculated for weight."
That's because the top, open level of the barge will feature three saunas, three hot pools, two cold water pools, green space and outdoor seating. The lower enclosed level will host change rooms, the entry, reception and an ocean water pool.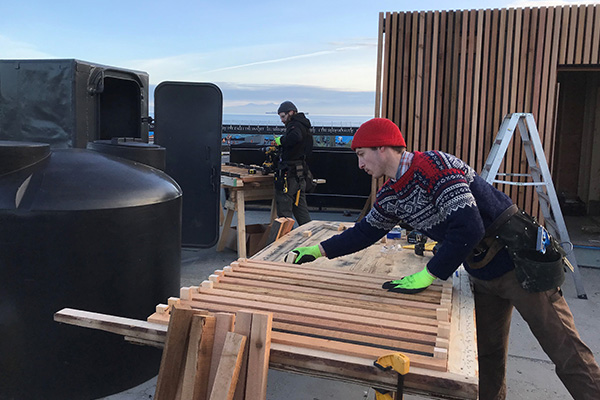 Naval architecture is being used because air exchange and balance are crucial.
Hydrostatics, hydrodynamics and body motion are other considerations.
"It's about finding the right flotation," Van Buren says. "And the electrical design, it's such a complicated system."
As well, the mechanical system is proving tricky, along with plumbing and sewage configurations.
Van Buren began the project in the fall of 2021 when he sought a suitable vessel.
He called several marine companies along the Fraser River in Greater Vancouver and when that was a no-go, he waded deeper.
He eventually found the 1943-built barge on West Cracroft Island, in B.C.'s Johnstone Strait.
In August 2022, his team started work on the vessel. Circular openings were cut for the windows, primer was applied, the hull was painted.
In late fall, the barge was towed from West Cracroft to Victoria.
One fascinating construction component is the wood.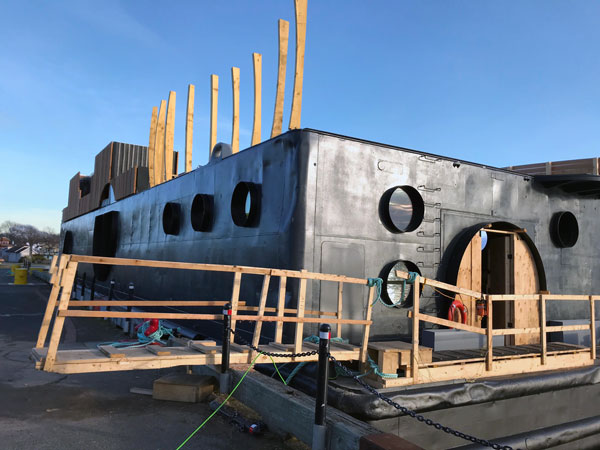 Van Buren's goal is to use clear wood, meaning no knots and a higher esthetic appearance. That type of wood is often old growth and not readily available.
So Van Buren got creative.
"We pulled our wood out of the ocean. It naturally fell into the water," Van Buren says of the labour intensive logging.
Primarily red cedar, the logs were trucked down from Port McNeill to the Malahat, 50 kilometres north of Victoria, where it was kiln-dried and milled then delivered to Ogden Point. Over 18,000 board feet were produced at a cost of about 90 cents per board foot, Van Buren says.
Another unique aspect involves permits and licences.
Because HAVN will stay tied to the dock, Van Buren says a building permit is not required. But an electrical permit is a must.
As well, Transport Canada certification isn't needed, Van Buren says. But an architect has to provide a letter of assurance in place of an occupancy permit, he says.
Beyond the complexity of the on-board systems, HAVN faced a delay due to municipal elections when it applied to the City of Victoria for approval to lodge the barge in downtown Victoria, near the Empress Hotel and legislative buildings.
But in mid-January, unanimous rezoning approval was given, to the disapproval of some residents.
Some said HAVN will take up valuable mooring space in a working harbour while one critic likened it to a monstrosity that could "be a prop for a movie scene of Mad Max."
Van Buren is confident customers, there will be 40 allowed at a time, will pay about $65 for a healthy experience.
He wouldn't divulge the budget for the complicated project, partially financed by a B.C. investor.
Tofino Resort Marina operates a floating sauna on Tla-o-qui-aht First Nation territory; Quebec's Kenauk Nature offers a floating sauna on a barge; and an Ontario business owner has built a "sauntoon," a sauna on a pontoon boat.
Floating saunas are also common in Europe, particularly the Nordic countries.