The introduction of modular soccer stadium construction in Vancouver could usher in a new age for the industry and the sport across North America.
SixFive Stadium Experience, a division of SixFive Sports and Entertainment, is currently preparing the foundations for the new home of the Vancouver Football Club in Langley, B.C.
Once foundations are prepared, the stadium will begin and finish construction in roughly four weeks, completely redefining what it means to build massive sports infrastructure.
"This is the future of stadiums," said co-owner of Vancouver FC and managing partner with SixFive, Rob Friend, in an interview with the Journal of Commerce.
Friend was also a professional soccer player for more than a decade, playing for teams such as the LA Galaxy and Eintracht Frankfurt.
In exploring the options for providing Vancouver with its own soccer stadium, Friend said he and his colleagues realized the potential of modular builds and started SixFive Stadiums to bring modular stadium construction to North America.
"It's really that turnkey solution that didn't exist," said Friend.
"We have construction experts, sales experts on the ground that really walk you through the entire process from construction, pricing, the bells and whistles to cladding, lights all the way through the turf."
Friend said one of the benefits of modular construction is the intimate control over the process.
"Especially here in Canada, with weather and the challenges and delays that the industry faces. We couldn't afford that with a hard deadline. The season starts in April," Friend said.
The stadium is essentially prefabricated offsite and then reconstructed in fragments.
"Once it's here, the stadium can be erected in close to four to five weeks, which is pretty phenomenal."
Friend said about half the stadium has arrived at the Port of Vancouver.
Not only is modular construction much faster than building a permanent structure, it is also significantly cheaper.
"Well, there's the hard cost and then the site prep. The hard cost is under $10 million for a 7,000 to 8,000 seat stadium."
Compare that to Cincinnati Football Club's new stadium which cost $250 million for a 26,000 seat venue.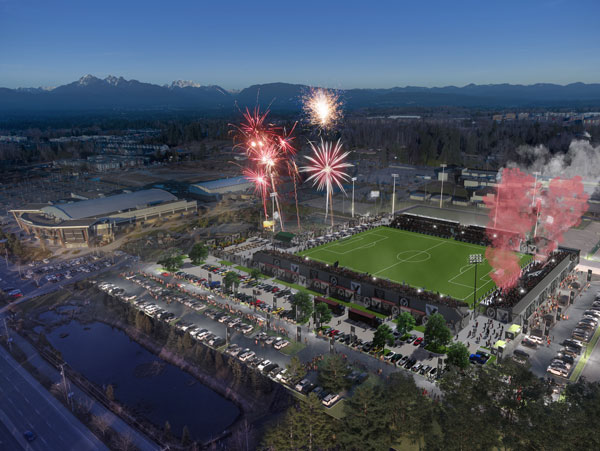 Friend said the affordability of modular stadiums opens up the field for soccer's expansion across smaller towns and cities.
"If you're a municipality or if you're a private investor that's palatable versus a junior hockey arena or small concert where you're spending $50 to $80 million."
Friend said funding for large scale sports infrastructure is not generally a priority for municipalities, but the low cost of a modular build could change that.
"With the lack of public funding going into, let's call it entertainment infrastructure, I think this is going to be the way forward because you get what you need at a 10th of the price."
Don't let the low cost fool you – the venue will be replete with all the amenities that make a world class stadium, he added.
There will be a home for supporters' groups, a Cabana Club, a VIP dining and Tunnel Club-style experience, a family zone, several entertainment plazas and a designated area for a food truck festival on each match day.
Friend said he also envisions it as being a venue for other events.
"Soccer is about is about community. It's about grassroots. It's about bringing people together to support a culture," Friend said.
The stadium has been made for everyone, "whether it's the family, whether it's young, aspiring kids that play the game, whether it's the sports fan, the hardcore supporters, or if it's someone that just wants really good craft beer and good food," he said.
Another benefit of the modular stadium is the ability to easily expand in the future.
"You don't have to tear down permanent walls and do this expensive process," he said. "It's very quick and very easy."
The modular build also allows for expansion to be catered. Instead of adding 10,000 seats for hopeful expansion in the future, SixFive can expand the stadium to directly meet its growing capacity needs, he said.
Currently, site prep is well underway and actual construction of the modular stadium is expected to begin in mid-March, with the stadium up and running for the team's first home game on May 7.
Follow the Journal of Commerce for more developments on the new stadium as construction commences.
Follow the author on Twitter @JOC_Evan.