Cities are an undeniably human phenomenon.
When designing CURV, the world's tallest Passive House, architect Tom Wright wanted to emphasize how sustainable building is bringing us back to nature and away from human artifice.
Wright, a world renowned British architect who designed the Burj al Arab in Dubai and founder of WKK Architects Inc., had never designed a building in North America and had no interest in designing CURV.
"A 60-storey Passive House in Vancouver? I said, 'God, why would I want to do that?'" Wright said at a ribbon cutting event held earlier this month.
But when he learned it would be a landmark project for the future of climate-conscious building, Wright signed on.
"The Passive House aspect is by far the most important thing that sets this building apart from every other 60-storey apartment building in Vancouver or anywhere else in the world for that matter," he said.
"It pushed the boundary for what can be done in highrise residential and takes it to another level."
Wright said he knew a project like this could put highrise Passive House residential development on the map and wanted to give it a design to help define that image on a global scale and represent its environmentally-minded goals.
On first view of the building's design, most people would note its curved shape and the complete lack of traditional straight lines. This was Wright's way of purposefully reintroducing the shapes of nature back into our urban environment.
"When the opportunity came up to do this highly efficient building, it seemed nice to sort of mimic some of the forms of nature," he said.
"In nature, there are very few straight lines. So, where does the straight line come from? It's got to be a human invention."
Wright noted the architecture of cities for thousands of years has been defined by hard 90-degree angles and straight lines on buildings, roads, curbs and sidewalks.
And straight lines became synonymous with urbanization and rejection of pastoral life.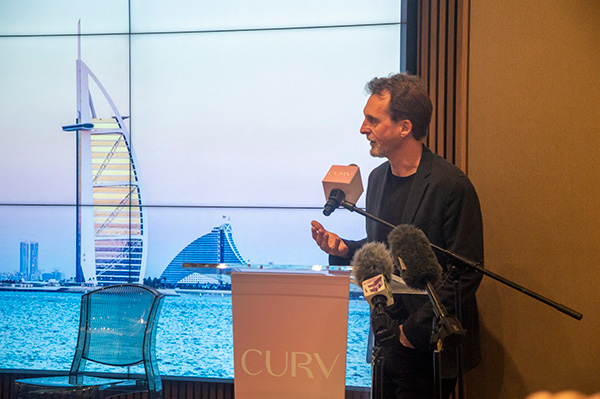 "Rich folks started to wall themselves and their buildings away from nature. So, all the poor people lived in the fields and in mud huts and the rich guys wanted to get further and further away from that, from disease, wind and everything else," he said.
He said the relationship between straight lines and the design of cities also speaks to where humans went wrong with the modern climate catastrophe.
"These houses for the rich carried on through the ages and ended up as the big, great cities of America with their tall buildings, which is a sort of cancer. In my mind, it became synonymous with overconsumption and all the problems we've got with global warming and greenhouse gases."
CURV serves as a visual as well as a practical representation of humanity reembracing nature through sustainability and environmental awareness.
"So that was the sort of driver of the CURV building in the fact that it mimics nature in a very positive way, trying to say that this building is doing something positive."
Construction on CURV is expected to break ground in 2024.
It will be developed at a 90 per cent carbon pollution reduction compared to Vancouver towers built in 2014.
CURV's significance for international Passive House standards is already being lauded.
"CURV will be a trailblazer, setting a global standard for what's achievable with Passive House," said Chris Ballard, CEO of Passive House Canada.
"I am truly excited to see the positive impact this high performance, decarbonized building design will have on its occupants, the City of Vancouver and, indeed, the building industry everywhere."
Ballard said he looks forward to a future where every highrise strives to emulate what CURV has accomplished.
"CURV is a symbol for what is possible for future developments around the world, showcasing how buildings will help cities achieve their green goals through elevated sustainability, comfort and design," said Keng Ly, president and CEO of developer Brivia Group.
And there was one more inspiration for the curves in Wright's design: Mother Nature.
Wright ended his comments with a quote from legendary Hollywood starlet Mae West: "The curve is mightier than the sword."
Follow the author on Twitter @JOC_Evan.