Kelowna-based BC Steel Ltd., a full-service company that engineers, designs and builds prefabricated steel buildings, has seen a 50 per cent increase in calls since the West Kelowna and Scotch Creek fires razed homes and buildings.
"We are getting at least 20 calls a day and growing," said Darryl Williams, company president. "There is almost a sense of panic. People are worried about their house, their barn where they keep their horses or their two-car garage."
Those calls, he said, are on top of the 40 calls the company regularly fields from industrial, commercial, and agricultural users as it is growing a reputation of designing for disasters.
"We should be getting 2,000 calls a day," he said, as there is still only an inkling of recognition occurring today that the way buildings are designed to meet climate change traumatic events is falling short of the mark.
Williams said steel structures have always provided protection against traumatic events but last year he introduced the concept of Fire Safe, a design and building process that focuses on making structures – ranging from residential to industrial applications – more fire resilient.
The Kelowna plant's pre-engineered components are fabricated in either India or China and shipped to B.C. to be assembled onsite.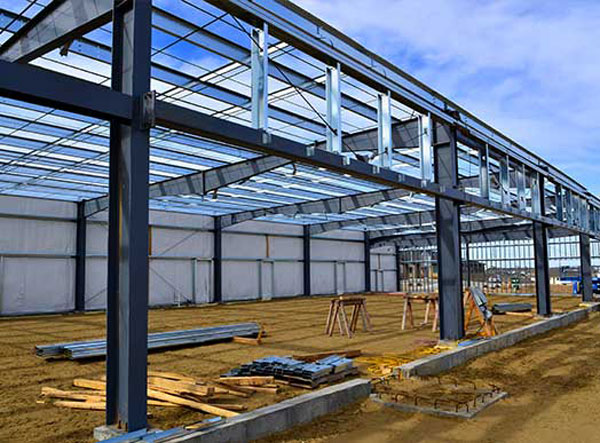 Williams said his Fire Safe design is in stride with the new 2023 B.C. Building Code, which places higher fire resilience on exterior building materials, plus regional districts are hiring Fire Smart officers to work with residents and more municipalities are demanding more fire resilience in overall building design before building permits are issued. The Fire Safe design builds on the B.C. government's Fire Smart program which removes combustible material from around the building preventing the fire from reaching structures.
"The two areas that are critical are installation efficiency and fire retardancy," he said, adding the regional districts in the interior B.C.-area want to ensure any structure built does not offer fire a place to propagate, will not gain enough energy to spread to other structures and will not allow smoke to enter it.
"We know that basic steel won't burn," he said and it requires a high temperature over a longer sustained period in a fire to buckle.
BC Steel designed buildings not only use steel but have a paint that is a fire retardant.
"The paint can't catch fire and neither can it propagate the fire," he said. "Where the metal meets the ground or foundation, there is fire or smoke interface. The insulation used in the buildings is non-combustible. We never use spray foam (which can burn)."
Walls in the structures have a R25 rating and R50 in the ceiling. Thermal blocks where walls meet ceiling are secured using six-inch L-brackets sealing against air penetration, also blocking out any smoke penetration. Anti-flammable material is used on the soffits and also any vents that go from the inside to the outside also use barriers. There is no opportunity for air borne flaming material to roll into the eaves and propagate a fire. All doors and windows use steel.
"There is no wood and all windows are triple pane," he said.
Williams said his buildings have come through fires over the past few years and he recently returned from Lytton (where the town burned) to find his structures were still intact.
Governments are driving changes through regulations as there is the need to have more resilient structures in place as traumatic events occur and these design changes can cost more, a fact that building owners may not have wanted to acknowledge in the past, Williams said. While the cost increases, downstream the impact of losses are lessened.
While fire is currently topical, Williams said his firm has been looking at the federal government's National Adaption Strategy which warns of more traumatic events impacting community infrastructures and buildings from not only fires, but floods, increased rain, snow and the impact of roof loading, earthquakes, strong winds and hurricanes.
When photos of hurricanes are shown, it is often the roof blown off first. BC Steel basically ties down its metal roof onto the existing supports to ensure it stays with the structure, Williams said.
Williams said he does not know of any other company that supplies pre-engineered steel buildings that is doing the work of the Fire Safe design.
There are companies that are building post-disaster structures. 
JDG Construction has provided a pre-engineered steel building (designed by WSP Engineering) located in downtown Pemberton, as a truck stop for BC Hydro and used as fleet services. The structure is designed for post-disaster requirements and the roof and walls are insulated metal panels.