Construction crews have begun moving equipment onto a parcel of property at the Simon Fraser University (SFU) campus in Burnaby, B.C. in preparation for construction of a 12,000-square-foot art museum.
Fencing is being set up, signage is being installed and prep work is starting on water and electricity services.
The contractor, Scott Construction, is currently focusing on satisfying building and tree permit requirements as well as rolling out a traffic and pedestrian management plan for the project.
The museum, to be built along University High Street and adjacent to Blusson and Strand halls, will be a modern, fully electric, single-storey structure with mass timber walls and ceiling that will offer a connection to nature. It will replace the current 1,100-square-foot SFU Gallery on the campus.
"Wings of the gallery reach out to the surrounding trees like extended arms of an embrace with expansive views to the woods and mountains beyond," says Braden McMillan, a spokesman for the university. "Touching lightly on the land, the mass timber structure reinforces this bond to its forest setting with a timber ceiling that is both a structural system and expression of its surroundings.
"The application of brick puts an emphasis on craft to delineate the building form, which has been sculpted by the trees. Program space includes distinct exhibition rooms, an art studio, courtyard, salon and forum."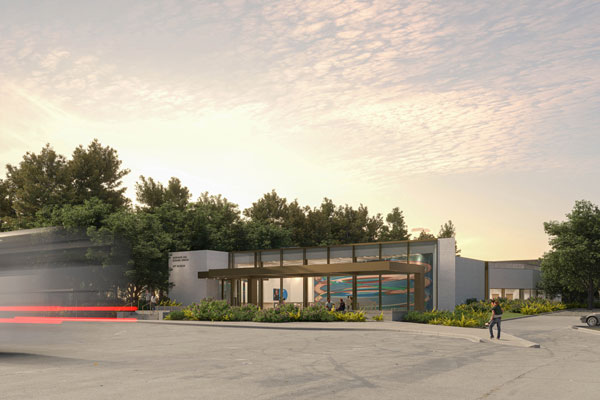 Siamak Hariri of Hariri Pontarini Architects – in collaboration with Vancouver-based Iredale Architecture – designed the structure. The project will be completed in winter 2024. More than 16 different trades will work on building the museum, along with nearly 30 companies and suppliers.
An Indigenous-led groundbreaking ceremony was recently held to mark the start of construction.
The museum is named in honour of Marianne and her late husband Dr. Edward Gibson, who joined SFU as a charter faculty member in 1965 and was director of the SFU Gallery from 1986 to 1997. Construction of the museum has been made possible by $23 million in donations from SFU donors.
The building will serve as an academic resource and hub for collecting art, but it has also been designed as a welcoming and easily accessible amenity for UniverCity, a rapidly growing, mixed-use residential community of more than 6,000 on top of Burnaby Mountain, adjacent to the university.
The museum, dubbed The Gibson, will occupy 23 per cent of the building site, leaving the remaining area to be re-naturalized.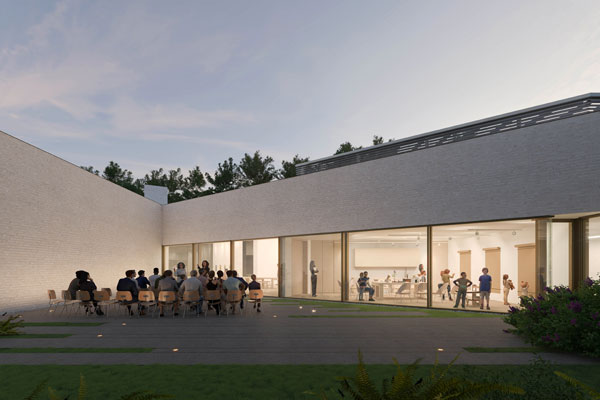 "A high degree of transparency with floor-to-ceiling glazing creates a legible and welcoming presence that is inviting and reinforces the gallery's role as a bridge between the university and the community," explains McMillan. "Upon entering, a large gathering or hangout space will welcome visitors with warmth and a rustic feel of natural materials and even a fireplace."
The sleek-looking building will feature many large windows to let in natural light and the ceiling height will be consistent throughout.
McMillan says the museum has been designed "to be as porous and agile as possible" and to accommodate many creative programming and event possibilities.
It will include three formal gallery spaces, a seminar room and library, a salon for small gatherings and a larger area for bigger events, an art studio, outdoor learning courtyard, offices, dry prep area, and space for storage of art.
"We also focused on using natural, non-off gassing materials and enhancing air quality and sound of the indoor environment," says McMillan. "This is a Class A gallery, which requires controlled temperatures, humidity and sound. Silencers were added to the AHU (air-handling unit) and acoustic, fabric-wrapped panels were added to the galleries for more controlled acoustics."
The museum works to challenge presumptions of behavioural norms in western art museums by encouraging people to sit, gather and meet with friends, study, relax or create new art, he says.
"The Gibson's new facilities will have a major impact on artist-creators, art workers and audiences, creating space and programming opportunities that have never before existed on Burnaby Mountain."
There are a number of challenges facing the project team. Current market conditions and delivery and availability of materials are issues. However, McMillan says the general contractor has implemented mitigation plans and strategies to prevent any problems.
The site is also near a TransLink bus loop, heavy vehicle and pedestrian traffic, and residences surround the site on three sides, so the team is also working to ensure safety standards are implemented.
The museum itself will house the SFU art collection which includes many significant works of cultural property. It will house between six and 12 exhibitions a year.
Once built, the current SFU Gallery will revamped as a dry workshop and preparation space for curatorial seminars and study and to support storage of the SFU art collection.