Most Canadians know about the extensive collection of turn-of-the-20th-century commercial buildings in Winnipeg's Exchange District.
A National Historic Site, the 20-block area has over 100 stone and brick warehouses and terra-cotta-clad office buildings, most of them built during Winnipeg's first economic boom.
Fewer people, however, are aware of the many examples of post-World War II modernist architecture throughout the city, most of them constructed between 1945 and 1975.
The first examples of modernism, an international architectural movement, began to appear in Winnipeg after the Second World War.
Modernism avoided the heaviness and ornamentation of the past, using instead such modern materials as reinforced concrete, glass, steel and lots of glass to let in natural light.
Modernism expressed the optimism and enthusiasm of a generation that wanted to get out from under two world wars and the Depression and start living again.
Examples of modernism large and small can be found in every Winnipeg neighbourhood, one of the benefits of being a slow-growth city.
"Heritage buildings in the Exchange District are purpose-built, with small windows and small indoor spaces, and lots of decorative touches, such as cornices and parapets, which makes them expensive to build," said Cindy Tugwell, executive director of Heritage Winnipeg Corporation.
Modernist architecture, on the other hand, has lots of open space, with big windows that open the buildings up to the natural environment,
"Because they're plainer than the older buildings, they're appreciated less by the general public," said Tugwell.
Susan Algie, executive director of the Winnipeg Architecture Foundation, says Winnipeg Modern's most distinctive characteristic is its use of Manitoba Tyndall Stone.
"Many designs in other cities would use concrete but, in Manitoba, Tyndall Stone is the material of choice," said Algie. "It's a joy for modernist design to be using a fossil-laden limestone that goes back 450 million years."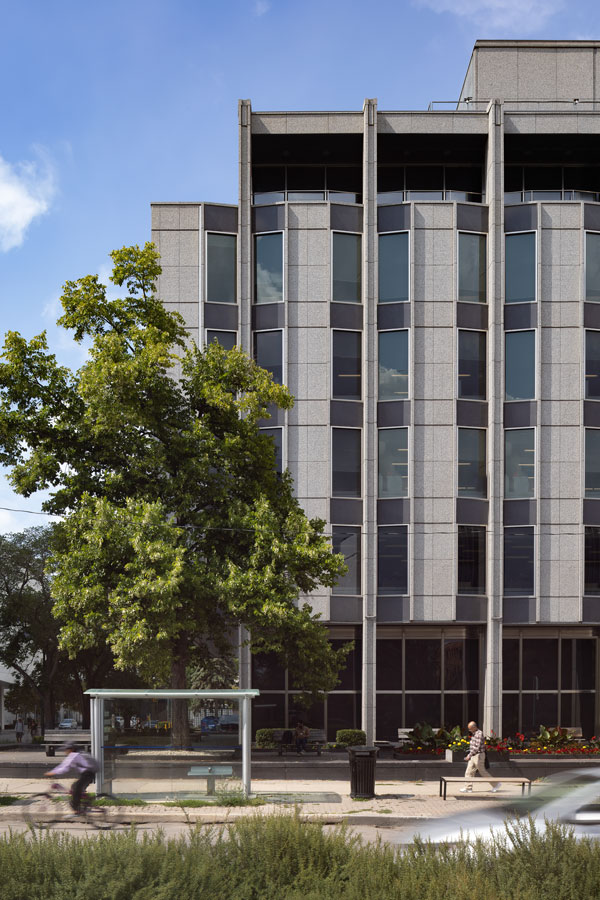 In 2023, the International Union of Geological Sciences designated Tyndall Stone as a Global Heritage Stone Resource, the only one of Canadian origin.
"And Manitoba is the only place where it's quarried, at an operation in Garson, near Winnipeg," said Algie.
Although there is nothing as large as the Exchange District, Algie says there is a "wonderful" modernist precinct downtown that includes City Hall, Centennial Concert Hall, Manitoba Museum and Planetarium and the Royal Manitoba Theatre Centre.
"The Universities of Manitoba and Winnipeg have many modernist buildings, almost all of them designed by graduates of University of Manitoba's Faculty of Architecture," she said. "And there are several excellent residential areas in that remain largely unchanged from when they were built in the 1950s and 1960s."
Algie says that, although modernist architecture has received less attention from the public than the buildings in the Exchange, there is growing interest in it.
"We offer a range of programming through the year with tours and talks which are always full," she said. "We are particularly pleased that attendees are of all ages and cultural backgrounds, including new arrivals in Canada. First dates, too."
Serena Keshavjee, who teaches art history at the University of Winnipeg and is the author of Winnipeg Modern/Architecture 1945-1975, says one of the reasons why modernist architecture isn't more widely appreciated is that, to the untrained eye, it looks too easy.
"In fact, it is very sophisticated, with regional modifications to allow for Winnipeg's extreme climate," said Keshavjee. "Many designs have wind breaks, and brise soleils, which reduce heat gain in a building by deflecting sunlight."
Jino Distasio, director of The Institute of Urban Studies at the University of Winnipeg, says the collection of modernist buildings in the Civic Centre,
where the Disraeli Freeway that brings commuters from the eastern suburbs meets Main Street, is a unique example of urban renewal modernism.
"It's an attempt to transform a deteriorating part of downtown, and, at the same time, provide a modern and forward-looking introduction to the city to people living in the suburbs," said Distasio.
Sasa Radulovic, founding partner of 5468796 Architecture Inc., says some people prefer the ornamentation of older buildings and find modernist architecture cold.
"But, in fact, modernism shows that beauty can come from rational thought, and doesn't have to be covered in layers of pretension," said Radulovic.
Many of the best examples of modernist architecture in the city were done by young local architects who were given their head by their firms and allowed to develop and express their ideas.
"They were able to distill the essence of a building to what it was and no more than that," said Radulovic. "There was no pretense. It was a very mid-century, mid-western sensibility."