What should be done when a low rise apartment building from the 1960s becomes in dire need of improvement in terms of access, safety and energy-efficiency? Should the building be extensively renovated or demolished and replaced?
Situations like this, wherever they occur, require a balanced decision based on several factors.
The first two considerations involve today's topical issue of embodied and emitted carbons.
Demolishing a building and replacing it creates great amounts of carbon: emissions and waste-related carbons from the demolition; the upfront embodied carbons related to the materials used to rebuild; and the emissions created during the construction process. Can these be justified simply on the basis of projected energy savings down the road?
A third issue is the human experience. What weight should be placed on the needs of the occupants, particularly when their health, safety and accessibility might be impacted by the shortcomings of a 60-year-old structure?
However, when renovation or rebuilding involves a commercial rather than a public owner, other considerations come into play.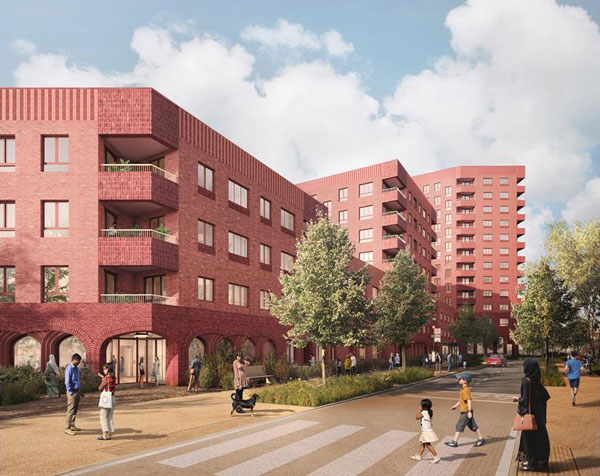 Commercial owners are attracted to new construction's freedom of design, the perceived improved return on investment, and the elimination of unknown renovation surprises, plus what is usually a shorter overall project time frame. As a result, Rikard Sundling and Henrik Szentes explain that commercial developers often find renovation unattractive.
"Trying to find the best possible renovation seems to be a neverending journey, as is the continual assessment of future needs of renovation of each building. Moreover, since tenants move in and move out over the decades, the stakeholders and their needs will change over time…Each building has a different set of stakeholders who are affected by the renovation."
At the same time, the huge amounts of energy and carbon involved in demolishing a site and disposing of materials, whether as waste or recycling, cannot be ignored and must be added to the total embodied carbon associated with the replacement building. How this affects final decisions by either public or commercial owners often comes down to government and ESG policies, and available grant support programs.
Far from being hypothetical, this complex mix of factors applies to a social housing project just west of London, U.K.
The British architecture firm Bell Phillips recently announced  its proposal to rebuild 1,000 homes, shops and community facilities that would include "much improved public realm including play, sports and recreation space."
The firm's senior architect, Ashmi Thapar, said the new homes would achieve a nearly 70 per cent reduction in operational carbon due to PassivHaus certification.
Upfront embodied and longer-term emitted carbons in a retrofit versus a new build can and should be discussed actively. In fact, the replacement design proposed by Bell Phillips was developed using 2050 predictive weather modelling and is aligned with the Royal Institute of British Architects' 2030 Climate Challenge addressing embodied carbon targets.
However, unique to the U.K. social housing redevelopment project was the importance placed on residents' input and approval, that important human element.
The local council engaged in 18 months of consultation with estate residents, informing them of repair and energy costs going forward, over crowding and overall ability to live up to future living standards. Each eligible resident was given the opportunity to provide feedback through a survey.  
In the end, 85 per cent voted in favour of a phased full-replacement of the estate's structures versus renovation.
As New Zealand-based PassivHaus architect, Elrond Burrell, told the Daily Commercial News, decisions should be based on more than just carbon targets.
"While we absolutely must do everything in our power to reduce carbon emissions now (embodied) and into the future (operational), we must still ensure the decision-making process and development outcomes are focused on the people it serves. We mustn't let ourselves get paralyzed into inaction by demanding perfect emissions targets immediately and waiting until we can achieve them. We need more and better housing now, so we've got to move quickly and learn each step of the way."
John Bleasby is a Coldwater, Ont.-based freelance writer. Send comments and Climate and Construction column ideas to editor@dailycommercialnews.com.