One of Edmonton's biggest exhibition venues is letting in the light.
The Edmonton Expo Centre will soon be the home of the largest urban solar array in Canada while it also embarks on a concurrent $98-million rehabilitation project.
Phase 1 of the $5.03-million solar project will involve 5,754 solar panels installed across 193,735.5 square feet above Halls D through H of the Expo Centre and is expected to generate approximately 2,743 kilowatts of power.
"(It's) 2.8 gigawatts per year. That would offset 375 homes. In terms of the building offset, it's going to target reducing 33 per cent of the energy consumption that Expo Centre uses," City of Edmonton program manager Brad Watson said.
He explained the expo centre's flat and large rooftop area along with its location within the city made It an ideal surface for solar panel installation.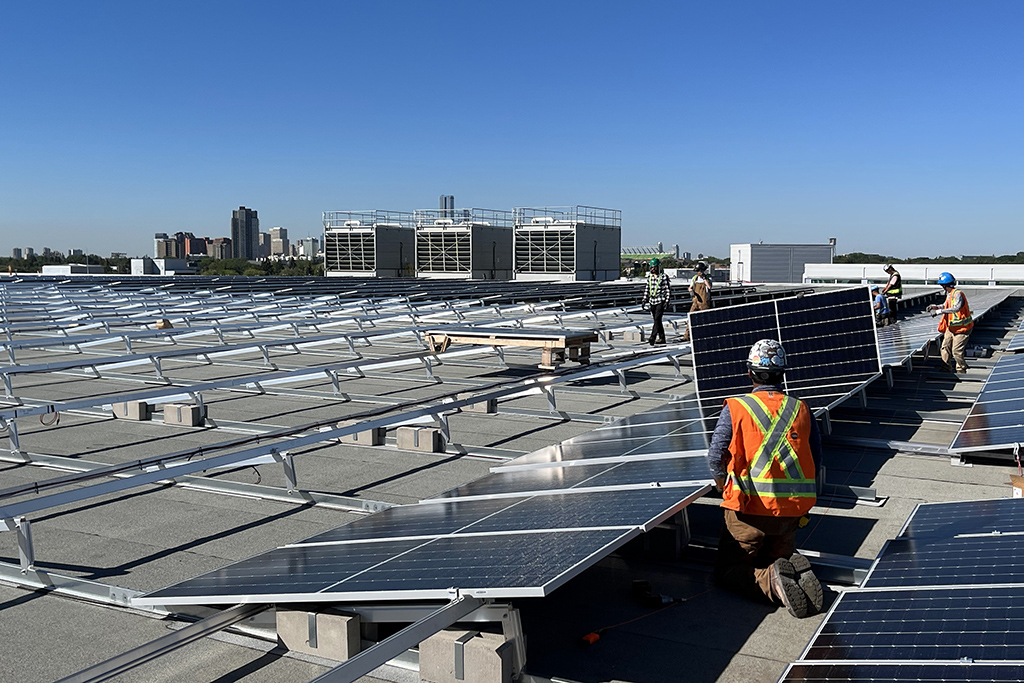 "It's unimpeded by any kind of nearby buildings and completely open to the sun. There are no plans in the foreseeable future that there's going to be any infrastructure around that will impede this. So really, it just completely made sense to do that to this sort of building," he said.
Watson added despite the extreme cold of Edmonton winters, he doesn't expect much disruption in terms of panel performance.
"I understand the panels function in any sort of weather, but in terms of snow, it's still translucent so it does obviously diminish the ability to capture but it doesn't stop generation at all. The panels are also on a slope and facing towards the sun, so there shouldn't be too much buildup on them," he said.
The panels should also result in an operational savings of $290,000 to $460,000 per year based on design energy models, Watson said.
"The payoff is based on climactic conditions as well as what the alignment is between when the facility uses energy versus what it's producing (in terms of) energy," Watson said, adding the array should see payback of costs between 10 and 17 years.
The next phase of the solar array, should it be approved by Edmonton City Council, would see additional panels installed across Halls A through C which would add production of approximately 1.9 gigawatts to the system with an estimated cost of roughly $3.4 million and an additional saving of about $185,000 to $300,000 per year, a City of Edmonton release stated.
The current phase, scheduled for completion in November 2022, is part of a larger $98 million rehabilitation of the Edmonton Expo Centre, which was opened in 1983 and has several components reaching the end of their life cycles.
"Part of the rehabilitation Is to upgrade the mechanical equipment, a lot of which is either not being used or is completely inefficient," Watson said. "We're doing a roof replacement, as the roof used to be R8 and we're now going to have an R40 roof. Solar, mechanical, electrical, building envelope and roof all in combination will significantly reduce greenhouse gas emissions."
While the solar array is part of the centre's rehabilitation project, there are also currently 11 other solar projects underway on City of Edmonton properties with six solar arrays already in operation.
Follow the author on Twitter @JOCFrey.