In a world of supply chain issues, rising material costs and housing shortages, a forward-thinking research team at the University of Manitoba is aiming to find out if mushrooms are the answer.
Though still in the early stages of research, the team, led by Professor of Architecture Mercedes Garcia-Holguera, is exploring mycelium, the root-like structures of mushrooms, as a replacement for building materials like bricks and insulation.
"Our main goal has to do both with the exploration of biomimetic design and within biomimetic design there is this approach to biomaterials," said Garcia-Holguera in an interview with the Journal of Commerce.
The university's location, surrounded by rural and Indigenous communities, inspired Garcia-Holguera to expand the scope of the research project to study the possible construction applications of mycelium.
"Access to materials in remote communities and Indigenous communities became a very strong reason to undertake this research," she said.
How it Works
The first step in turning the mycelium into the desired product is to inoculate a substrate. The team is using sawdust from a local woodshop, but Garcia-Holguera said agricultural waste like flax and straw is equally viable.
The inoculated substrate goes in a bag until it is entirely colonized at which point it is transferred into a mould. This mould will be the final shape of the product and the mycelium is left to grow for two weeks, said Garcia-Holguera.
The mould then gets put in an oven to be dried out.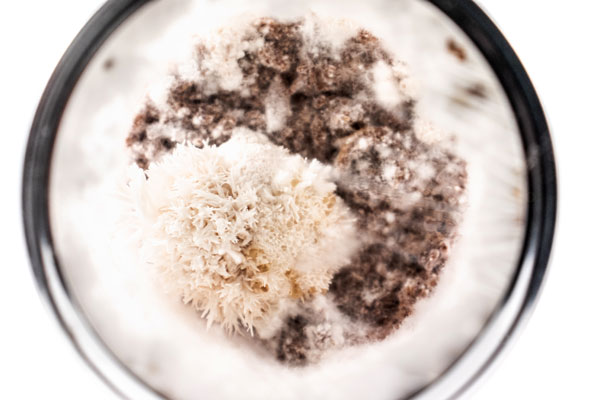 "Once it's dried, the active organism is dead and then it's like any regular inactive material," she said.
Garcia-Holguera emphasized the mycelium is a safe building product as well.
"The mycelium that we use doesn't represent any harm to health," she said.
How it Can be Applied
Garcia-Holguera's team is looking at using the dried material for two different aspects of homebuilding.
"Using the mycelium as a material for insulation and exploring the compression strength of the mycelium to see if we can use it as bricks," said Garcia-Holguera.
The researchers have not yet tested the strength of their mushroom bricks yet, but Garcia-Holguera said the material's use for insulation is looking promising.
"That's where I think we will see it sooner in the commercial realm," she said.
If mycelium proves a viable replacement for bricks or insulation, it could be produced anywhere so long as a small, relatively climate-controlled space is available.
"If you wanted to grow 10,000 bricks it would take the same time (four weeks) as if you wanted to grow one as long as you had the space, the substrate and the mycelium ready," she said.
Part of the team's research includes using various species of mushrooms to see how each one's material properties differ.
The team is currently testing the resiliency of the mycelium against the bitter cold of Manitoba's winters by placing a large sample in an outdoor dome and working on practical applications for communities around Winnipeg and in Churchill.
"Slowly we are trying to increase the scale and bring this project and the research that we do closer to an actual application."
Environmental and Social Benefits
There are several clear benefits of growing mycelium into building materials for remote communities and the general public.
Mycelium grown products "are more environmentally responsible and more bountiful," said Garcia-Holguera.
She pointed out the embedded energy in mycelium is vastly lower than traditional construction materials like concrete or steel and is biodegradable.
The mycelium can also be gown in a variety of waste products, creating a more sustainable cycle of production.
Garcia-Holguera sees her research as part of a larger emerging body of science and push "to go into a circular economy where whatever we think is waste today can become a material with value in the future."
The possible social benefits are notable.
"We've been driving up to Churchill the past two years and we've seen, repeatedly, how hard and how expensive it is for people up north to get access to construction materials," she said.
Remote communities could one day be growing mycelium bricks and materials within their community reducing the cost and difficulty of accessing supply, said Garcia-Holguera.
"But the reality is, this is a wish. It is something that we've envisioned. We'll see in the future what could happen."
She thanked her team at the university for making the project a reality.
"Our undergrad and graduate students are the driving force behind all that we do. I wouldn't be able to do 1/10th of the work without them," she said.
Follow the author on Twitter @JOC_Evan.