There was a time in the early post-Second World War decades when large, detached houses in the suburbs surrounded by white picket fences were the aspiration for most North Americans.
Government policies have long supported suburban sprawl, says the New York Times. Highways were built, shopping centres were invented. Home prices were reasonable. Multi-car families were created, with the prime wage earner commuting into the downtown and back each day.
Climate issues have forced municipalities of all sizes to revisit that idyllic vision of housing. Cities that once restricted the development of multi-family homes in favour of single-family dwellings are now moving towards higher levels of density in established urban neighbourhoods.
Some municipalities are being nudged towards a new outlook on densification by higher levels of government. Ontario's Bill 23 is a recent prime example.
Although controversial for its potential to convert previously-protected greenbelt areas near Toronto into urban sprawl, Bill 23 may have something right when it comes to increasing the density within the boundaries of municipalities.
As described by law firm Dentons, the Ontario government is attempting to address density in what it calls the "Missing Middle," and building more homes near major transit station areas.
"Specifically, the new amendments permit landowners to add up to three residential units 'as of right' for land zoned for one home in residential areas without requiring a zoning bylaw amendment. The three units can be within the existing residential structure or could take the form of a residence with an in-law, basement suite, and a laneway or garden home. The zoning bylaw standards respecting matters such as height will remain and continue to apply."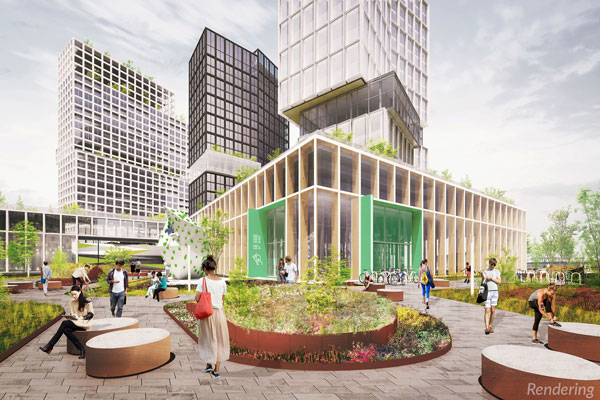 Increased density is not only a big city issue or even one unique to Canada.
In the United Kingdom, Malcolm Crayton, director of FORMstudio, writes of the potential of unused brownfield areas in some smaller cities and towns.
"When done well, these developments can add greatly to the richness of an existing urban community, mending and enhancing the quality of the local built environment."
Crayton cites high relative costs, a lack of pragmatism from planning officers and local opposition as obstacles to be overcome. Of those, local opposition to higher density, colloquially known as NIMBYism (Not In My Back Yard) is politically the most challenging to overcome.
Mark Kenney, CEO of Canadian Apartment Properties Real Estate Investment Trust, was quoted by BBN Bloomberg saying, "Canada can ill afford a 'full-blown war' on higher density housing projects led by single-family home owners intent on opposing those developments. Widespread pushback against higher density supply only serves to raise asset prices and could have a dire impact on immigration levels and by extension long-term economic growth."
Resident groups resistant to densification typically speak of protecting the character of existing neighbourhoods and the anticipated strain put on local roads due to increased traffic resulting from more people moving to the area.
Tim Thomas, mayor of the Montréal suburb Pointe-Claire, told La Presse, "Traffic congestion is already hell."  
Local residents there have frozen development, including proposals for new apartment buildings from Cadillac Fairview, wanting instead to retain the green spaces and wooded areas near the station for the REM, a new automated light rail network, even though the land is owned by the developer.  
In contrast, other areas of Montréal are clearly open to densification.
On south shore opposite Montréal in the City of Brossard, two new stations for the REM will come into service this spring. Mayor Doreen Assaad told La Presse that Brossard hopes to develop its own downtown around the REM terminus, with the expectation of 17,000 new homes and a total investment of $7.7 billion.  
Density versus sprawl is an emotional issue. Continued outward sprawl featuring fields full of production houses is hard on the planet. The fact remains, however, that Canada needs more housing. Increased density in established urban neighbourhoods makes sense and can be achieved in a manner that adds, not subtracts, from the area's appeal.
John Bleasby is a Coldwater, Ont.-based freelance writer. Send comments and Climate and Construction column ideas to editor@dailycommercialnews.com.