For Clayton Clark, putting his life in harm's way to save his stepfather's home from the Alberta wildfires was a simple matter.
"You just do what needs to be done, right? You just get in front of it and do what needs to be done," Clark said in an interview with the Journal of Commerce on May 10.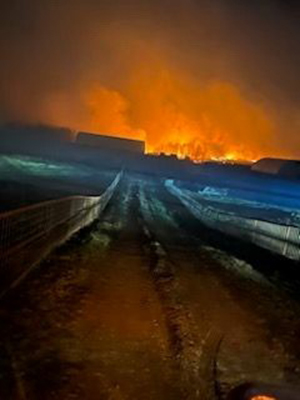 "The flames were eight feet from the house when we finally stopped them."
Clark, a licensed heavy duty equipment mechanic and owner of Twisted Wrench Mechanical, lives in the hamlet of Entwistle, which has been one of the epicentres of the Alberta wildfires and an area that was under an evacuation order.
The evacuation order was lifted on May 8 but the directly adjacent community of Evansburg's order remained in place until May 10.
When originally reached by the JOC, Clark was in the middle of packing up a campsite where he, his wife and his two-year-old son as well as two other local families had been staying during the evacuation order.
When the order originally hit Entwistle Clark was in Edmonton with his wife. He said they quickly raced home and packed their bags. But Clark saw neighbours in need and jumped into action.
"We started right from the word 'go,' to help my neighbour. We actually had it all flocked into two sluices and we were just monitoring hotspots for a few days.
"And then the fire department came into our one neighbour's place and told them to let up and that they would take over for the night."
Clark took this opportunity to drive his wife and son out to Seba Beach to set up camp while the fires ravaged the countryside. But that was just the beginning of the ordeal.
"Then I got a phone call the next day stating that the fire had gone the other way and was heading right for my stepdad's home.
"I travelled back and forth between Seba and just south of Entwistle because I was helping my stepdad. I'd come in for 26 to 30 hours of straight firefighting and then go home and rest."
Clark has firefighting experience as a volunteer from years back. Thanks to his previous knowledge, he was able to come up with equipment and a strategy to tackle the blaze.
"We got equipment dropped off all the way from Drayton and we got a fire skidder," he said.
As the fire raged, Clark, Tracy Wirstiuk, James McRae, Braden Bura and Mike Bustin put firefighting techniques to the test.
"We just got in front of it, laid water down and let it crash into the water. Then we just fought it back out of the trees and put it out and pushed it all the way around the yard.
"As the fire comes, you wet down the trees and grass in the direction that it's coming. When the fire get's to where it's been wetted, it slows down and then you start fighting it back down."
Clark said he worked for at least five days.
If he and the others hadn't intervened, there is a 100 per cent chance his stepdad's home would have been destroyed, he said. Though the property still suffered.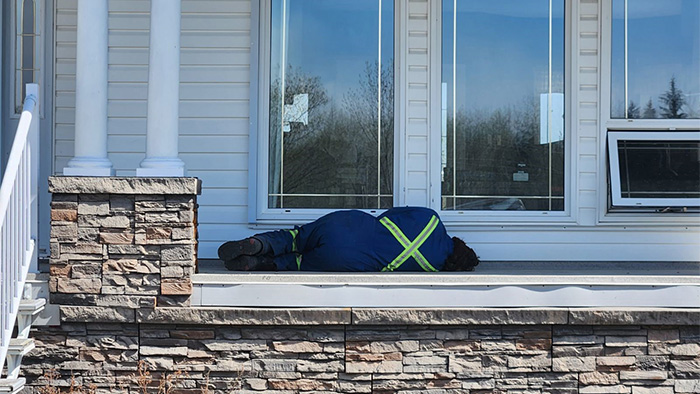 Ron Glen, CEO of the Alberta Roadbuilders and Heavy Construction Association, said highway maintenance workers are involved in relief efforts.
"They're the ones that are most impacted. They've been activated by the provincial emergency management to provide things like traffic management on certain highways and in municipalities and to help with whatever equipment that they have," he said.
Glen said he is worried about some companies who had been tasked with moving equipment out of the fires' path.
"A lot of oilfield equipment is being moved to get out of harm's way," he said.
The association and its members have received requests from affected municipalities to supply equipment such as water tanks and pumps to bulldozers and excavators for creating fire breaks.
Glen said forest fires are a regular occurrence in Alberta in the spring.
"It's just that they're impacting so many urban towns and urban communities this year. That's a new angle to it."
Once the fires are burned away, the association's members will most likely be contracted to help clear roads and move debris.
"And I'm sure companies will be stepping up and helping their local communities."
While Clark's home and most of his stepfather's property remain intact, others in Entwistle and the surrounding area weren't so lucky.
"We lost a lot of houses in the area. I know of three or four for sure," said Clark, "People are pulling together as a community and we're trying to get things sorted out. We've set up some donation spots and stuff."
While people have been able to return to Entwistle since May 8, Clark said the community isn't overly confident in what comes next.
"There's a lot of uncertainty in the area, if this is even going to last because there's so many hotpots and so much wind change."
When asked what drove him to set his own safety aside to help his community, Clark said there was no other option.
"To me it's just something you do. When somebody needs your help, you go and help them."