Shrinking window-to-wall ratios have become a popular solution for those who accuse glass of carrying high energy performance and embodied carbon penalties. Some have gone so far as to suggest windowless living spaces in the future.
Consider the proposed Munger Hall Residence at the University of California at Santa Barbara. Most of the 3,500 single-occupancy rooms would have no windows. By placing bedrooms in the middle of the building away from outside walls, more rooms can be included. It's been called, "a jail masquerading as a dormitory."
Windowless bedrooms have also been suggested for consideration in low-cost housing. The argument is that since few waking hours are spent in bedrooms, it's a reasonable concession to make with little benefit lost. Others fear this could open the door for daylight becoming a commodity or feature available at extra cost, like stone countertops.
Furthermore, allegations of architectural "laziness" that prioritizes glass esthetics ahead of functionality and energy efficiency suggest prejudice in advance of any substantive evidence.
Fact-based arguments for reducing window-to-wall ratios against any perceived overuse of glass would be more compelling. It is understood that, all things being equal, a large exterior window requires more operational energy to mechanically heat or cool the interior space than a properly insulated solid wall.
It is important not only to understand why windows matter but how glass and window technology has advanced.
One observer called the Munger approach to windowless living "self-flagellation." But even fans of Munger cannot dispute the health benefits of natural light for occupants. Furthermore, commercial and institutional building owners and operators want buildings where occupants are happy, comfortable and efficient. These can command higher rents.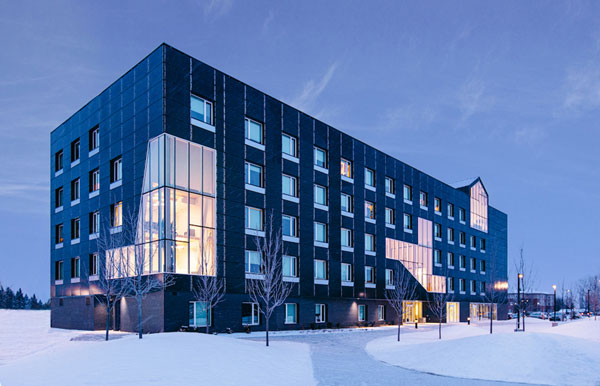 It's been suggested double and triple-glazed window units, including their framing systems, represent larger amounts of upfront embodied carbon than a wall and that any savings in energy costs using higher priced triple-glazed windows take years to pay back. However, some of these conclusions may be misleading due to outdated glazing and framing designs examined in the studies.
As explained in last week's column, the carbon emissions associated with glass manufacturing is small compared to that of steel or concrete, the industry's two other foundational building materials.
Today, we have glazing that incorporates climate protection and energy saving features like multiple silver coatings to provide solar shading while simultaneously reducing heat loss. Liquid crystals embedded in a conductive layer allow opaqueness control, depending on the desired sunlight penetration or design effect.
The windows and exterior glass curtain walls of today are highly engineered to include thermal breaks and moisture seals unseen 10 years ago. The variety of choices meeting a building owner's requirements in terms of climate, safety, energy efficiency and esthetics has never been greater.
Advances go beyond the latest multi-layer glazing and coatings to include framing technology. While wood and PVC are popular in residential construction, steel, aluminum and more recently high performance fibreglass are the suitable choices for larger commercial and institutional projects.  
Steel and extruded aluminum have been popular for some time, with aluminum holding the edge for slim frame profiles and low maintenance. Yet both are poor insulators on their own and require additional insulation. Pultruded FRP has become increasingly popular due to its lighter weight, dimensional stability and durability.
Each varies in embodied carbon. Although data is readily available outlining the CO2 emissions per tonne during each material's manufacture, these must be converted to a linear metric for the purpose of comparing window frames.
Using calculations based on frame weights per metre supplied by GlasCurtain of Edmonton, fibreglass has the lowest embodied carbon of the three. Aluminum and steel are approximately between 3.3 and 3.6 times more.
Glass will continue as a foundational building material in the future as its technology evolves. The lower costs of triple-glazing in Europe will cross over to North America as the industry is forced to confront higher environmental expectations from owners and evolving government regulations.
John Bleasby is a Coldwater, Ont.-based freelance writer. Send comments and Climate and Construction column ideas to editor@dailycommercialnews.com