The familiar roar of a diesel engine and black puffs of exhaust from heavy equipment could soon start to fade from construction sites.
Like all vehicle manufacturers, heavy equipment makers are looking to harness electricity to drive all of the mobility and hydraulic functions on their machines.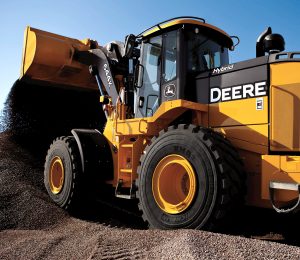 Japanese compact equipment maker Takeuchi recently showcased its fully electric e240 excavator, operating it throughout last year's CONEXPO-CON/AGG 2017 show in Las Vegas, despite being indoors. Takeuchi says not only does it generate zero fossil fuel emissions on site, it is 90 per cent cheaper to run than a comparable diesel-driven machine.
While the prototype is not yet a production model Takeuchi projects battery-powered heavy equipment will replace diesel in 10 to 15 years, gaining traction now and ramping up as buyers look for green alternatives.
The e240 is a compact and suitable for enclosed space applications such as within a building or in large tunnels, where diesel emissions cause issues.
What they do have in production, however is the compact TB216H which rolled out in November 2016. It's a hybrid machine and perhaps a taste of what will become the norm through the industry as battery technology advances.
It doesn't actually run on batteries but is a plug-in, running on either a three-phase source at between 400 and 480 volts. It can also switch wholly to diesel power with equal power on tap regardless of the source.
Rethinking earthmoving equipment is a trend across the industry, large and small.
From whisper-quiet power trains with zero emissions to more flexible designs and more efficient formats, manufacturers are looking for the next generation of machine.
There are many other areas for improvement and incorporation of proven technology, however. John Deere, for example, presented some of their work at the same CONEXPO-CON/AGG 2017. They teamed with BMW's Designworks to create the Fixstern backhoe, a concept based on customer feedback.
Part of innovations focus on the ergonomics with an isolated command centre design for the cab which dampens vibrations and cuts operator fatigue. It also has 15 per cent larger opening for ease of access and exit and visibility front and back with a larger interior for better storage.
The use of composites has reduced overall weight by 20 per cent and the frame itself has been developed as exoskeletal modules, with a longer wheelbase for better stability and improved onboard stabilizers. The tires are airless radials and steering is through all four wheels giving a tight turning circle while the lower profile of the tires also increases visibility.
John Deere says the features rank among the most asked for in customer feedback surveys and while the concept isn't likely to see production for a decade, some of the features could be incorporated soon in existing product lines.
In line with the trend it's also been designed with a hybrid drive train, which in turn has also lowered the centre of gravity.
Manufacturers are also looking at how to incorporate autopilot functions into the machines, through clearly the technology required will be much different than existing self-drive software for trucks and vehicles.
Supersized dump trucks are already on autopilot while working within the closed parameters of a quarry or mine site and autonomous dirt movers are already on the horizon.
Start-up Built Robotics in the U.S., for example, has raised $15 million to build a production version of their autonomous dirt mover. The machine is designed to be programmed with parameters and tasks and then left to do its own thing — ensuring of course that the designated work area is free of hazards and people.
Meanwhile, software is automating groups of controlled actions and monitoring load transfer progress.
Volvo launched their take on automation two years ago with 'load assist", which is available on their front end loaders ranging from the L110H to L250H.
It's a monitoring technology integrated with Volvo Co-Pilot, the in-cab interface that tracks load transfers for greater inventory control and production tracking.
Case CE, meanwhile, is floating its DL 450 concept, described as half Compact Track Loader and half dozer. It seeks to fill the niche with a dual machine which can be used in dozer mode with a 90 inch blade but is better designed to move the stress through the chassis instead of the arms which are otherwise prone to failure. It also features modern tech like back up cameras and two interior cab screens to enhance the operator's visuals.
As onboard technology merges with software advances its clear big changes are in store for big machines over the next few years.