After years of research, Calgary's Canadian Greenfield Technologies developed NForce-Fiber, a hemp fibre concrete additive specified to both strengthen concrete and reduce cracking. The product has become so successful that it was recently specified to help create a smooth and stable run for competitors at the Xiaohaituo Bobsleigh and Luge Track near Beijing, China for the 2022 Winter Olympic Games.
The company was founded in 2012 by president Mike Pildysh, a structural engineer and building industry veteran, to focus on developing concrete reinforcement products designed to reduce early-stage cracking within the first 72 hours.
"If you ask people in the construction industry whether plastic, steel or glass fibres work successfully to mitigate concrete shrinkage cracking, they won't answer enthusiastically," says Stephen Christensen, vice president and general manager of Canadian Greenfield Technologies. "Steel isn't often used because it's expensive, while glass is primarily used in decorative concrete products. The most commonly used fibre is plastic, which is hydrophobic in that the fibres would rather stick to the trowel than bond with the concrete. The fibres also protrude, making the product difficult to finish."
The company conducted extensive research on a range of more effective additives and found that natural fibres led the pack.
"The strongest natural fibre just happened to be hemp," says Christensen. "It bonds physically and chemically with the concrete and it will break before it pulls out to affect surface smoothness."
Farmers in southern Alberta grow the hemp, which is raised primarily for seeds. However, Canadian Greenfield Technologies wasn't happy with traditional methods of "decortication" — separating the woody "hurd" found in the core of the stalks from the useful "bast" found on the exterior.
"It's typically achieved using 100-year-old technology called the hammermill," says Christensen. "It consists of smashing the stalks against a grating using hammers until the hurd is forced through. However, that's really damaging to the fibre. We developed proprietary machinery for decortication that keeps the fibre coarse and strong. The technology is very robust to feedstock, so we can take various strains of industrial hemp and produce a similar fibre product at the end."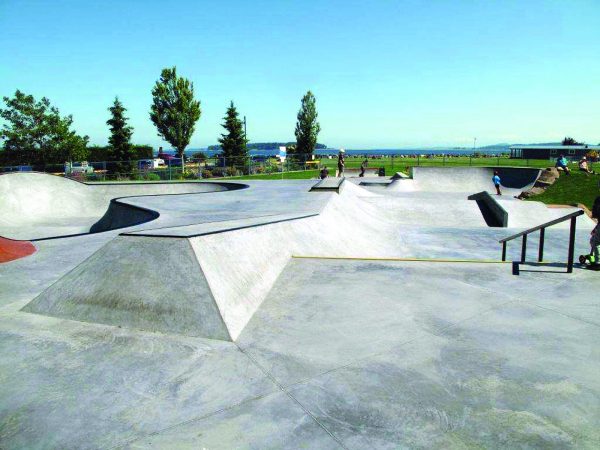 The fibre is also treated for compatibility with concrete, so that it doesn't break down, absorb too much moisture or alter mix design to affect parameters such as flow, compressive strength or air entrainment.
NForce-Fiber was launched in 2015. The product is supplied in one-pound bags designed to be thrown into wet or dry concrete mixes bag and all at three to four pounds per cubic metre. Its partner product NForce Pro is designed to supply the decorative concrete market, where mixes typically contain less aggregate. Because decorative concrete encompasses a wide range of proprietary mixes, the company simply specifies that the hemp fibre be added at half the weight of glass fibre typically used in these mixes.
"The product can also be added to shotcrete, which solves the problem of fibre flying out of the mix while it's being shot," says Christensen. "It's very pumpable and adhesive, so you could spray bands of up to eight feet tall at one time, without having the product settle."
Clients have used the additive for a range of projects where cracks are unforgiving. These include pools, skate parks and decorative projects. The largest project to date is a British Columbia skate park, which will use about 800 lbs. of the additive.
"Construction can be a conservative industry and concrete is dominated by some very large players, so it was challenging to break into the market," says Christensen. "Third-party testing by reputable firms went a long way to help us gain acceptance."
It was third-party testing that led to a recommendation to specify the product for the 2022 Olympics.
"They typically don't use fibre in bobsled tracks because they require such highly-finished surfaces and the fibres protrude," says Christensen.
"We were originally recommended but turned down as an unknown technology. The selected mix design was then trialed and it cracked like crazy. When they tried the fibre that we sent along, those problems went away. We recently sent the first shipment of 360 lbs. of NForce-Fiber to China, which is definitely a feather in our cap."