On June 4, the University of British Columbia (UBC) Centre for Advanced Wood Processing (CAWP) is hosting a workshop called Robot made: Large-scale robotic timber fabrication in architecture.
Using a state-of-the-art eight-axis industrial robot, the workshop will demonstrate to participants the technical and conceptual foundations of robotic wood milling by getting them to design and build a full-scale plywood prototype.
The workshop lasts five days, beginning with an orientation session on robots.
On June 5 a session on parametric design and fabrication will be featured.
The next three days will be hands-on, during which participants will directly engage in the design and fabrication process.
They will start with a base geometry and create a buildable structure. 
Then they will take control of the robot and make a wooden architectural prototype from large timber elements.
By using advanced timber fabrication techniques and the extended fabrication range of the multi-axis robot, large sections of plywood will be custom-milled and assembled on-site in a one-to-one scale architectural prototype.
Once it has been assembled, the structure will form a stable, double-curved building system.
The prototype will demonstrate robotics' wood fabrication potential, that is made possible by combining computational design, material characteristics and digital fabrication.
The final product will occupy a prominent spot on the UBC campus.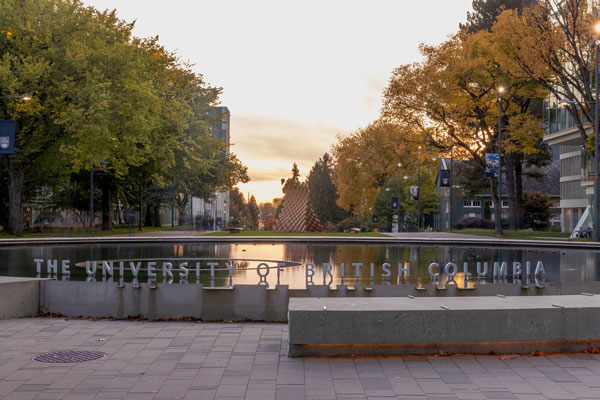 The workshop presenters are University of Waterloo assistant professor of architecture David Correa, UBC School of Architecture and Landscape Architecture associate professor AnnaLisa Meyboom and providing design and technical support is Intelligent City chief technology officer Oliver David Krieg.
The presenters are very familiar with their material.
"This will be the fourth time we've given the presentation," said Meyboom.
About 35 participants are expected, representing both industry – architecture, engineering and fabrication – and architecture graduate students.
"There will be a mix of different backgrounds and levels of experience and expertise," she said. "And there will be both local and international participants."
Meyboom describes UBC's CAWP as "a big wood shop with advanced equipment."
"The milling robot we'll be using is on a six-metre track," she said. "After it's made the pieces of wood, putting together the finished surface is easy. It's like assembling a jigsaw puzzle in which all the pieces are already labelled for you."
CAWP managing director Jason Chiu said the centre's robot has more moves in it than other kinds of industrial robots.
"Most robots perform repetitive motions over and over again at 100 per cent accuracy to complete one specific task," said Chiu. "An example is pick-and-place in car assembly." 
CAWP's robot is made of different stuff, however. 
"Its milling head can be programmed with a lot of detailed information, so it can sculpt wood at a high resolution," said Chiu.
Unlike other industries that have enthusiastically taken to robotics to automate their workflows, much of the construction industry has held off getting into the game. 
"The construction industry in North America is lagging behind Europe's," said Chiu. "In Europe, construction pre-fabrication is standard practice because of the high cost of labour. In the future, most residential construction that is currently done onsite in North America will be moved off-site. We're just scratching the surface now."
Helen Goodland, SCIUS principal and head of research and innovation, said the construction industry is facing many different challenges that urgently need to be addressed.
"Construction needs to build more structures at higher performance standards," she said. "And because of a constrained labour force, it needs to do more with less."
In the future, the people employed in the construction industry will need to have a different mix of skills than today.
"The exact specialties that will be needed will depend on what's being built – residential, institutional, industrial or office buildings," said Goodland. "But, generally speaking, the workers the industry will need will have to be digitally literate, because they'll be using digital tools of one sort or another, from the most simple and basic to the most sophisticated."
Meyboom, Chiu and Goodland say there is plenty of local potential for the application of robotics in timber fabrication and that if B.C. is not yet a robotic hotbed, it is off to a good start.
They cited several B.C. companies that have their eye on the ball.
Paradigm Building Solutions in Revelstoke uses robots to assemble its products. All sheathing is applied by robots.
Nicola LogWorks in Merritt uses a robot to cut its post and beam log homes, architectural components and spiral stairs.
And Intelligent City in Vancouver has begun building urban housing projects in the company's new factory in North Delta using robotics technology.