Those wanting a peek at where development of construction site equipment is headed in the future can look to BAUMA, held each October in Munich, Germany. It's the world's largest trade fair for construction machinery, vehicles and equipment, building material machines and mining machines, featuring 3,200 exhibitors from over 63 countries and nearly half-a-million visitors.
The move towards zero-emission construction site equipment has been highlighted by announcements of battery-electric vehicles over the past two years. BAUMA 2022 offered an opportunity for a breakout into much larger battery-electric offerings.
Caterpillar introduced four new battery-electric machines: the 320 medium electric excavator, the 950 GC medium electric wheel loader, the 301.9 electric compact excavator and the 906 electric compact wheel loader.
The company is leveraging its experience with gensets, locomotives and large mining machines to bring alternative power solutions to construction equipment, offering a proprietary range of 48-volt, 300-volt, and 600-volt lithium-ion batteries. Modular design allows flexible configurations across multiple applications, including the potential to reuse and recycle the batteries.
Not to be outdone, Komatsu unveiled its new 20-ton battery-electric excavator in Munich. This is a joint-venture combining Komatsu's hydraulic pump, controller and electric motor componentry with Proterra's power system, continuing a collaboration that started in 2021.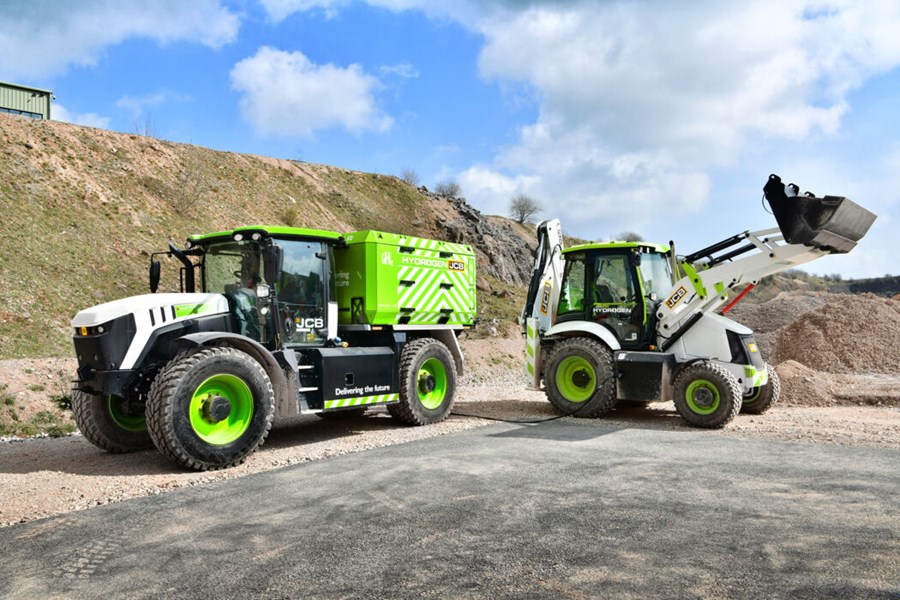 However, many believe the future power source for large site equipment will move towards hydrogen. Conventional engine technology can be preserved and no lengthy recharging is required.
Swiss-based equipment manufacturer Liebherr offered BAUMA visitors a look at its 50-ton hydrogen-powered R 9XX H2 prototype. In fact, the R 9XX H2 won the 2022 BAUMA Innovation Award in the climate protection category.
The company says the machine matches the overall performance of its diesel engine counterpart in terms of power output, engine dynamics and response, and does not require a constant energy supply.
"Depending on the assessment method used in each case, and whether the entire life cycle of the machine is taken into account, the hydrogen combustion engine can reduce CO2 emissions by almost 100 per cent, when considering 'tank to wheel' or by 70 per cent, when considering the 'cradle to grave' principle," Liebherr says.
Hyundai also showed off its hydrogen-power development with a prototype wheeled excavator. The HW155H's hydrogen fuel generates electrical energy from a chemical reaction between the stored hydrogen and oxygen present in the air. That energy is then converted into usable electric power to drive the hydraulic pump and to power the machine.
One major advantage of hydrogen over electric is that refuelling takes just minutes, rather than the hours needed to fully recharge a battery-electric vehicle.
Refuelling is becoming increasingly straight-forward, due in part to developments like the mobile hydrogen refueller introduced by British equipment maker JCB Ltd.
"Around 97 per cent of construction machines have fuel delivered to them while working onsite," JCB says. "This means customers are already used to a transportable fuel, allowing refuelling to take place in a matter of minutes. Our new mobile hydrogen refuelling system allows hydrogen to be taken from on-site tube trailers and distributed to machines by our refueller as they work on the jobsite. This is no different to today when diesel is taken in bowsers to refuel machines"
As with long haul trucks, the advantages of hydrogen-powered construction equipment are many: easy refuelling, mechanical similarities with conventional engines, increased power and longer operating range. Furthermore, the infrastructure for internal combustion engines is already in place, meaning an engine converted from conventional fuel to hydrogen is possible at a much lower cost than replacing a fleet with electric. As a result, it's possible that battery-electric equipment will be restricted in the future to smaller, more compact machines. 
Liebherr and Hyundai are not alone in developing hydrogen-powered construction machinery. In 2021, Volvo Group and Daimler Truck AG signed a joint venture to develop, produce and commercialize fuel-cell systems for use in heavy-duty trucks as well as in other applications. It's an indicator of where zero emissions heavy equipment is likely heading.
John Bleasby is a Coldwater, Ont.-based freelance writer. Send comments and Inside Innovation column ideas to editor@dailycommercialnews.com.