Two recent announcements have highlighted the combined use of concrete with other building materials to resolve challenges in both permanent and temporary housing.
These innovations reduce the amount of concrete without any loss of structural integrity while reducing the CO2 associated with traditional construction methodologies.
In the Vieux- Bordeaux area of Montréal, Brossard contractor Chevalier Séguin is using concrete in combination with both Nudura ICF and cold-formed steel floor slab profiles in the construction of three row townhouses called Maisons Klome.
President Marc-Antoine Chevalier promises resilient structures that will resist water infiltration, bad weather and earthquakes.
Nudura ICF blocks are large, hollow Lego-like foam pieces that link together to form foundation and upper walls. Rebar and concrete are inserted inside the hollow blocks.
The result is a strong, well-insulated, waterproof shell. In terms of concrete use, it is estimated using ICF reduces the amount of concrete required by a traditional poured wall by 10 per cent. When properly assembled, ICF requires less labour for both interior and exterior finishing, since insulation and vapour barriers are integral to the foam blocks themselves.
Also of note is the use of COMSLAB steel decking, fabricated by Bailey Metal Products (BMP) headquartered in Concord, Ont.
These long cold-formed steel panels act as a permanent concrete form offering spans of over 30 feet. Concrete is poured into the panels, creating shallow overall slab depths that increase floor-to-ceiling heights, thus maximizing open spaces below.
Embodied carbons associated with the COMSLAB panels are reduced because significantly lower material is used versus traditional cast-in-place slabs (CIP) – roughly 60 per cent less rebar and 30 per cent less concrete – not to mention the environmental advantages of cold-formed steel itself.
According to Bailey, "Cold-formed steel framing meets multiple green building program objectives based on attributes including high recycled content and high reuse potential, good thermal performance, low building site waste, and the fact that it is an inert material that doesn't release harmful chemicals and resists the growth of mould, mildew and other bacteria."
Chevalier has given the label "EkkoHaüs" to his combined use of ICF, concrete and COMSLAB floor panels. Plans call for the EkkoHaüs concept to be used at a $36-million, 72-unit rental project in Saint-Amable in Montérégie, Que.
Across the ocean, a new concept in emergency housing using rollable, low-carbon concrete was unveiled this spring at the 18th International Architecture Exhibition in Venice, Italy.
Developed through a partnership between building material giant Holcim and the Norman Foster Foundation under the title of The Essential Homes Research Project, the unique curved shells provide safety, comfort and well-being, with an estimated 95 per cent less material used and a 70 per cent lower CO2 footprint compared to traditional structures.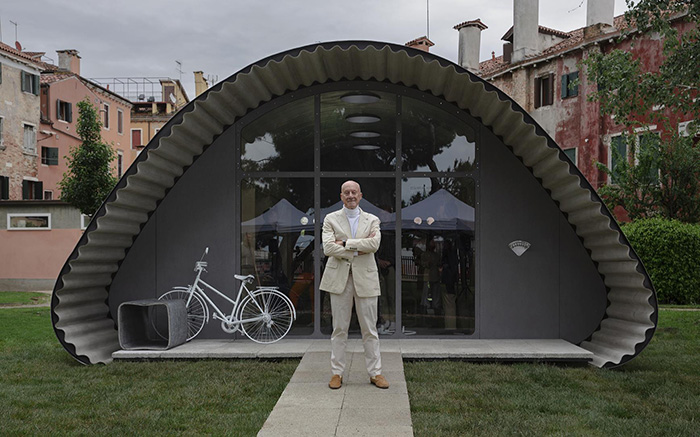 Each home is insulated with mineral foam in the roof and capped wood composite board flooring. This increases energy efficiency in addition to improving thermal and acoustic comfort. Quick to assemble and requiring no excavation, the buildings can be reused or recycled at their end of use.
It's estimated over 100 million people worldwide are displaced by natural disasters and other causes, with an average displacement duration of 20 years. Creating attractive homes that can be assembled in village-like configurations that create a sense of community is a key part of The Essential Homes concept developed by the Norman Foster Foundation.
In a statement released at the Venice unveiling, Jan Jenisch, chairman and CEO of Holcim, said, "I am very excited about the potential for impact coming out of this collaboration. It enables essential homes that are built with some of our low carbon, energy-efficient and circular building solutions, showcasing how sustainable building can be possible for all."
Although concrete and cement are often criticized for the carbon footprint associated with their production, these two projects demonstrate how the use of this fundamental building material is being adapted and improved to address both human needs and changing attitudes towards embodied carbons.
John Bleasby is a Coldwater, Ont.-based freelance writer. Send comments and Inside Innovation column ideas to editor@dailycommercialnews.com.