Consulting engineers who do not aggressively keep up with the disruptive practices and technologies revolutionizing the construction sector will soon slide into irrelevance, panellists argued during a session at the recent annual conference of the Association of Consulting Engineering Companies — Canada (ACEC).
Delegates attending a panel discussion on organizational strategies for dealing with major disruptions at the conference held in Ottawa were told disruptions start in procurement and extend right through to billing.
A simple strategy, said panellist Jeff DiBattista, practice principal with the firm Dialog, is, "Be the disruptor."
"Don't think the way we have been doing things in the past is the way we'll do things in the future," he said. "Experiment, try new ideas. Some will fail. Get used to failure. If you don't try anything new, you won't succeed at anything."
ACEC president and CEO John Gamble, the panel moderator, explained in an interview why the association felt it was important to schedule a session on disruptions and another on integrated project delivery. He said engineers have to prepare for "disruption adaptation."
Innovation in project planning and delivery starts with flexibility on the procurement side, said Gamble.
"Public procurement in particular tends to lock us into the past," he said. "If we are going to deal with things like artificial intelligence and automation and smart roads and smart infrastructure, we can't do it using the same old budget and the same old procurement and the same old project evaluation grid."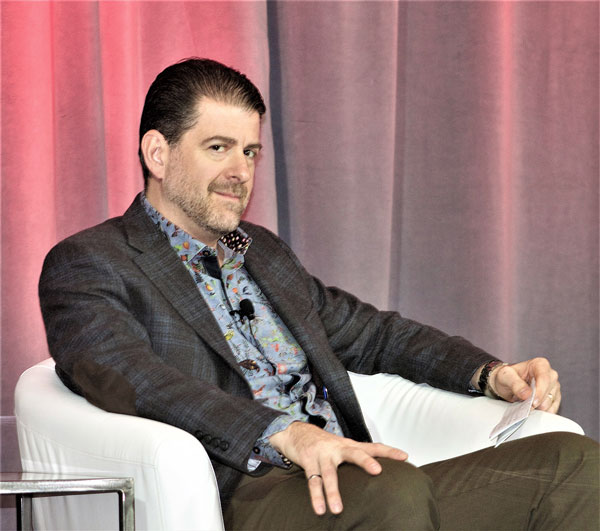 DiBattista said the profession should prepare to embrace not only new partnerships in planning and executing projects but also new sources of funding that reflect different definitions of success.
Katerra, for example, a technology-driven constructor based in California that was founded in 2015, recently bought Michael Green Architecture. The implications are worth pondering, said DiBattista.
First, Katerra is being driven by venture capital, which is hardly seen in the architecture, engineering and construction (AEC) sector. The firm uses a pre-manufacturing model as much as possible on projects.
"By integrating supply chains they have more control over exactly how that manufacturing process works, which is why they purchased Michael Green," DiBattista explained. "In the past the AEC industry has been very conservative over some of these speculative ventures, here they are a constructor and they are going out and buying a design firm, and they're backed by venture capital. What venture capitalists care about is that you are gaining market share quickly. You can make a profit later.
"We don't normally think like that in our industry. It will be very interesting to watch them and I believe others are going to pop up in the next year or two."
His firm also advocates for prefabrication on construction projects and encourages designers to work closely with the fabricators to find efficiencies. He compares the process to Henry Ford adopting the assembly line for car manufacturing.
"If we don't do that, we will never get the learning feedback from the shop floor to the designers," said DiBattista.
Eric DesRoche, manager for infrastructure business strategy and marketing for Autodesk, said his firm is active in three sectors, construction, manufacturing and entertainment, with ample sharing between the divisions that introduces major innovation.
He said the worldwide infrastructure gap combined with relentless urbanization present major challenges to constructors that will require them to engage in the latest iterations of BIM, optimized design and digitized workflows and also work in close collaboration with owners.
"There is a tremendous opportunity out there for all of us," said DesRoche. "Our responsibility is to make consulting engineering appealing and sexy because the common theme we hear around the world is, how do we attract talent, and how do we retain talent."
It will take "a tremendous amount of talent to help us close the infrastructure gap," he added.
Both DiBattista and panellist Peter Hughes, Canadian digital service leader with KPMG, stressed the need for social engagement on projects amidst the tech revolution.
DiBattista said engineers have to put people first and they must remember that technology exists to serve people. His firm worked with the Conference Board of Canada to develop a community well-being framework for project planners that attempts to ensure economic, social, cultural and environmental values are incorporated into projects.
Commented Hughes, "We need to remember to focus on the social process. The technology is coming, it's probably already here, and you can't use the status quo approach with innovative technology and expect to change your business."