The Ontario General Contractors Association (OGCA) recently honoured remarkable safety performances among its members at a safety awards breakfast where the message was clear — workplace safety requires eternal vigilance and constructors cannot take any time off from the effort.
Partners in safety such as Rob Ellis, founder of MySafeWork, and guest speakers including MPP Gila Martow, parliamentary assistant to the minister of labour, Enzo Garritano, president and CEO of the Infrastructure Health and Safety Association, Workplace Safety and Insurance Board chair Elizabeth Witmer and Ontario's Chief Prevention Officer (CPO) Ron Kelusky all made the point that the quest for safe workplaces never ends.
Garritano offered the sobering message that after a decade of declines in health and safety statistics, Ontario has levelled out in recent years.
"This is a social responsibility that we should all take on," he said. "We have to get the message out."
Everyone from the executive suite on down needs to be coached, challenged and inspired to aspire to safe workplaces, said Ellis.
"If the numbers are plateaued out, you say, 'no, we can get better,' " said Ellis. "We can get to zero, when everyone in an organization really gets it."
OGCA-supported programs COR, the League of Champions and the Safety Pass all continue to make strides, OGCA president Clive Thurston noted. There are more owner groups requiring COR certification all the time to qualify for work, membership in the League of Champions is growing and the Safety Pass is now making the jump outside of its contractor core to become adopted by diverse groups such as schools, architects and engineers.
"The OGCA created Safety Pass so that we can share a basic yet comprehensive orientation to any worker on any site because safety in our industry is important," explained OGCA health and safety committee chair Craig Lesurf of Walsh Canada. "Safety Pass has been a great success. Many stakeholders in construction see the benefits of having a minimum standard that everyone starts with before setting foot on a construction site."
The next step required for COR is formal adoption by the Ontario government, said Thurston. The OGCA needs to "push hard" to ensure the Ministry of Labour clears up "confusion" over whether COR or some other safety program will receive provincial accreditation, he said.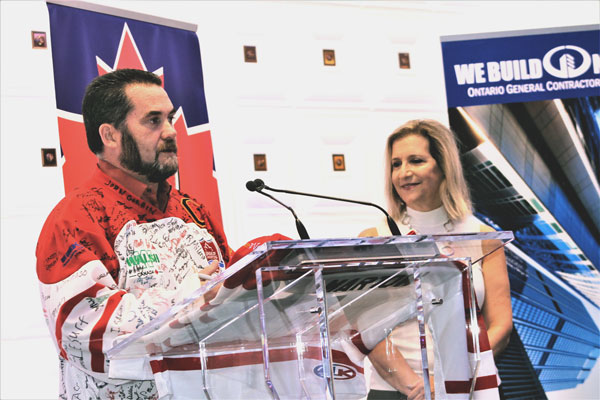 Martow was one of several speakers who stressed the importance of developing a safety culture, beyond health and safety programs, that drives behaviour.
"The rules are meant to give you safety guidelines, but it is up to every worker and supervisor to take a look and say, maybe I should take extra precautions," she said.
Kelusky reported the CPO's office was driving to develop safety solutions based on the latest research and evidence. One focus has been on falls data in the province. The office looked at coroner's reports and found, "quite surprisingly," he said, that 15 per cent of fall injuries occurred in the first month of employment. And the majority of fall deaths occur to workers in their first four years of employment.
"We have the knowledge, it is the knowledge transfer we have to work on," said Kelusky.
Later, addressing overall safety messaging, the CPO said, "The biggest problem is we talk to the converted. We need to get the message out and Rob, you do a fabulous job of doing that."
Witmer praised the efforts of the OGCA in contributing to eliminate the WSIB's unfunded liability, an accomplishment announced earlier this fall. OGCA members "paid more than your fair share," she said.
The latter part of the event was devoted to presenting OGCA members with Jerseys of Courage, safety awards recognizing members with minimal lost time injuries (LTIs) and then Milestone awards, for firms with over 50,000 hours worked without an LTI. Milestone winners honoured included BDA Inc., Canadian Turner Construction, M. Sullivan & Son, Pomerleau, Al Langman Construction, Bestco Construction, Marant Construction and Ross & Anglin Ontario.
Specially honoured at the end of the morning for working over 10 million hours without an LTI was PCL Constructors Canada.
"It is really remarkable," commented PCL's senior vice-president and district manager Todd Craigen. "Ten million man-hours over a four-year period is a great accomplishment and I think it's a testament to our commitment to safety. At PCL we all believe we have an obligation to have a safe work environment.
"We take that commitment seriously and it is nice to be recognized by the OGCA here today."