The number one issue general contractors (GCs) are faced with is subcontractor financial health, said Gerry Russ, national director, growth innovation and insight for Aon Risk Solutions, during a session at the recent OGCA symposium.
In his presentation at the Ontario General Contractors Association's 11th Construction Symposium in Blue Mountain, Ont., Russ discussed preliminary findings of a white paper entitled Global Construction Financial Stability which will go out in the next few weeks.
Aon, a professional services firm providing risk, retirement and health solutions, decided to undertake a survey that started in March 2018 as a surety story for the company's newsletter, but it grew into something bigger.
"When you look at some of the data around the size of the liens it shocks me that there haven't been as many subcontractor failures as I thought we would see," he said.
"What we ultimately want to be able to do is to identify the size of the issue by size of contractor, by type of contractor, whether it's a sub, a general or a heavy civil contractor. Geography is becoming a big thing because what is happening in Ontario is not the same thing that is happening in Saskatchewan or Manitoba."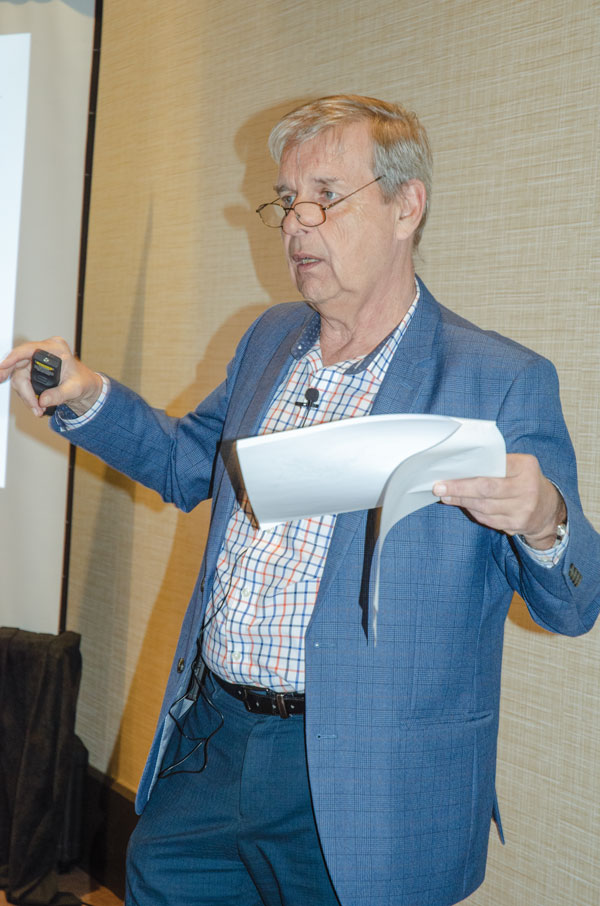 Contractual downloading was number two on the list. Issues include broad form indemnifications, site conditions, poor existing conditions and design build contracts. There are limited solutions, Russ noted.
"The terms the owners are expecting companies to sign are getting worse," said Russ. "Number three, which I thought should have been number two, were complaints about the design errors and professional liability."
So far, 130 construction companies have been surveyed, mostly GCs in Ontario and Alberta and subtrades were also addressed. They are targeting other areas in Canada moving forward so that it is more representative.
"Hopefully we bring a dynamic document that will change with time," said Russ. "As we started going around the country different things became more apparent. The thing that was interesting is that no two companies have the same concerns. What that says to me very simply is the guys that have the big concerns, the concerns are around one thing and one thing only — what's happened to them most recently. Our whole process now is to spend as much time as we can talking to clients and people that are involved in the industry to make sure that we've got everyone's opinions to get a full spectrum of the issues. Hopefully we are creative enough to come up with reasonable solutions. We will share that data with everyone"
In terms of design errors and professional liability, contractors said the output is worse and, like subcontractors, prequalification is becoming normal. There are prequalification tools that can be used, Russ noted.
"Prequalification is becoming mandatory and there are tools, they cost money, but you have to be able to understand that you have a reasonable or good subcontractor, but more importantly than that, there has to be protocols within your firm around what is right and what is wrong," said Russ. "You need to understand your environment."
Rounding out the concerns were joint venture partner selection; disputes and resolutions; and how do I get paid? The number one issue among subcontractors was availability of surety credit. Among their other concerns were regulatory changes; technology and innovation; insurance claims; and diversification (offerings and geography).
"The guys who worry the most about surety credit are the large contractors because they have all these major projects to bid. They're not sure what that's going to look like and the small contractors (worry) because they realize they are the ones that are easiest to pick on," Russ pointed out.
Regulatory changes at the federal and provincial level including the new Construction Act in Ontario are changes that everyone in construction needs to be aware of.
"Over the last 24 to 36 months there has been more change in contractual documents and it's only going to get worse," said Russ. "Everything is changing."
Disputes are arising more often because of tight pricing which manifests into allegations against the other parties in the contract, designers for example, Russ explained. The only winners in dispute cases are the lawyers, he added.
"I have yet to see a dispute where it starts off as 'my fault,' " Russ commented. "The basic premise is when projects get bigger the issues become larger, the larger the issue, the greater the disputes.