Shotcrete has been around for a while, more than 100 years to be exact, but it's picking up steam in the industry lately as contractors are embracing it to build everything from dams, bridges and underground subway stations, even the luge and bobsleigh track for the 2022 Winter Olympics in China.
Industry experts say equipment and technology have improved by leaps and bounds, making it simpler for crews to apply the mix and forego much or all of the traditional formwork needed for a pour.
The application process is also easier in tight downtown areas like Vancouver, they say, where it may be difficult to erect and then strip formwork for tall towers, infrastructure and other projects.
Bottom line?
Andrew Stewart, general manager for the north and central regions of Ontario at Lafarge Canada Inc., said shotcrete offers specific advantages over conventional concrete and can result in cost savings.
"I see shotcrete continuing to expand in suitability for various applications.
"You can, to a very great extent, reduce or eliminate the need for formwork, which can be intensive in erection and stripping. It can be particularly suited to infrastructure rehabilitation projects like old bridges and tunnels."
The crew size can also often be reduced as consolidation of the concrete is done when spraying, said Stewart, so there is no labour needed to ensure concrete is filling the forms and consolidating at a pour.
"This saves labour cost," he said, "but as good trade labour in many regions is becoming increasingly difficult to hire, there is really a push to smaller more efficient crews around the industry."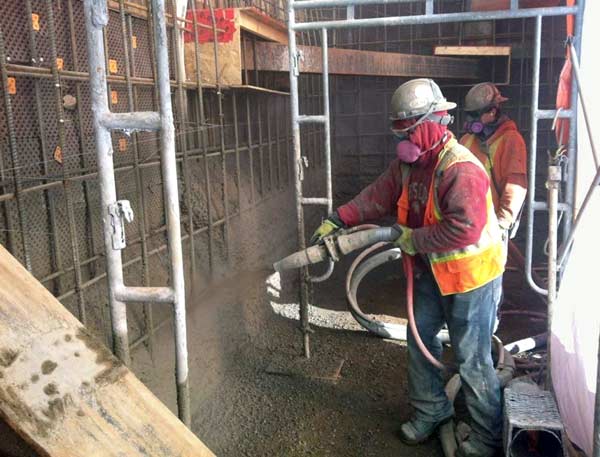 Shotcrete, also called sprayed concrete, is a method that uses a hose and pneumatic pressure to spray the material at high velocity, allowing crews to forego all or most of the traditional formwork needed for a pour. The high pressure involved also means the compaction stage is built into the process.
Stewart noted that formwork is large and cumbersome and, depending on the specific situation, using shotcrete can result in a reduction in equipment like cranes and larger pumps being needed on a site.
"Using shotcrete can certainly reduce some of the overall congestion of the site in many situations."
Rusty Morgan of Victoria, B.C., a shotcrete expert who was a principal consultant to AMEC Environment and Infrastructure, said the process had a bad reputation for a while due to applications by poorly-trained workers, but it is now making a comeback thanks in large part to publicity efforts of the American Shotcrete Association which helped up the ante and showcased new technology and uses.
"Shotcrete had got somewhat of a bad name in certain sectors like the swimming pool industry, for example, where it was very widely used, but there were a lot of fly-by-night contractors coming in to make a cheap buck and not understanding the basics properly and all the important aspects of it. Amateurs figured they could just take concrete pumps and add air to the nozzle and spray the material, but the industry has advanced by leaps and bounds," said Morgan.
Shotcrete is now being used by a number of companies in Vancouver, Calgary and Edmonton for shoring in excavations and underground parking that goes down up to 100 feet and it is coming into vogue in Toronto because it is easier to use in tight downtown locations, said Morgan, and eliminates the need for contractors to spend a lot of money for filling and grinding the walls afterwards.
With shotcrete that all goes away, you don't need any forms,
— Rusty Morgan
AMEC Environment and Infrastructure
"In the past, when they stripped a form they'd see all the marks from the formboard and pour lines and tie holes and the contractor would have to spend a lot of money filling and grinding, but with shotcrete they shoot the walls and then the cover is done at the end with a final finish coat."
Form and pour can no longer compete with shotcrete in Vancouver, said Morgan, because construction sites are congested and finding space to store formwork slows down projects significantly.
"With shotcrete that all goes away, you don't need any forms. That is the thing that really contractors are excited about, plus they can get better looking work architecturally."
Morgan is presently consulting on the Eglinton Crosstown Light Rail Transit project in Toronto where contractors want to change to shotcrete for underground station builds. A special hemp-based fibre created by a Calgary company can be added to the mix to prevent it from sloughing off.
He's also one of the Canadian consultants who've been to Beijing several times to advise on training for nozzlemen that are using shotcrete to build a $300-million luge and bobsleigh track and complex. The 1.9-kilometre race track will be the first of its kind in the world to span 360 degrees.
"We've been able to demonstrate with this new technology that things two years ago we thought were impossible we are now able to do. This is really a game-changer for the industry. It's a very exciting, new development. It's really revolutionized what can be done. So, the industry is advancing by leaps and bounds in the structural shotcrete field."
Ryan Regier, contracts manager at HCM Shotcrete, said shotcrete and equipment have changed a lot over the past two decades and fibres and chemical admixtures have improved application methods so the process is being deployed more as it reduces the need for formwork and manpower.
In the Greater Toronto Area, there has also been an increase in development in Mississauga, Oakville and Burlington which generally have more favourable geotechnical ground conditions for the use of shotcrete, he said, and it enables a developer to build as close to a property line as possible.
Shotcrete applications, said Regier, are being used in the residential sector and on ICI projects like underground tunnels and rehabilitation of culverts, dams, sewers, bridges, silos and parking garages because it saves time and money for labour, materials, crane lifts, erection, stripping and finishing.
Regier said the development of technology, better codes and standards and nozzlemen certifications have been the largest changes that have aided in propelling the use of shotcrete applications.
"The key to shotcrete is knowledge and experience from the engineer, the quality inspection team and the shotcrete application crew. If the nozzleman isn't trained properly he could do a low-quality job or, more importantly, hurt his crew or himself."