MILWAUKEE  – CONEXPO-CON/AGG 2020, the largest trade show in North America for construction, concrete, aggregates, asphalt, earthmoving, lifting, mining, utilities and related industries is on the horizon. More than 2.5 million square feet of equipment and technology will be on display in Las Vegas from March 10-14.
The expanded footprint this year connects the Las Vegas Convention Center with the Las Vegas Festival Grounds, giving attendees 10 different areas to explore the latest equipment directly from the manufacturers and suppliers, as well as the latest product innovations and knowledge resources to help your business grow.
CONEXPO-CON/AGG's comprehensive education program is the leading source for contractors, business owners, construction material producers, and end-users to obtain cutting-edge information for today's challenging economy and business models. Education is grouped into ten tracks to help attendees find just the right topics that meet their needs.  Areas include aggregates, asphalt, concrete, cranes, rigging and aerial lifts, earthmoving and site development, equipment management and maintenance, business best practices, safety, technology solutions, and recruiting talent.
Returning for its second year is the award-winning CONEXPO-CON/AGG Tech Experience, featuring technology for modern mobility, sustainability and smart cities.  Whether creating transportation systems that move products and people to meet tomorrow's demands, designing buildings and cities with social, economic, and environmental impact in mind, or creating urban areas incorporating electronic data to efficiently manage assets and resources, The Tech Experience has a lot for everyone to learn.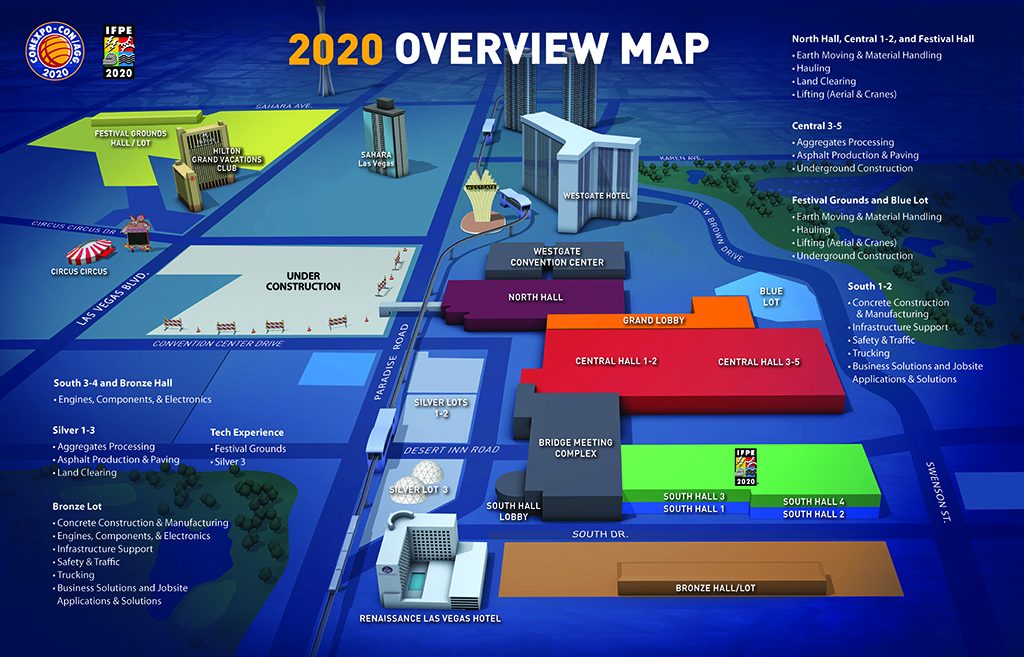 That includes a competition called "The Future Cities Contest: The Next Generation of Cities."  The Tech Experience also features presentations including a "Crash Course on 3D Printing of Concrete Structures," "Gadgets in Construction" and "Using Technology to Engage the Next Generation Workforce and Create New Jobs."
Workforce development is a major focus at CONEXPO-CON/AGG 2020, where a dedicated Workforce Solutions Area debuts this year.  The Workforce Solutions Area will serve as a demonstration space to showcase best practices for recruitment into manufacturing and the trades.  Showcasing tools and strategies to generate hands-on engagement for attendees' recruitment arsenal, the Workforce Solutions Area aims to spread ideas that contractors and manufacturers can bring home to promote careers at their shop and our industry.
"There is a fantastic workforce development trailer with seventeen trade skills demonstrated that AGC Arkansas will be showcasing," said Julie Davis, Workforce Development Director for the Association of Equipment Manufacturers (AEM). "They believe that it is the absolute best recruitment and industry-perception influencing thing they have done in their state, and it's targeted on building a youth workforce pipeline."
While you're there, make sure to see the International Fluid Power Exposition (IFPE), especially during the IFPE Fluid Power Hour, presented by Bosch Rexroth, running Wednesday, March 11, from 4 p.m. to  6 p.m., the first-ever cocktail networking reception for engineers and decision-makers on the show floor.  IFPE has all the latest technology in the hydraulic and pneumatic spaces that make construction equipment work and work better.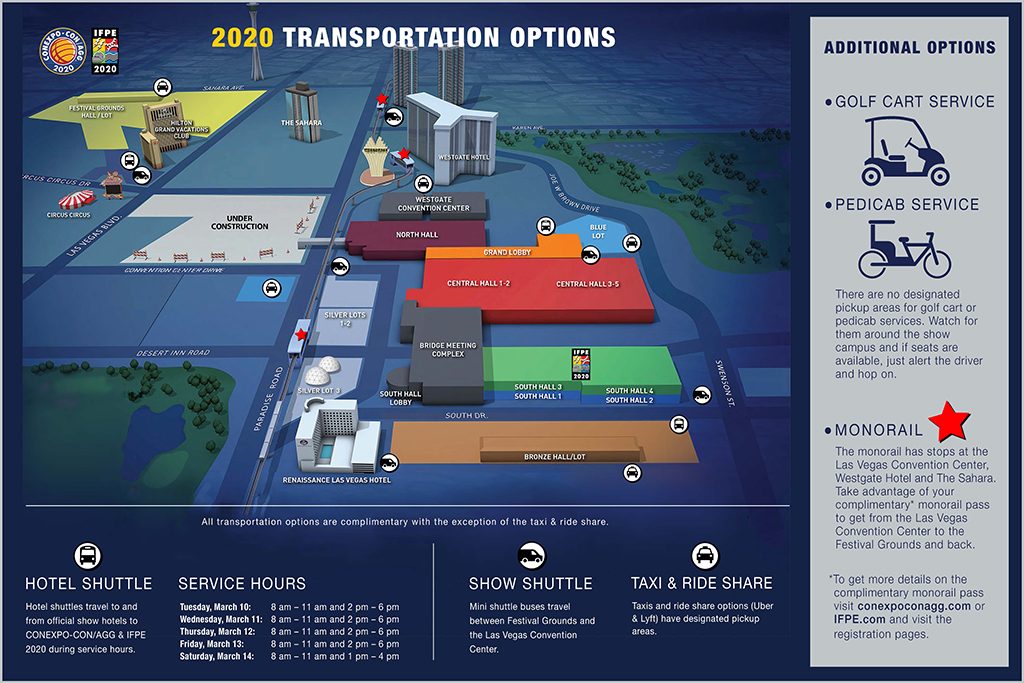 "This is something we're very excited about," said IFPE show director John Rozum. "Fluid power is what allows equipment to bring the landscape-shaping ideas people have to reality.  Getting more people engaged with the latest technology in hydraulics and pneumatics is going to allow more people to bring more amazing ideas to life."
While you're waiting for your plane to Vegas to take off, make sure to check out the CONEXPO-CON/AGG Radio podcast Contractor Conversations, available on iTunes, Stitcher, Spotify, and all the other major podcast spots.  Hosted by Missy Scherber, get a contractor's-eye perspective on everything from implementing new technologies on the jobsite, to recruiting new team members, strategies for equipment maintenance, solving supply chain hurdles, and more!
It's never been more important for industry professionals to focus on what the future may bring by attending trade shows, conferences and other education opportunities. CONEXPO-CON/AGG 2020 will help you more effectively navigate today and prepare for tomorrow.
For more information and to register, visit www.conexpoconagg.com.