The Nov. 3 instalment of the Canada Green Building Council's Building Lasting Change webinar series represented a break from the program's typically intense policy deliberations.
Instead, the session, billed as Women in Green: Diverse Voices, United Action, offered intensity of a different sort, with an international lineup of female leaders in the sustainability sector offering insights into how they found their voices and today are able to dive into projects with passion and confidence. 
The panel included Cristina Gamboa, CEO of the World Green Building Council; Lynn Simon, sustainability executive with Google; Canadian Eladia Smoke, principal architect, Smoke Architecture Inc.; and Holley Chant, director of sustainability at Lendlease.
The presenters said keys to their successful careers have included setting goals that reflect their true passions in life; committing to their careers by abandoning toxic work relationships and unsatisfying work; and looking for support from other women and sympathetic men as coaches and mentors and giving back to others in need of guidance.
"For me it has been a journey of seeking purpose," said Gamboa, an economist from Colombia.
"There are not failures, there are only lessons learned in life."
She was privileged as a girl to have a family that supported her right to get a full education. Her father, an engineer and golf course designer, possessed strong personal values that she carries today.
In her 30s, she should have been on top of the world, but she felt her life falling apart. The toxic culture at the bank where she worked included excess individualism and lack of solidarity among colleagues.
Her mental health deteriorated, Gamboa said — she was not in a "sweet spot."
Then came a roller blading accident and two operations. In a low place, she decided she had enough with the bank and quit.
"I had had enough of defining success from other people's definition of success," Gamboa said.
Today, after rising through the ranks of the green building movement, she enjoys the fruits of personal resilience. Her message to webinar delegates, she said, was to find one's true purpose and to practise what inspires, which to her includes helping to regenerate the planet.
"It makes me a kind human and a human with a big smile," said Gamboa.
Simon, an architect based in California, began her presentation with a simple anecdote from her childhood.
When she was 10, her mother asked her to walk to the store to buy tomatoes. She returned and put the purchases on the counter. Her mother proceeded to rave over the tomatoes.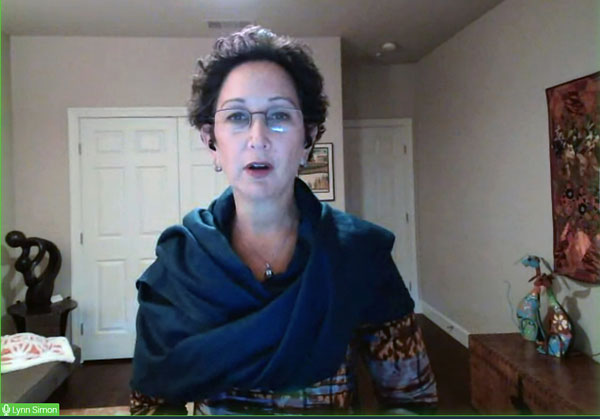 "Those are beautiful tomatoes," she said.
"For me, those tomatoes were about instilling confidence in a young woman," said Simon.
Today she thinks a lot about supporting other women to help their confidence grow — when she has the opportunity, given she is often the only woman in the room.
Discussions of "work-life balance" often arise, Simon said, but she dismisses it. Thanks to a supportive family, her career is interwoven with her life. It's not balance but integration.
"Trying to find balance sets us up for failure," she said.
Early in her career she pondered how she could further her identified passion, which was to repair the earth and take care of its people. Seeking solutions took her into her own business and now to employment with Google.
Throughout, Simon took advantage of supporters wherever she found them. Once she was at a workshop where there was no support but her boss gave her the positive talk she needed to help her persevere.
"The point is, find the people who support what you are doing," Simon said, "even if they are a little outside of your typical world."
Simon now sees a clear path forward for her career. Many in the globe do not have fresh food or water, she told the delegates.
"I think about so much work we have to do."
Chant described a fulfilling career which in the past few years has taken her to the Middle East. She finds herself active as a mentor to professional women working in the oppressive regime of Saudi Arabia. At this stage in her career, she has the confidence to regularly accept new challenges, so she described her attitude today as changing careers and challenging the culture.
"We all share a common desire to find happiness," said Chant. "Often it is having the courage to try something new."
Smoke, speaking from her office in Hamilton, Ont., is a member of the Lac Seul First Nation based in northwestern Ontario. She is one of the few female Indigenous architects in Ontario.
Smoke said her work is significantly influenced by her Indigenous heritage. In western philosophy, she said, it is thought that the forces of nature must be overcome but she teaches that nature is kind.
She said she has the confidence to approach her projects with a revolutionary attitude and one that is open to learning.
"Every single project that I do with an individual client I learn something amazing, something new," said Smoke.
Simon spoke at the end of the session, saying she had been given a "gift" by the other speakers.
"The more happy, fulfilled and clear you are, you can share that with your community," she said.
Follow the author on Twitter @DonWall_DCN.