The construction lifestyle is a perfect breeding ground for mental health struggles and it's up to everyone, contractors and workers alike, to take steps to normalize conversations about the issue so it's treated the same as other health and safety concerns.
That's the message delegates heard from presenters Natacha Duke, a psychotherapist with Cleveland Clinic Canada's executive health program, and Giovanni Cautillo, president of the Ontario General Contractors Association, during a session at the OGCA's recent Construction Symposium.
Meegan Guest of the Cleveland Clinic served as the facilitator.
"Mental health is health," said Guest to open the session.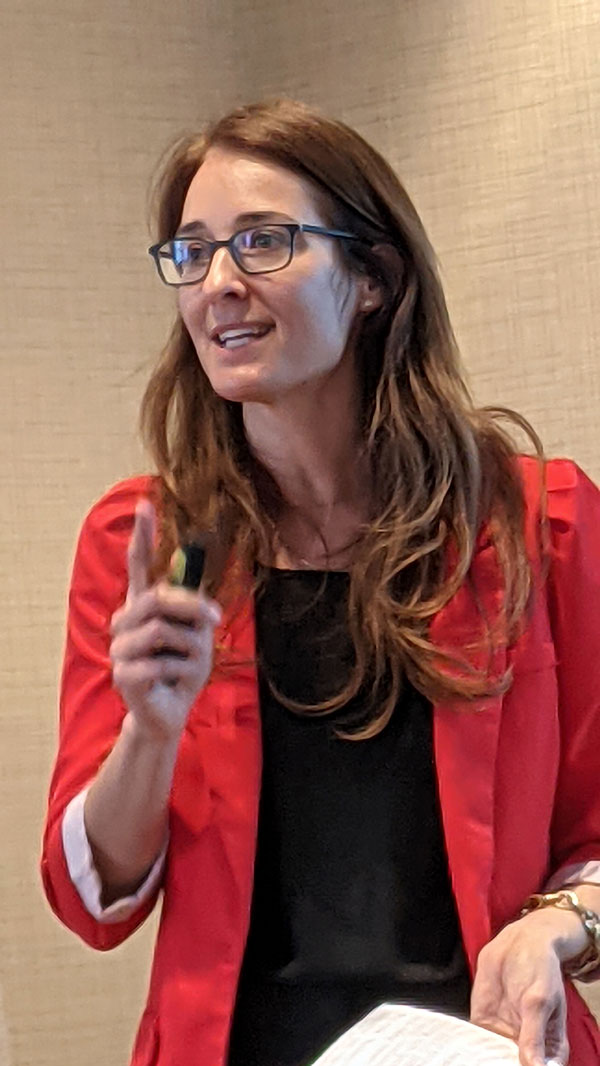 "Mental health isn't something that should be taboo to talk about," said Cautillo. "It should be under the auspices of health and safety, under the auspices of fit for duty. It's naturalizing it and talking about it so that it's so natural, you don't get that weird stare from the guys in the field."
Several members of the audience at the presentation took the opportunity to ask for guidance on typical workplace problems. After Duke explained how strains on mental health can compound when combined, one delegate outlined the familiar scenario of a construction worker employed away from home.
"Anybody who's worked on the road knows that when you're travelling for work, you're up at 5 a.m. and finish at 5 p.m," he said. "You're heading back to a motel, you don't have a way to prepare dinner and you don't have a way to physically be fit. And a lot of times you're working with crews and the culture in construction, the way that it works is that you're going to go out drinking after work. You're going to drink with the guys, you're going to do things that you wouldn't do in your everyday life.
"I found in my years of working construction that this has negatively affected a lot of people."
Workers end up lacking sleep, with poor nutrition and developing bad habits. That affects mood and safety on the job, the delegates heard – Duke noted tired workers are 70 per cent more likely to have an accident on the job.
Duke suggested one strategy to deal with the situation lies in employers and employees having conversations, possibly during toolbox talks, about changing the culture one step at a time.
"It's not about changing everything at once," she said. "It's not about having to do everything we talked about today, but it's trying to make one more healthy choice. Maybe it starts off with only having one drink, maybe it starts by, if you're going to a restaurant, trying to order something a little more healthy than you'd normally order. Maybe it starts by listening to a three-minute guided meditation on any given day."
Risk factors tending to lead to poor mental health include personal history of mental illness, family history, substance use problems, stressful life events, younger age, lack of social supports and chronic pain or illness, Duke said. It has been well documented that suicide rates for construction workers are three times the national average and that one in five construction workers suffers from mental illness.
Mental illness prevents 500,000 employed Canadians from going to work each week, Duke noted, and costs Canada $51 billion yearly.
Efforts to change the culture in construction workplaces can include encouraging self-help measures such as lots of exercise, more sleep, using alcohol in moderation only, connecting with supportive people and developing a routine, Duke said.
Cautillo said changing the culture does not necessarily require a revolution.
"You evolve either through evolution or revolution," he said. "Sometimes there's upheaval, and there's problems, especially in construction. But evolution is something that you can look at and you can plan for. We talk about routine and toolbox talks, repetitiveness, talking about it."
Normalizing mental health discussions will lead to the development of social supports at construction workplaces, Duke said.
"Not having people that you can talk to, that you can share your dilemmas with, when you feel isolated in your problems, that's a huge risk factor for developing a mental illness," she said.