Those in attendance at the Ontario General Contractors Association's (OGCA) second annual Chair's New Year's party got a sneak peek at what 2023 will look like for the province's construction industry.
"It will be one our busiest years I think in government when it comes to infrastructure," Minister of Infrastructure Kinga Surma told the crowd, adding she was soon departing for Japan, a country known for infrastructure innovation.
"Japan is a really good partner of Ontario and, as many of you know, is one of the most innovative countries when it comes to building infrastructure, high speed rail, transit-oriented communities," she said. "Hitachi was awarded the contract for our Ontario Line in terms of rolling stock and stations.
"They are very much excited in continuing to work with Ontario and also potentially in the future submitting proposals on future projects."
She also spoke about the status of subway and transit expansions.
"Our subway expansion plans, our Ontario Line early works have begun," Surma said.
"The three-stop Scarborough subway we just turned on the tunnel boring machines, so the tunnel boring machines have been built, they are in the launch shaft. They are drilling in Scarborough right now and there's a lot of early works that continue on Yonge north."
The goal is to build stations differently, she noted.
"We are not just building station boxes, we are building transit-oriented communities and we are working together…to make sure that we are building complete communities," she said. "What is that? Housing, community amenities, day cares."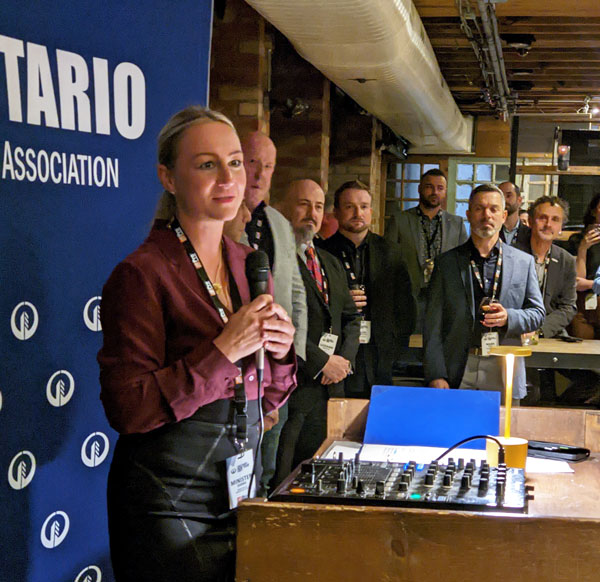 She added the province is also dedicated to building hospitals, schools and highways.
"We're also advocating with the federal government on a new infrastructure deal for the Province of Ontario," Surma said. "We need to continue to support our municipalities so that they can invest in sewer, stormwater, wastewater, drinking water systems."
The province recently completed a reverse auction, she said, "which was a completely innovative new way of procuring high-speed internet access across the province."
"That's not a good way of doing things," commented Giovanni Cautillo, president of the OGCA, following the event. "Reverse auctions are basically a rush to the bottom.
"It's not something the construction industry would allow. It's something we would be up in arms about."
Safety was also on the agenda during the chair's event.
Chief Prevention Officer Joel Moody said he is hoping to work together to deal with challenges the industry is facing.
"We're still unfortunately seeing fatalities happen. Unfortunately we are still seeing critical injuries happen from the traumatic standpoint," said Moody.
"As we move forward how do we continue to work together? How do we continue to identify the best of what we can do as a system? How do we work together to work and find ways to have these discussions?"
OGCA chair Lewis Cowan, who hosted the event, said the intent is to have the celebration be a fixture in the calendar.
"This year we are proud to bring our members and partners more events, more networking opportunities and more opportunities to showcase general contractors as well as safety innovation and advocacy," said Cowan.
Cautillo said it's a great way to provide members with a state of the industry.
"We are always looking for what is the forecast for this coming year. The best way to do it is to have the government in power tell us what they have planned, what they see as the major projects. Perhaps they can tell us what the encumbrances are and how we can help," he noted.
"It starts with that information flow from them to us, but it's also more so important for the networking aspect. It's January, you've got the January blues, Christmas is over. It's something that people can look forward to."
In terms of upcoming events, Cautillo said the OGCA is planning a Women in Construction gala in May in conjunction with the Canadian Association of Women in Construction. They will also have a golf tournament, the annual general meeting in Halifax and a leaders in health and safety event.
Follow the author on Twitter @DCN_Angela.