Ontario's construction industry "is open for business but on far more restricted terms" than it should be, states the co-founder of public policy think-tank Cardus.
"We should not be surprised that investment dollars are going elsewhere when others have made adaptations over the past few decades that have left us behind," Ray Pennings, executive vice-president of Cardus, told a packed room at the Economic Club of Canada in downtown Toronto recently.
Pennings is optimistic, however, that the province can make moves to catch up.
"There are plenty of practical and incremental steps…to unleash innovation and the creativity of those in this industry to drive the province," he said.
He said if the province's Bill 66, Restoring Ontario's Competitiveness Act, is passed, reform measures under Schedule 9 that will impact construction must be "as simple as possible…and allow individual communities and contractors to take advantage of the opportunities."
"The more barriers, regulations…the more steps you put in the process, the more it is going to trip up and not achieve things," he said, adding the industry itself will need to change for legislative reforms to have an impact.
"Bill 66 (Schedule 9) and other legislation that might follow has to be able to protect all workers to have access to projects in their municipalities," said Andrew Regnerus, construction co-ordinator of the Ontario branch of the Christian Labour Association of Canada (CLAC).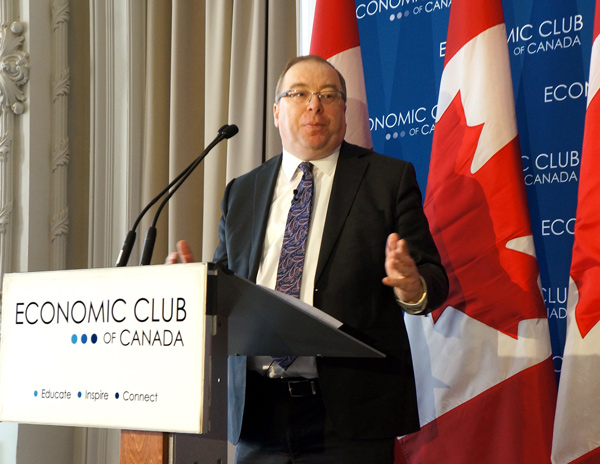 Regnerus was a panel speaker moderated by Cardus's Brian Dijkema during the event held at the King Edward Hotel.
"Workers should be able to move from labour relations model to labour relations model with portability in which they are not penalized," for health insurance benefits or terms and conditions of employment, for example, Regnerus told the audience.
Pennings said a major driver of construction in Ontario is the public sector, unlike other jurisdictions where the private sector plays a bigger role.
He said the "consensus system" of organizing construction labour into craft union and non-union segments has merit but also has "monopolistic tendencies. These need to be overcome if we are to maintain a healthy construction investment environment in Ontario."
Regnerus said there is "the presumption of competitiveness" when bids from prequalified contractors "are within a few points of each other."
But most material costs are "fixed" and labour rates are the same in some labour models.
"It's only competitive if there is a real innovation in engineering in contractor A versus contractor B," he said.
Panel speaker Ashley Challinor, vice-president of policy of the Ontario Chamber of Commerce (OCC), said the long-standing culture of procurement is that cost, not innovation, is apt to determine contract awards. Without changing "your grandfather's approach to procurement, than legislative change can only go so far."
Pennings said, "The infrastructure governing construction labour in Ontario remains centralized…organized control, rather than (able to) respond to market drivers."
He suggested it "has led to a hesitancy to innovate and experiment with new ways of organizing labour forces."
When Mike Harris was premier from 1995 to 2002, there was more noise about labour reform than there was real change, Pennings said.
Challinor said regulatory reform is a priority of the OCC, particularly changes that cut red tape that is stretching out timelines for project approvals.
"If you wonder why we have a housing crisis (in Toronto) there is one of your reasons," she said.
She is also concerned about the lack of government spending to meet the multi-billion-dollar infrastructure needs.
"Without those projects…that is keeping our construction industry and economy as a whole held back."
She said among the positives in the province's building industry is the diversity of sectors it impacts. Along with strong activity in traditional residential and commercial sectors, Bruce Power and Ontario Power Generation refurbishments are "technically construction projects."
Challinor told the audience that dismantling the Ontario College of Trades and apprenticeship reform initiatives by the province are positive steps to addressing labour scarcities but "a lot more needs to be done" over the next decade.