World economic outlook
Approaching the mid-point of the year, words used to describe the health of the world economy include: "easing", "moderating" or "plateauing". For example, the Organization of Economic Co-operation and Development (OECD)'s composite leading indicators continue to point to easing growth momentum in most major economies.
The International Monetary Fund (IMF)'s World Economic Outlook has a similar view. It sees global growth moderating in the near term but picking up slightly in 2020. Beyond 2020, it sees growth set to plateau.
The World Bank in its Global Monthly report notes that after losing considerable momentum in late 2018 and early this year, global growth appears to be stabilizing. Closer to home, the Bank of Canada, in its April Monetary Policy Report, anticipates that after an economic slowdown in the latter half of 2018, a resolution of the U.S.-China trade dispute and other trade tensions should give global growth a boost in the first (now looking more likely in the second) half of this year.
U.S. economic outlook
Against this background of flattening global growth, the Bureau of Economic Analysis reported that the U.S. economy grew by 3.2% in the first quarter, faster than most U.S. economy watchers guesstimated. Further, it suggests that our largest trading partner will provide Canada with a stronger tailwind during the remainder of 2019 than many anticipated.
While the U.S. economy clearly started the year on a stronger note than expected, the key question concerns how long it can be sustained. As noted in the Snapshot titled "We are curbing our enthusiasm about Global, U.S. and Canadian economic prospects in 2019", the current U.S. economic expansion which started in June of 2009 is about to celebrate its tenth anniversary and become the longest period of uninterrupted economic growth on record. Low U.S. inflation (at or below 2% since the beginning of the year) should keep the U.S. Federal Reserve on the sidelines into the second half of this year.
Looking forward, the lingering impact of income and corporate taxes cuts, implemented at the beginning of 2018, and persisting low interest rates should support growth in the near term. This positive outlook is reinforced by a number of forward looking indicators including a recent 1.9% increase in new factory orders, a healthy 0.4% rise in the Conference Board's Leading Economic Index, a climb in the Chicago Fed National Activity Index and a jump in U.S. consumer confidence to a 15-year high of 102.4 in April.
Given the advanced age of this expansion and the fact that the unemployment rate is at a 50-year low, it appears increasingly likely that capacity constraints will hobble U.S. growth in the second half of the year and into 2020. Nevertheless, after its strong start and despite the prospect of a second half slowdown, the U.S. economy should see growth in the range of 2.3% to 2.7% this year and 2% to 2.5% in 2020 compared to a gain of 2.9% in 2018.
Canada economic outlook
Before looking forward we should look at how the Canadian economy has performed relative to the U.S. economy over the past several quarters. A recent article by Alex Carrick titled "Prolonged Streak of U.S. Beating Canada in Q/Q GDP Growth", indicates that over the past six quarters the U.S. economy has grown, on average, 25% faster than Canada, mostly due to stronger growth of business investment (+15%) and of exports (+7%). In contrast, Canada's investment spending is up by just 3% and our exports have risen by 4.8% on account of a modest 9% increase in energy exports.
Further, Canada's investment prospects remain weak due to the persisting impact of British Columbia's efforts to land lock Alberta oil, by uncertainty about the impact of the federal government's Bill C-69 and by the depressing effect of the recently introduced carbon tax on small businesses in Ontario, Manitoba, Saskatchewan and New Brunswick.
Stronger than expected U.S. growth in Q1 should give a boost to Canada in the second half of the year. This prospect is reinforced by the very strong 102,000 gain in total employment in April. However, a number of recent indicators suggest that it is nothing to get too excited about.
First, the CFIB's Business Barometer was essentially unchanged in April. Consumer confidence as measured by the Conference Board in Canada has been trending lower since the beginning of this year. Finally, the IHS Markit Canada Manufacturing PMI fell from 50.5 to 49.7 in April, its lowest print since early 2016.
Given the slow start to the year and the persisting relatively hostile investment climate, we expect the Canadian economy to grow in the range of 1% to 1.5% this year and by 1.5% to 2% in 2020 after posting a gain of 1.8% in 2018.
John Clinkard has over 35 years' experience as an economist in international, national and regional research and analysis with leading financial institutions and media outlets in Canada.
Global, U.S. and Canadian Gross Domestic Product – y/y% change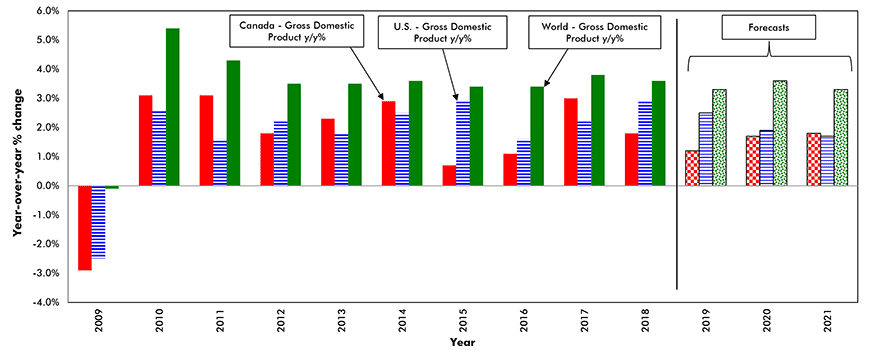 Data Source: International Monetary Fund, Statistics Canada; Forecasts — CanaData.
Chart: ConstructConnect — CanaData.