The fact that housing starts jumped by 25% from 197,000 units (SAAR) in May to a 19-month high of 245,700 in June suggests that the Canadian housing market is recovering from a weather-depressed first quarter.
Indeed, for the second quarter as a whole, starts averaged 224,400 units, a quarterly level last seen 28 years ago in the first quarter of 1990.
In Q2, starts of all four housing types moved higher led by a 34% increase in apartments followed by 11% q/q gains in both single-family and semi-detached units and a relatively small 4% gain in starts of row units. However, it should be noted that despite the second-quarter rebound, starts nationally year-to-date are down by 5%.
Housing starts (in urban centres with population of 10,000 or more) rose in all 10 provinces in the second quarter with the bulk of the 40,500 quarterly gain due to a 17,800 increase in British Columbia. Almost all (95%) of this rise was apartment starts. Over the past five years, apartments have accounted for just under 58% of total starts in B.C. However, in the second quarter, their share rose to an unprecedented 75%. Single-family dwellings accounted for 14.5% of Q2 starts, their smallest share on record.
In Quebec, starts were up by just under 6,000 units in Q2. However, consistent with the province's low rate of homeownership relative to the rest of the country, the bulk (85%) of this increase was due to the addition of 5,000 apartment starts. Since 2009, apartment starts have accounted for 84% of the province's total starts compared to the national average of 46%. The share of single-family units accounted for 12% of total starts.
Consistent with the gradual increase in total employment and an easing in the province's unemployment rate, plus an uptrend in net migration, Alberta housing starts totaled 25,129 units SAAR in Q2, up 13.5% versus Q1. Most (approx. 70%) of this gain was due to a 3,800 rise in apartment starts. Starts of semi-detached (+640), single-detached (+590) and row (+420) also moved higher in the quarter.
Elsewhere on the Prairies, starts also exhibited a significant rebound in Q2 after a weather-depressed first quarter. In Manitoba, apartment starts more than doubled from 2,400 to 5,024. This rise more than offset declines in single-family (-2.1%), semi-detached (-15%) and row (-52%) units and drove total starts up by 41% in the quarter after a 20% drop in Q1. in Saskatchewan, a very strong (116%) jump in apartment starts was responsible for driving total starts up by 22% q/q in Q2.
Following a weather-induced slump in the first quarter, starts in Ontario posted an 11.2% increase in Q2 due to a 7.2% rise in apartments and a 6.4% increase in single-family units. However, despite this rebound, plus a solid 8.2% year-to-date increase in existing home sales and very strong growth of full-time employment, starts in all four housing types are down by 20% year to date, due mainly to weaker starts of semi-detached (-39%) and single-detached (-34%) units.
The Atlantic Provinces were hit by much colder than normal weather that severely depressed new residential construction (-17% q/q) in Q1. Consequently, it's not surprising that starts in the region rebounded (+61%) strongly in Q2. Particularly large increases occurred in New Brunswick (+223%) and Prince Edward Island (+146%). However, the second-quarter bounce back was not enough to offset a weak Q1, leaving year-to-date starts in the region off by 3%.
Given the lacklustre (0.9%) year-to-date growth of existing home sales in Canada, it is not surprising that new residential construction has essentially flatlined since the beginning of the year. Looking ahead, while the key drivers of residential construction — i.e. strong job growth, sustained net migration and low interest rates — are quite positive, the lingering impact of the more restrictive mortgage lending regulations introduced by the Office of the Superintendent of Financial Institutions at the beginning of 2018 should continue to weigh on home sales and new construction well into 2020.
Further, the relative shrinkage in the share of single-family building permits, versus apartment approvals, suggests that the share of single-family dwellings, which hit a record low of 21.4% in the second quarter, will continue to recede relative to the share of apartment starts over the near term.
John Clinkard has over 35 years' experience as an economist in international, national and regional research and analysis with leading financial institutions and media outlets in Canada.
Canada – Urban Housing Starts –
Total, Single Detached and Apartments*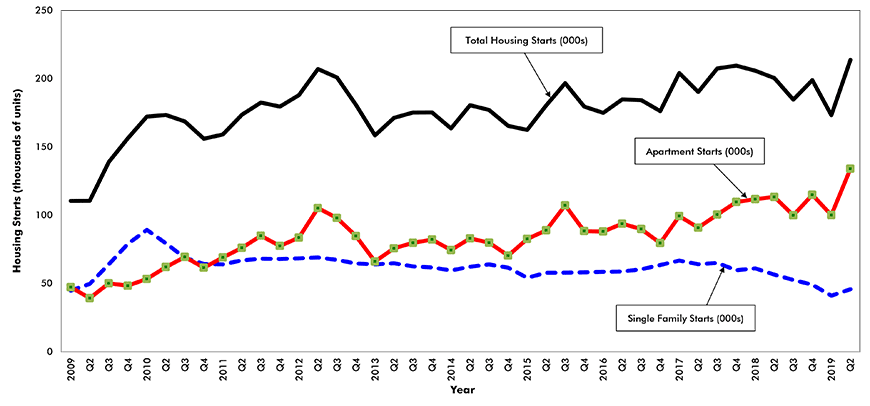 *The 'apartment' designation covers condos as well.
Data Source: Canada Mortgage and Housing Corporation (CMHC).
Chart: ConstructConnect — CanaData.