ConstructConnect announced today that the latest month's volume of construction starts, excluding residential work, was $45.4 billion. Read the complete July 2019 Industry Snapshot article here: Bolstered by Mega Projects, July's Nonresidential Starts almost Matched June.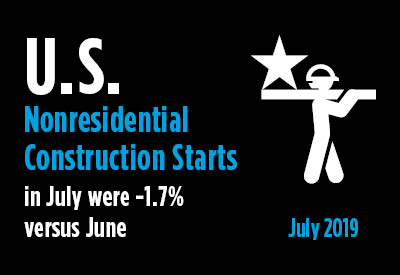 The month-to-month change versus June was -1.7%. July's basket of mega projects, however, was a little better than June's. July included 4 projects of more than $1 billion each for a total of $8.7 billion. June had 3 such projects for $7.1 billion. July featured ultra-large LNG terminal, refinery, hospital and airport work (see Top 10 Project Starts in the U.S. – July 2019).
On a year-over-year basis, July 2019's nonresidential starts appear upbeat, +6.9%. They were also ahead by more than one-quarter (+29%) versus their previous five-year average for July from 2014 through 2018. On a year-to-date basis, nonresidential starts so far in 2019 have been -3.2% compared with the same January-to-July time frame of 2018.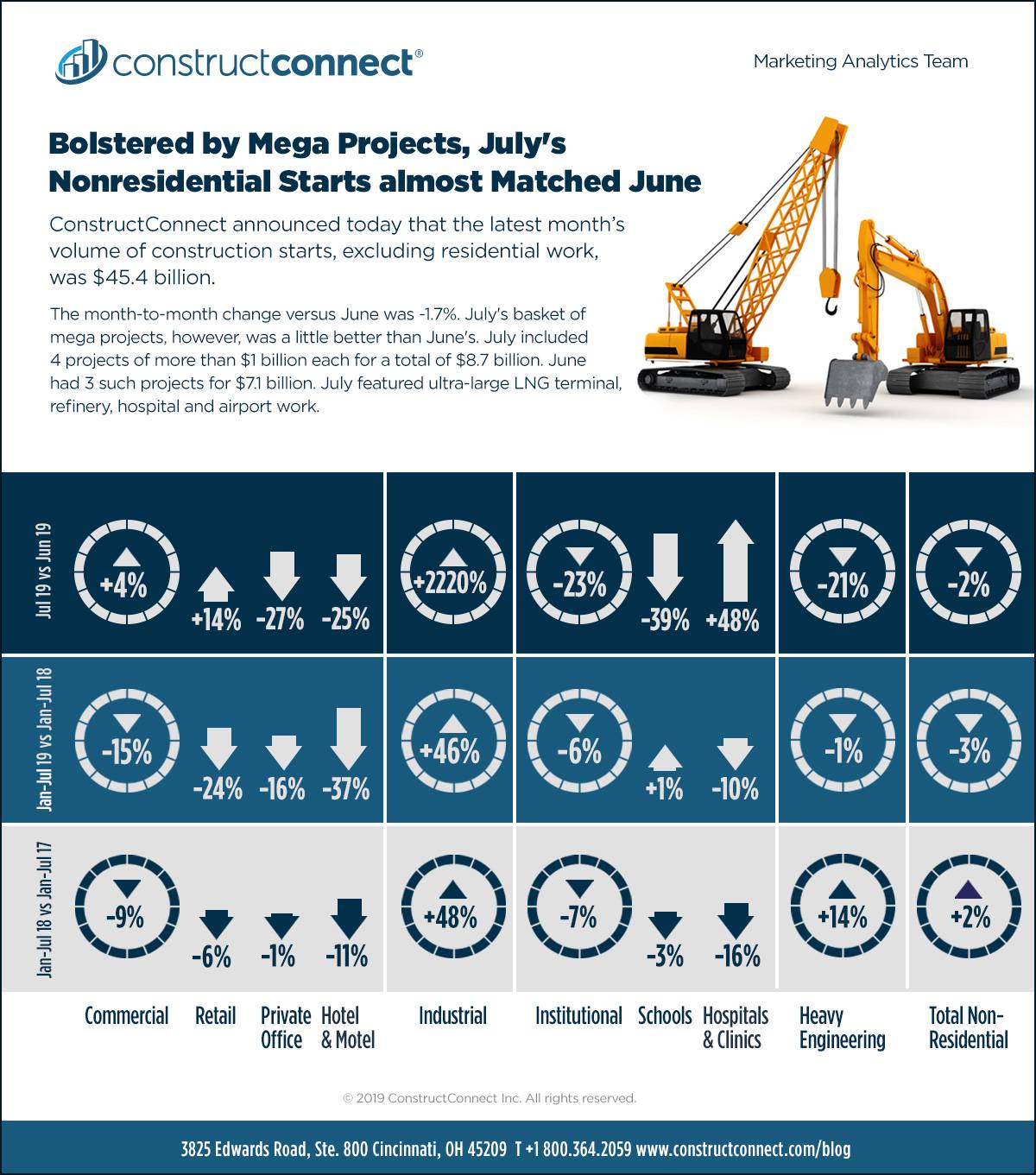 View this information as an infographic.
Construction Overview
Employment in the U.S. construction sector in July moved a shade higher (+4,000 jobs) than in May. The average monthly gain in 'hard hat' jobs to date in 2019 has been exactly half what it was through the first seven months of last year, +15,000 down from +30,000. The year-over-year change in construction employment has been +2.8%, nearly twice as fast as for all jobs in the economy, at +1.5%. Construction is still leading all sectors in year-over-year hiring, but only by a thread. 'Transportation and warehousing' is at +2.7% and 'education and health', +2.6%.
Construction's NSA unemployment rate dipped a bit in July to 3.8% from 4.0% in May, but it did not fall as low as in July 2018 (3.4%). The national NSA unemployment rate in the latest month was 4.0%. (Seasonally adjusted (SA), the country-wide jobless rate in July was 3.7%.)
July's year-over-year employment changes in other corners of the economy with close ties to construction were: 'machinery and equipment rental', +11.7%; 'oil and gas extraction', +7.6%; 'architectural and engineering services', +3.0%; 'real estate firms', +2.8%; 'cement and concrete product manufacturing', +0.6%; and 'building material and supplies dealers', -0.5%.
---
Alex Carrick is Chief Economist for ConstructConnect. He has delivered presentations throughout North America on the U.S., Canadian and world construction outlooks. Mr. Carrick has been with the company since 1985. Links to his numerous articles are featured on Twitter @ConstructConnx, which has 50,000 followers.
---
CanaData 2019 Conference – Canada's construction forecasts conference –
October 18, 2019, Globe & Mail Centre, Toronto – Learn more below.